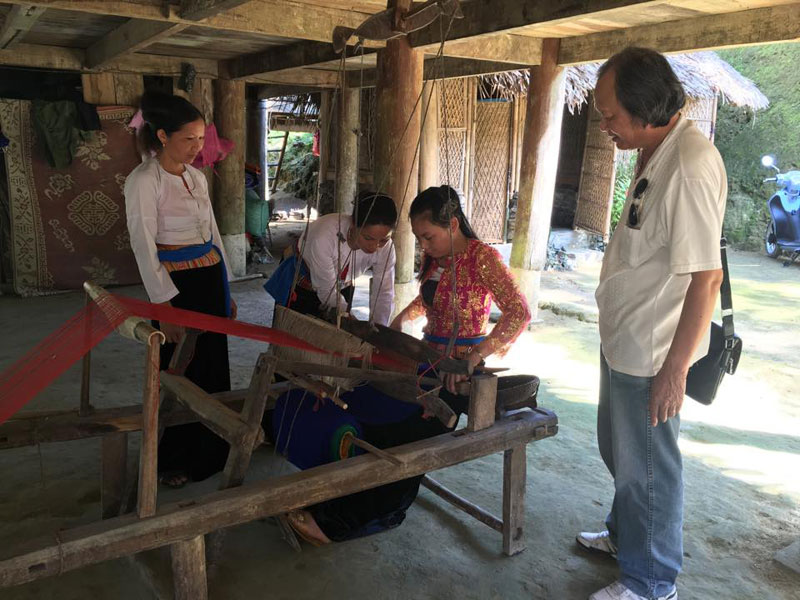 (HBO) – The highland commune of Tu Do (Lac Son) has many advantages of tourism development thanks to the endowed nature, the cultural identities and traditional customs preserved. Since 2011, homestay form has appeared and made an impression for community tourism.
According to Ms. Bui Thi Him, one of the woman pioneers implementing community tourism in Sat Thuong village: thanks to some women who attended the model of "Ngoc Son – Ngo Luong community ecotourism branch invested and managed by the local people" at the end of 2011, the implementation of homestay form has been taken more advantages. Besides, this form has been supported by the provincial Tourism Association and Poverty Reduction Project. Up to now, there have been 6 homestay guesthouses dividing into 3 areas and located in Mu, Cao and Sat Thuong villages. Especially, the homestays keep the original unique architecture of Muong ethnic people. The conditions of dining – sleeping – staying services for accommodation needs of tourists are served carefully with a spacious space, clean accommodation and convenience where they can enjoy traditional local food such as sticky rice, skewed pork, steamed fish, chicken with sour bamboo shoots, leaf dishes, etc.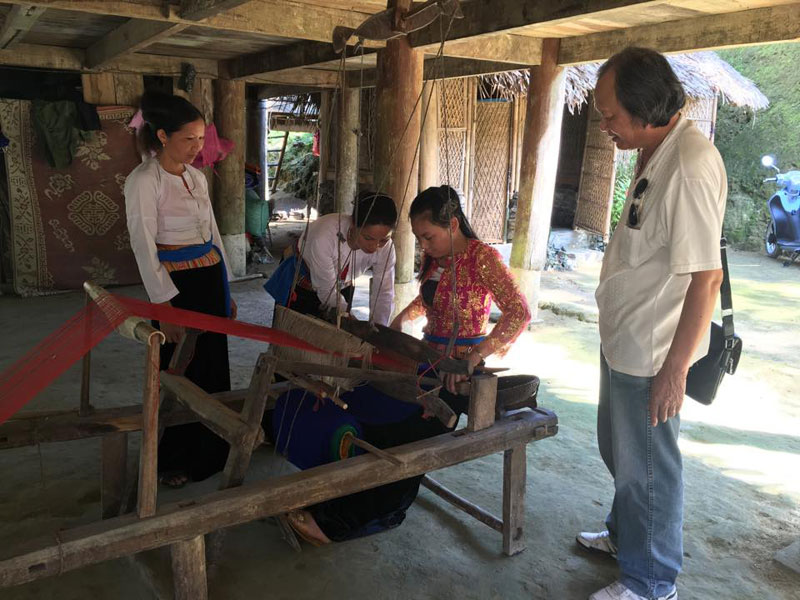 The tourists are so interested in seeing women of Sat Thuong village, Tu Do commune (Lac Son) weaving skillfully.
Tu Do tourism is currently the ideal destination for national and international tourists who enjoy exploring the diverse ecosystems, Mu waterfall with majestic beauty, poetic Cao waterfall, the great wilderness forest. Along with that, the tourists are immersed in the community life of Muong ethnic people, experiencing cultural identities in dining and living styles of the local people.
Tran Khanh Ly, a tourist from Hoa Binh city expressed: the scenery here is so wonderful, suitable for adventurous tourists. With the young people, nothing can be more interesting than enjoying a funny journey to be here after a long travelling, seeing the mountain and forest and swimming at Mu waterfall, then relaxing, sightseeing and trying special food of the mountain. For the rest of the day, they can visit the local houses. The local people are so hospitable, easygoing, willing to give direction. It will be interesting to experience of "3 things together", especially experiencing farming, together harvesting, threshing, catching the stream fish or weaving fabrics manually with local people.
Besides the natural beauty, the space of Muong stilt houses is so romantic leaning against Cao stream, Mu stream is so fresh and you can have a view of far-sighted rice terraced fields, corn fields far away. Moreover, the services and welcome of homestay make a good impression, which helps community ecotourism be more attracted by the tourists. The number of tourists have increased with the average of more than 10,000 visitors/ year, including more than 500 accommodation tourists who are mainly foreigners. Being in the tourism development Project of Lac Son district up to 2020, with a vision to 2030, belonging to the provincial Tourism Association, the community ecotourism in Tu Do is promoting its advantages and prospects in the direction of expanding the connection with surrounding area, such as Pu Luong Preservation Area and Mai Chau community tourism. The building of tourism villages and attracting local people's participation help expand, develop tourism, create more opportunities for job employment and improve the income of local people here.