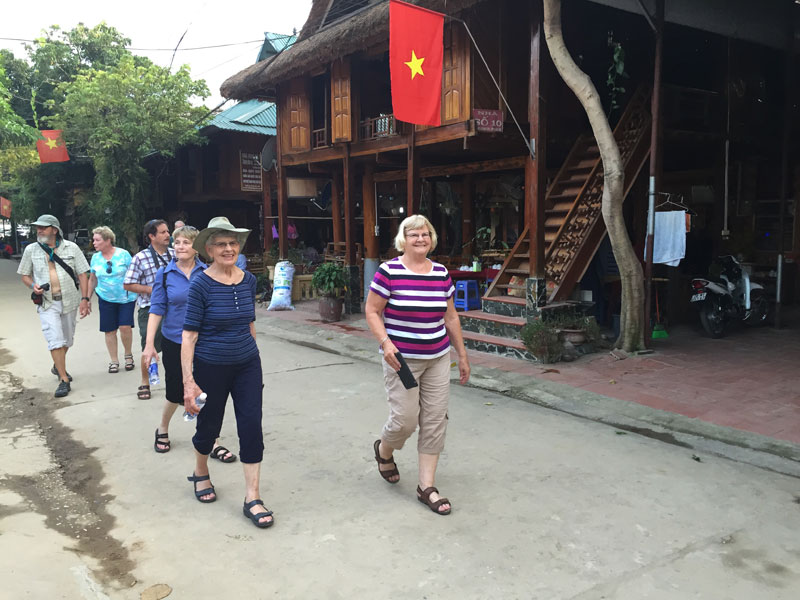 (HBO) - When the apricot blossom and peach blossom is budding, homestay travelling makers in Mai Hich commune (Mai Chau) are preparing to decorate the campus premises, buy more essential items ... They are preparing Tet holiday not only for their family but for foreigners to stay here during Tet holiday.
For these recent years, the people of Mai Hich commune as well as other homestay villages in Mai Chau are familiar with the image of foreigners enjoying Tet occasion in their villages. Every time in the Lunar New Year, when the spring comes back, many guests become accustomed to having Tet holiday together with the local people here. Le Ngoc Hoang, a tour guide of Peak DMC (Hanoi) said: every year, in Tet occasion, many tourists schedule the calendar to celebrate Tet holiday here. These guests are mainly from Europe, especially those from France, Germany and the Netherlands who love to come to Mai Hich and satisfy with the tourist destinations as well as the people here.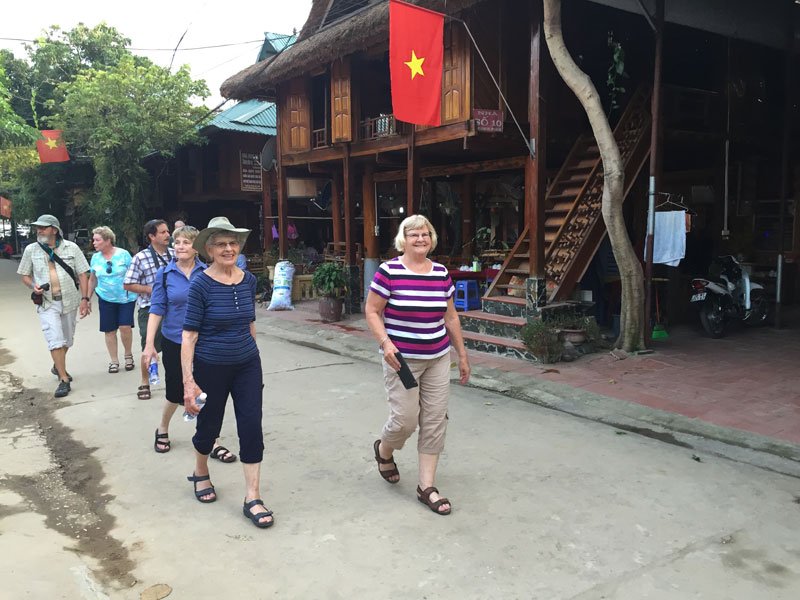 Walking in the homestay village is one of the favorite activities for foreigners when visiting Mai Chau. Photo taken in Lac village, Chieng Chau commune.
Most villages retain their culture and natural living conditions. From the stilt house roofed with grass, palm leaves and wood to everyday life, tourists really like the nature and wildlife. That is the strength of Mai Hich in particular and strength of the households doing community tourism in Hoa Binh in general. Coming here, visitors have many choices from the experience of walking, rowing, riding ... Guests usually stay in Mai Hich for 1 or 2 days and then enjoy another tours. There are some delegations booking tours on the Lunar New Year. They want to feel the uniqueness of traditional Thai New Year in Mai Hich. On this occasion, visitors will enjoy and experience the most outstanding products in culture and life of the Thai ethnic people.
Mr. Alex, 40 (a British man), lives and works in Hanoi, said that 5 years ago, I came to Mai Hich, everything here still retained the wildness. People live warmly, friendly. In the past few years, I have been staying in the home of Mrs. Vi Thi Chieu and Mr. Ha Cong Bang in Hich 2 Hamlet for having Tet. Being away from my homeland, I am very impressed with the traditional Vietnamese New Year. Coming here in the Lunar New Year occasion, I could live with the Thai ethnic family for many generations, they are very comfortable, treat me like a member in the house. On the days before New Year, I could also learn how to pack Chung cakes, then sitting by the fire, watching the boiled pot and dancing with family and local people. With the people of Mai Hich, the smile is always on their lips when meeting visitors, regardless of whether old or young people always welcome the people they meet on the road. This is a great impression for international visitors coming to this land, they feel warmly - welcomed and love the Vietnamese people more. When there are guests to welcome New Year together, many households don't consider the taboo so foreigners feel comfortable and visit here more and more.
We came to the family of Mrs. Vi Thi Chieu in Hich 2 Hamlet. She is 72 years old now but she is still healthy. She said that people living here prepare and enjoy the New Year from December 27 in Lunar Calendar. Many families gather and kill buffaloes, cows and pigs; on the 29th December of Lunar Calendar, they pack chưng gù –a kind of Chung cake; in the New Year Eve and the first day, the second day of New Year, they worship their ancestors. During the days of Lunar New Year, the families who visit and greet each other or visit the grandparents usually bring two Chung cakes. In the New Year's Eve, after worshipping, when listening to the village's gongs, all the households gather at the cultural center for camp firing, gong beating, drum playing that is really exciting. People gather to sing, dance; women are dressed in beautiful traditional costumes. Since doing community tourism, many foreigners have participated in Tet festival with their local residences. They are very happy to participate in these activities.
Mr. Vi Van Hue, Vice Chairman of Mai Hich Commune People's Committee, said that in recent years, the number of tourists coming to stay and have traditional Tet is increasing. If in previous years only a dozen of guests stay here, this year, the delegations have registered for more than 100 guests to stay in the Lunar New Year. Since the arrival of tourists to the hamlet, everyone is very happy, because this has created more income and jobs for the local people. They are also more conscious in preserving their cultural identity, motivating local socio-economic development.