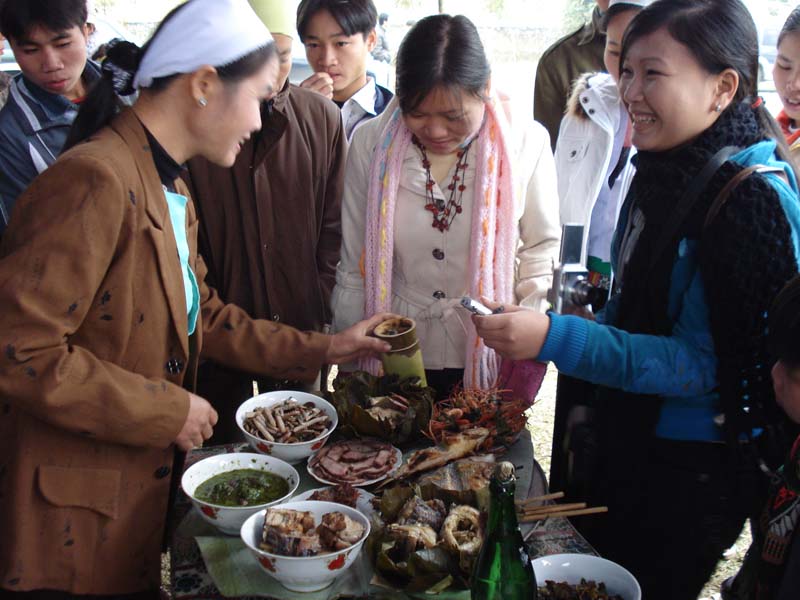 (HBO) – How excited I was when receiving an invitation from a friend to visit Muong Bi in Tan Lac district when the season was shifting from winter to spring. This time of the year, the land offers red pomelos and festive music.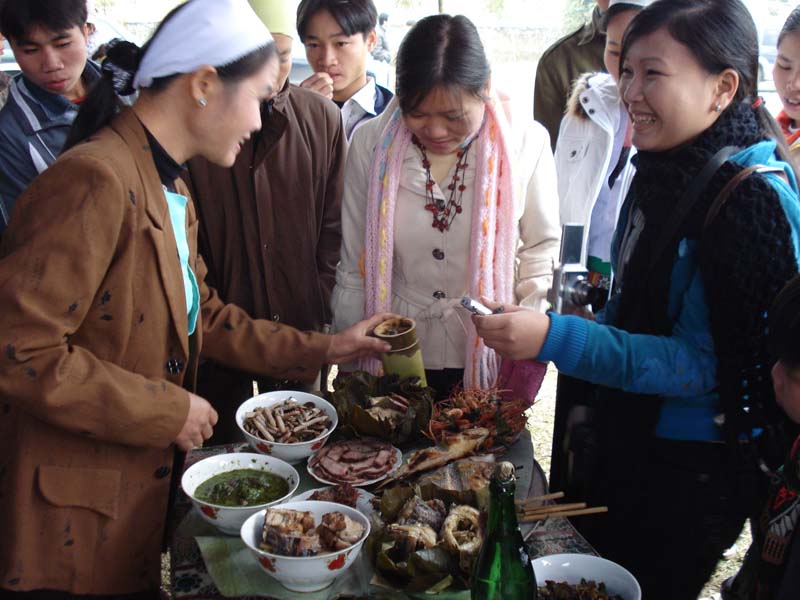 Tourists explore local food during festive occasions
Muong Bi is an ancient land full of mystic features. Popular destinations include the Muoi cave archaeological site, a series of caves, namely Muong Chieng, But, Bung, Hoa Tien, and Nam Son, and Thac Bo, and the Muong Bi flag pole, just to name a few.
Everywhere we go, either travelling to the longevity valley in Lung Van or visiting Ai village (Phong Phu commune), and Ngoi village (Ngoi Hoa commune), we always see the Muong ethnic culture and lifestyle in local architect, costume, dance, and behaviour.
The Muong gong is a highlight of the land. It comes along with the image of thousands of Muong Bi women in traditional costumes parading and playing the musical instrument in different festivals.
Tan Lac district is endowed with advantages for many types of tourism from cultural and spiritual to ecological tours. The land has impressive forests and mountains, streams and waterfalls, and traditional colourful ethnic festivals. In recent years, it has carried out more professional tourism activities, with traditional events, such as the fishing festival in Lo Son and Phu Vinh communes, and the summer festival, gradually revived.
The Muong Bi summer festival marks the beginning of the season. It is said to showcase most of Muong Bi's special cultural features, including food, lifestyle, and sports. The festival has attracted thousands of visitors in recent years.
Tan Lac has put forth several measures to attract investment in tourism. It has held various tourism promotion conferences and taken specific steps to realise Resolution 03-NQ/HU of the district Party Committee issued on June 21, 2016 on local tourism development for 2016 – 2020.
In 2017, Tan Lac welcomed many investors who came to study local potentials. As a result, the district's authorities are considering three projects in Quyet Chien and Ngoi Hoa communes.
The number of visitors to Tan Lac amounted to 94,729 last year; they spent over 10.9 trillion VND, up 946 million VND from the same period in 2016.