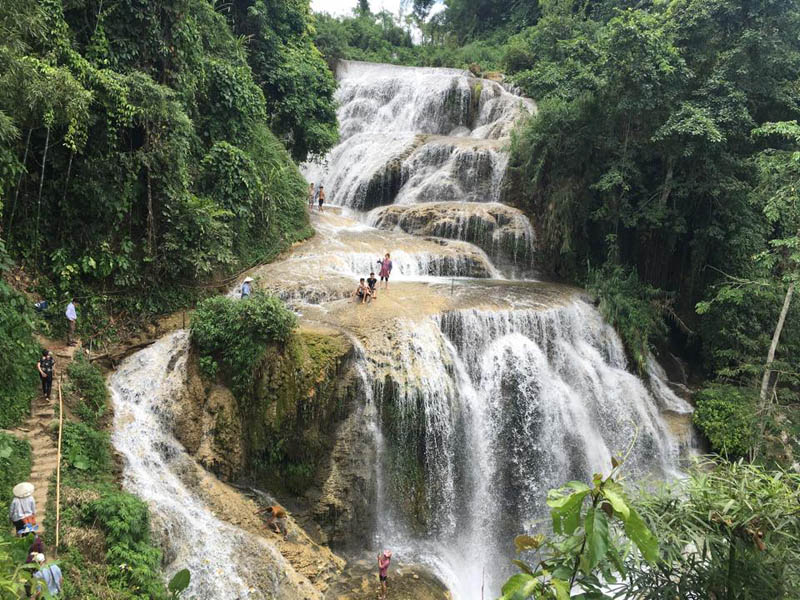 (HBO) – Bumpy roads to Tu Do, a mountainous commune of Lac Son district, Hoa Binh province, cannot hold back footsteps of adventurers who want to explore the beauty of the land and enjoy the pristine nature here.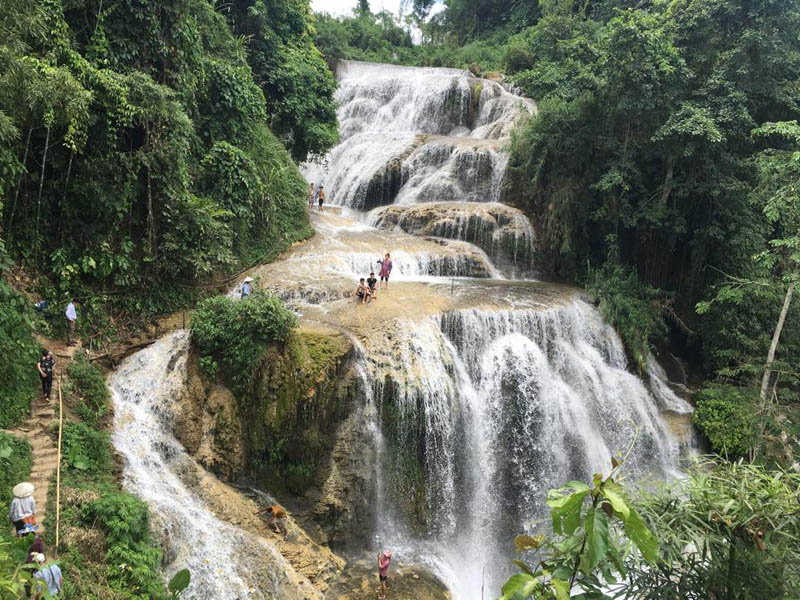 Mu Waterfall, a tourist attraction this summer

The commune is favoured by nature with a magnificent waterfall, called Mu. It is located at an altitude of over 1,000 min the first stretch of the legendary Truong Son range where water pours down into a small lake. The deepest point of the bottom of the falls is around 2 metres, not too dangerous for tourists.

One of the highlights of the Mu Waterfall is an amazing blue lagoon that is as large as a natural swimming pool at the foot of the falls. To many backpackers, the destination is like a "heaven" on the earth.

Below the Mu Waterfall is Mu cave, a masterpiece of nature that can excite any adventurer. The large cave has many beautiful statuesque stalactites that look shimmery and vague under sunlight.

Large fields and terraced paddy fields, other landscapes together with friendly locals and the simple rural life here make Tu Do even more appealing to visitors.

Sat Thuong, a village of the Muong ethnic minority people, was turned into a place renowned for community-based tours. And Bui Thi Him is one of the local women who firstly introduced community-based tourism in this remote village.

She said proudly that Sat Thuong is one of the province's four nature reserves and also the largest with a primeval forest. Over 98 percent of its population are Muong people and all families here live in stilt houses, a tradition that has been kept until today.

Him and some other locals have joined a community-based tourism model, namely Ngoc Son – Ngo Luong since the end of 2011. At the same time, six households began offering homestay services, mostly in the Mu Waterfall area.

With fairly good accommodations and services, the homestay places have become popular among holidaymakers. Thanks to that, the commune welcomed more than 10,000 tourists each year, of whom over 500 visitors, including 400 foreigners, stayed at these homestay establishments.

Developing community-based tourism in Tu Do is part of Lac Son district's project to boost tourism by 2020 with a vision to 2030, which has helped the commune unleash its potentials. The commune plans to cooperate with other tourist destinations in neighbouring areas like Mai Chau in Hoa Binh and Pu Luong Nature Reserve in Thanh Hoa in an attempt to further bolster its tourism industry.

The establishment of community-based tourism villages has brought a new lease of life to Tu Do and promoted local hidden charms, thus improving incomes for local people.