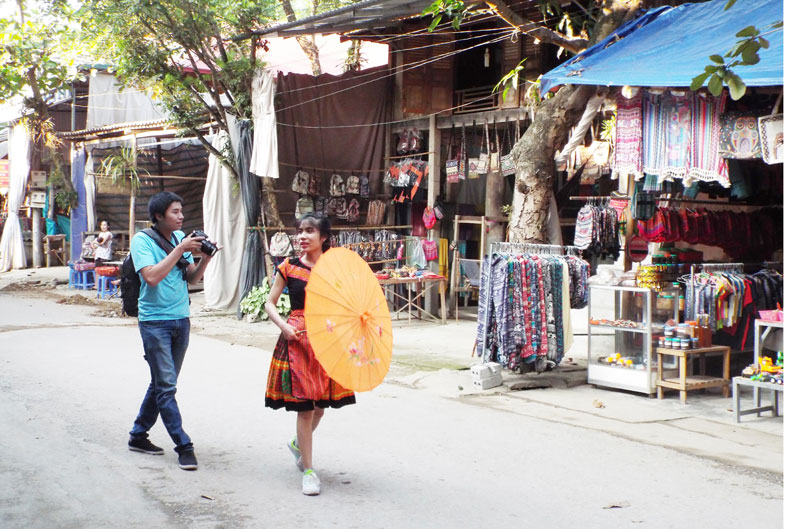 (HBO) – The northern province of Hoa Binh is tapping its potential and advantages to create tourism products meeting demand of domestic and foreign tourists. The provincial tourism sector has continuously received good news as local tourist areas and destinations have become more well-known.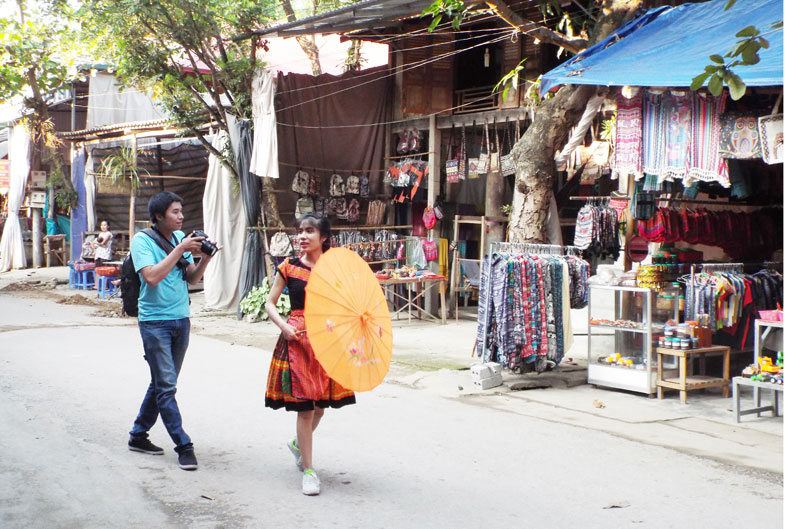 Lac hamlet in Chieng Chau commune (Mai Chau district) attracts many tourists.
Notably, the Serena hot spring Resort Kim Boi in Khai Doi hamlet of Sao Bay commune (Kim Boi district) of Lac Hong company, has always been in high demand since its operation, thanks to its Japanese-style design combined with the beauty of nature and culture of the north western region
Another mineral water spring facility in Ha Bi commune also reports stable number of guests. The number of visitors coming to Mai Chau district's tourist areas like Mai Chau Ecolodge in Na Phon commune is also rising. Many local tourism spots were voted as favourite destinations by domestic and international tour operators such as Pom Coong hamlet in Mai Chau town; the Mai Hich home-stay facility also won the ASEAN Homestay award. Besides, other destinations have left deep impression on tourists like Phuong Hoang golf course (Luong Son district), Vit co xanh Eco-tourism area (Luong Son district), Thang Thien waterfall (Ky Son district), nine waterfalls of Tu Son (Kim Boi district), Muong Ethnic Cultural Space Museum (Hoa Binh city), Viet – Muong cultural village (Luong Son district) and Centre for Research and Preservation of Vietnamese Feudal Laureate Heritage (Cao Phong district), among others.
In particular, the province has established community-based and high-quality tourism services in Ngoi Hoa commune (Tan Lac district), Da Bia in Tien Phong commune, Ke hamlet in Hien Luong commune, Sung hamlet in Cao Son commune (Da Bac district). They have delivered many feelings and interesting experiences for domestic and foreign tourists around Hoa Binh lake, which has been included in the National Tourism Destination plan approved by the Prime Minister. Many investors have come to the Hoa Binh lake to explore the possibility of building tourism projects.
Both the number of guests and tourism earnings have been on the rise in recent years. In 2016, the province served more than 2.2 million visitors, surpassing targets by 13.7 percent. Of the number, there were 227,000 foreigners and over two million domestic visitors, raking in 576 billion VND (25.34 million USD) in revenues and generating over 1 trillion VND (44 million USD) in incomes.
In the first six months of 2017, Hoa Binh received over 1.37 million tourists, a rise of 5.3 percent year-on-year and equivalent to 60.8 percent of the year's plan. There were 122,830 international and more than 1.25 million domestic tourists, bringing in 356.77 billion VND (15.7 million USD) in revenues and generating of about 642 billion VND (28.25 million USD) in incomes.
Luu Huy Linh, Vice Director of the provincial Department of Culture, Sports and Tourism said that the province's advantages for tourism development include striking natural landscape with spectacular mountains and rich and diverse cultural heritage. The province also borders the capital city of Hanoi. Those advantages and potential have been awakened, opening up new chances for Hoa Binh to develop tourism. In its plan to develop tourism, the province has set the goal of receiving over 3.32 million tourists by 2020, including 546,000 foreign and over 2.78 million domestic tourists.
The province also aims to serve over 7.29 million tourists by 2030, with 1.97 million foreign and over 5.32 million domestic tourists. It will strive to raise tourism earnings to 2.49 trillion VND (109.47 million USD) by 2020 and 10.93 trillion VND (480.8 million USD)
by 2030./.