(HBO) - Vice Chairwoman of the Thung Nai communal People's Committee Bui Thi Luyen said the Tien Anh Co. Ltd has been assigned to manage and operate Thung Nai Wharf since 2013. So far, security and order at the wharf have been ensured, an issue local authorities have always paid attention to so as to satisfy visitors.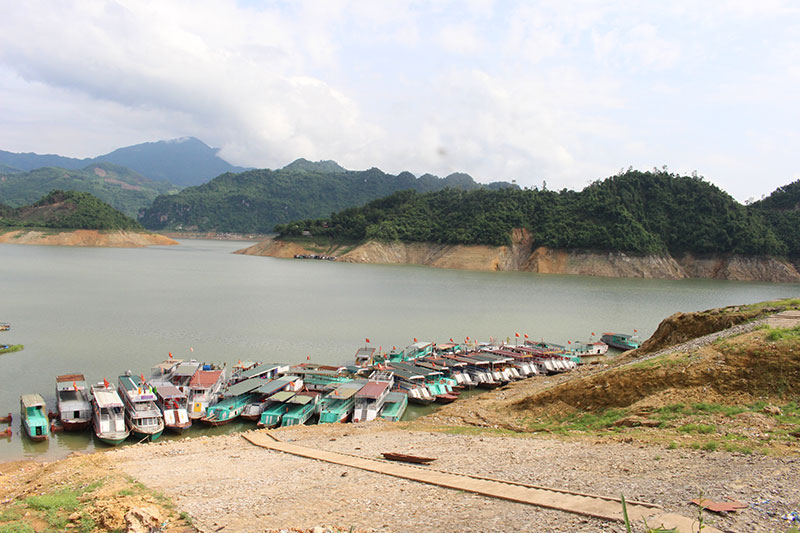 Boats registered at Thung Nai Wharf in Thung Nai commune, Cao Phong district, dock at a designated area.
Head manager of Thung Nai Wharf Luong Cong Thao said the wharf management board consists of seven members. As many as 172 boats have registered at this facility, including 70 eligible for passenger transportation. All of them have been docked at designated areas.
The management board has made plans for transportation activities so that no boats carry too many or too few passengers. Vessels can depart the wharf only after their passenger number is checked and the management boat gives the nod. When receiving passengers, boat owners must also instruct them on how to use lifebuoys. Additionally, boat ticket prices have been publicised.
Aside from security and order, local environmental hygiene and natural landscapes have also received much attention from the communal administration and the wharf management board, Thao noted.
Shops at Thung Nai Wharf have provided services and sold goods in accordance with listed prices, he said, adding that the management board will strictly deal with the overcharging.
Infrastructure at the wharf will also be repaired in the time ahead so as to serve visitors during the festive season in 2020.
In the first half of 2019, Thung Nai Wharf welcomed more than 107,000 visitors. Despite the big number of holidaymakers in the festive season in the beginning of the year, all boat sightseeing tours were operated safely and security and order ensured. Boat crews also showed professionalism and hospitality when serving passengers.