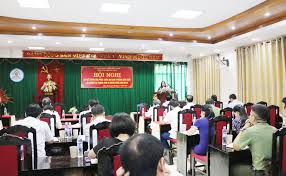 (HBO) – The Hoa Binh provincial Steering Committee on Tourism held a conference in Mai Chau district on July 23 to review the development activities in the field in the first six months and launch tasks for the rest of this year.
Currently, the province has 31 operating tourism areas and destinations, including nine destinations recognised as local tourist sites, along with 412 accommodation facilities, including 37 hotels, 233 motels, and 142 facilities providing homestay services, with 3,412 rooms in total.
Hoa Binh is hosting six travel firms as well as subsidiaries and representative offices of travel companies. The locality has one shopping mall meeting the requirements of visitors.
In the first six months of this year, the province welcomed over 1.84 million tourists, fulfilling 61.5 percent of the yearly target, 153,580 of them foreigners. Total revenue of the local tourism sector topped 1 trillion VND (43 million USD) in the period, completing 50.08 percent of the yearly target.
In the rest of the year, the provincial Steering Committee on Tourism will implement four major missions, including continuing to strengthen communications and popularization of the Party and State's policies on tourism development, thus enhancing the public awareness of the role and position of the tourism sector in the province's social-economic development strategy.
The committee will direct sectors and localities as well as relevant agencies to improve their activeness and responsibility in effectively implementing tasks set in resolutions, planning, programmes and plans for tourism development in the province.
At the same time, it will promote the inspection and supervision by departments, sectors and members of the committee, while encouraging the engagement of the Party Committees at different levels as well as organisations in expanding local tourism, and supporting investors in conducting their tourism projects in the locality./.