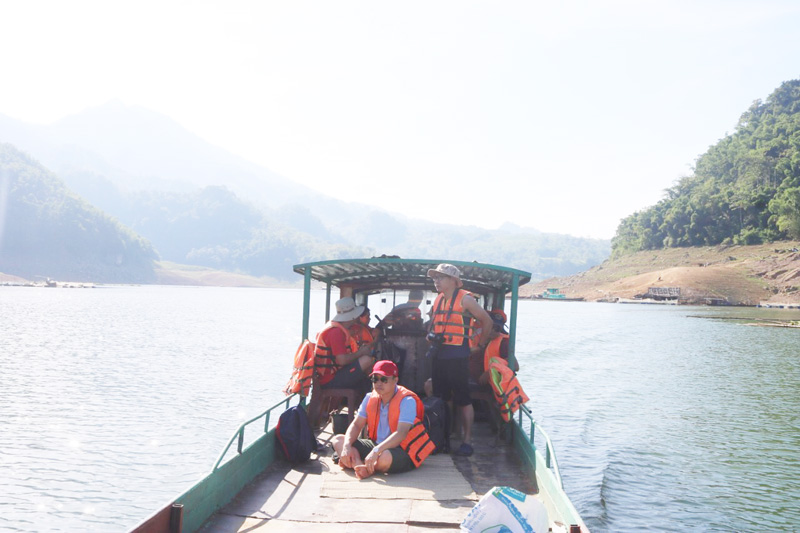 (HBO) - Hoa Binh Lake with the water surface area of 8,000 ha is the largest artificial water reservoir in Vietnam. There are a lot of large and small islands with the attractive natural landscapes associated with the spiritual tourist attractions within the lake. Hoa Binh Lake resort has become a popular tourist destination, attracting a large number of domestic and foreign tourists when coming to Hoa Binh.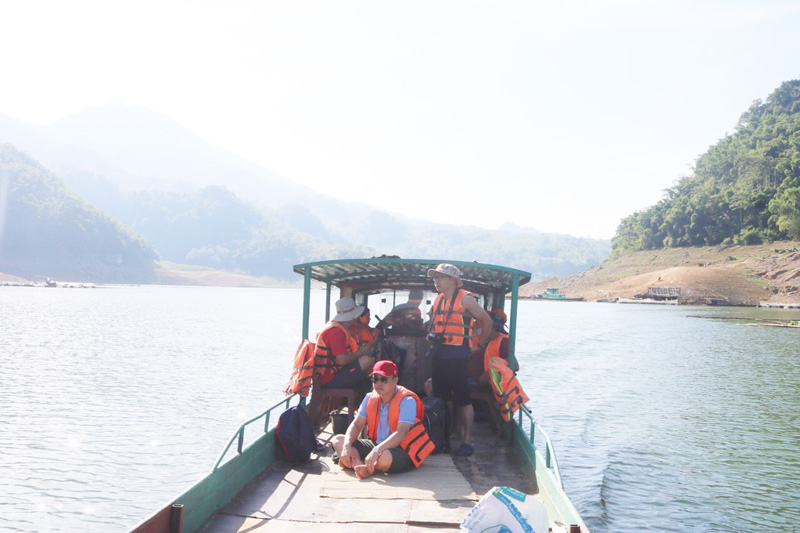 The tourists are enjoying the beautiful water scenery of Hoa Binh.
First of all, it is necessary to mention some spiritual tourist spots such as Thac Bo temple, Le Loi temple, Doi Co Cua Chuong temple and so on. These are the spiritual tourist spots that tourists cannot ignore when visiting and exploring Lake Hoa.
In addition to the above famous spiritual tourist spots, when coming to Hoa Binh Lake, tourists can visit and stay at the community tourism villages located along the lake and these villages have remained the national identity such as Ngoi village in Ngoi Hoa commune (Tan Lac); Ke hamlet in Hien Luong commune; Da Bia hamlet andMo Hon village in Tien Phong commune (Da Bac), Bich Tru village in Thai Thinh commune (Hoa Binh city) or Mai Chau Hideaway luxury resort in Tan Mai commune (Mai Chau), Da Bac Eco Lodge in Hien Luong commune (Da Bac) and so on. Each place has its own look and visitors can participate in the activities with the local people to learn about the culture. They can also take part in the arts and camp fire activities, enjoying the national dishes, swimming in the lake, rafting rowing, cycling or walking to explore the old forests. If they like, they can take part in harvesting rice, catching fish or shrimp, weaving, knitting ..., mixing in the breath of life and activities of local residents, bringing peaceful and happy rest days.
Leaving the spiritual tourist spots, the community tourism villages, the tourists can stop and explore the big and small islands on the lake such as: Windmill Island, Green Island, Ngoc Island, Dua Island, Sung Island and so on. In which, Dua island is a destination attracting many tourists because of the uniqueness of the stilt houses with the traditional architecture of Muong ethnic people and the special tourist activities such as fishing, picking fruits, sailing and camp fire, enjoying the dishes with the typical flavors of the indigenous people in the specialties of Da river fish.
In particular, those who love exploring and adventure can visit the pristine caves such as Thac Bo cave and Hoa Tien cave, which have been ranked as the national relics by the Ministry of Culture, Sports and Tourism. There are a lot of different kinds of stalactites in the cave. Outside the gate of the cave, visitors can zoom out with the masterpieces of the nature blending in the middle of the clear blue lake and the majestic mountains.