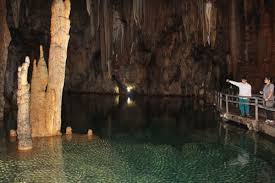 (HBO) - We visited Nam Son cave, Nam Son commune (Tan Lac) on the last days of July. We were quite surprised when we moved through a cave of about 1m high and we saw a wide open space in the cave. There are blocks of virtual fossils. The air in the cave is cool and the holy sound of water is like a light wordless song.
More than ten years ago, some local people accidentally lost their way into the heart of the cave and the saw a really beauty there. Since then, many people have come there to explore. Nam Son cave is also called Ton cave by the local people. The cave is located at an altitude of nearly 1,000 meters above the sea level. It has a length of 455m, a depth of 49m with a large lake surface, from 2 to 7m deep, and the water is transparent throughout the year. In addition to owning a treasure of stone columns, stalactites, stalagmites and stone curtains, it has also preserved many artifacts relating to history, culture and beliefs and is habitat of many bats, the animals and the endemic creatures.
The scientists have recognized Nam Son as the most beautiful and attractive cave in the population of caves discovered in Ngoc Son - Ngo Luong Nature Reserve with the blocks of stone developed over the course of about 250 million years. Nam Son Cave was recognized as a national landscape relic in 2008.
Currently, the authorities of Nam Son commune have conducted the propaganda to raise the awareness of protecting the landscape of tourism resources. The province and district have also planned and invested in some items such as steps up and down, the lighting system, training to guide tourists to visit the cave area.
On July 25th, Tan Lac district organized the opening ceremony of the community tourism spot in the Nam Son commune. Accordingly, they will implement the propaganda solution and they will train the skills to make tourism to exploit the tourism potential of Nam Son in association with preserving the unique cultural values of Muong ethnic people. Besides connecting the tours, the routes, building the private tourism products of the highlands such as Nam Son ancient tangerine, the purple garlic, chayote and other products from the local people. Since then, developing tourism will contribute to the sustainable poverty reduction.