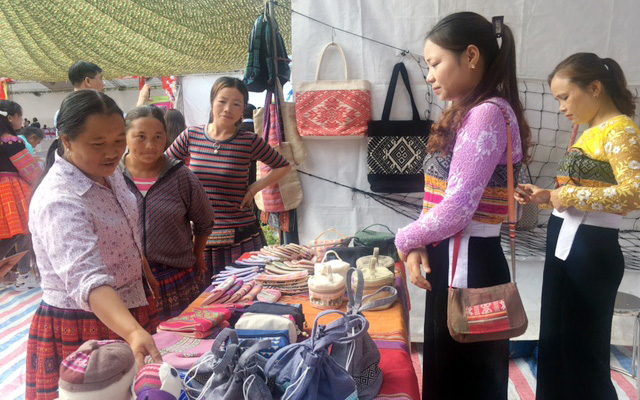 (HBO) - For a long time, when talking about tourism in Mai Chau and Hoa Binh, it is often mentioned Van, Lac, Pom Coong villages, few people know that Hang Kia - Pa Co communes are also rich in tourism potentials having beautiful and pristine nature with the unique culture of Mong ethnic people kept almost intact. The government and tourism industry of Hoa Binh province are making efforts to make it a key destination for tourism in the province.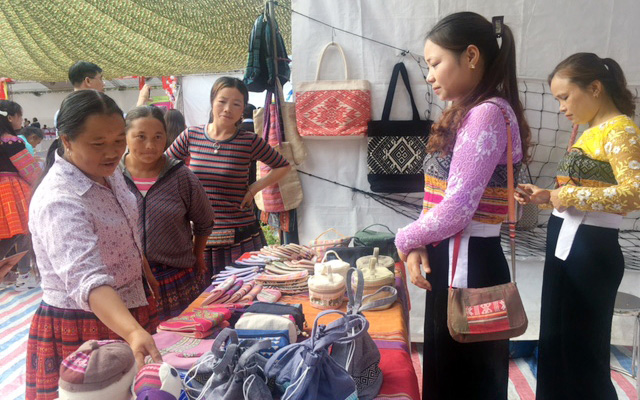 The booth for the exhibition and selling souvenirs of the ethnic minorities at the Conference promoting the tourism investment in two communes, Hang Kia and Pa Co.
From the center of Mai Chau district, moving about 30 km over the mountain of about 1,200 m above sea level, tourists will reach Pa Co commune and moving about 10 km further to Hang Kia commune. Looking down from above and narrowing into the eye, you can see the green color of the mountains hidden under the house roofs of the Mong people in the floating fog.
The landscape here is always inspiring photographers who like to hunt photos. From the small winding road with steep and narrow bends to the tea plantations, the stone fences, the yellow flowers of broccoli totally hug in front of each porch. Going deep into the village, you can occasionally see Mong women who are diligently embroidering, the children who are passionately laughing and playing mischievously. Even the pile of woods in the middle of the yard, the thin smoke rising from the roof of the kitchen is enough for the tourists to leave the noise behind and enjoy the difference of peace.
Coming to Hang Kia - Pa Co, in addition to the road discovering the villages, visitors can set foot to the destinations with the intact beauty such as tea hills, plum gardens in Ta Xong A and Ta Xoe areas, A Lang valley and so on... Along the roads connecting the villages and hamlets, the high points on the mountain, the ideal place to hunt the "clouds", should not be ignored. They are the Heaven Gate, Pa Khom area to Thung Mai or on Sa Tha mountain. There you can see the view of Pu Luong peak (Thanh Hoa) and Pha Luong peak (Son La).
Besides, the attraction and the desire to explore and the visitors' experiences are also the cultural features, the typical traditional occupations of Hmong ethnic people such as brocade weaving, indigo dyeing, beeswax painting and so on. In addition, it is impossible not to mention the attractiveness of highland cuisine with a lot of mountain and forest-style products such as corn wine, Thang Co (A kind of Mong traditional dishes), hand-pounded Day cake, Men Men (A kind of cakes made from corn), Meo broccoli, indigenous chicken, indigenous pig, bamboo shoots with the unique spices blended in the strong smell of Zanthoxylum rhetsa.