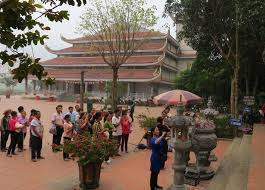 (HBO) - The People's Council of the province has just issued Resolution No. 153 / NQ-HDND on approving the adjustment investment policy on the project for the tourism infrastructure in Lac Thuy district.
Accordingly, the scale of the investment will be adjusted to reduce the route No. 03 (the entrance to the cable car station) with the length of 600 m and reduce the scale of line 4 with the length from 5,000 m down to 700 m.
The scale of adding the route No. 06 (the road to the communal house in Lao Noi village) with the length of about 402 m and the route No. 07 line (the national highway 21 going to the ticket gate) with the length of about 561m, being designed according to the standards V-TCVN 4054: 2005 for the regional road, with the speed of the main technical norms of the two routes. Both of the routes have the designed speed of 30 km / h, the width of the roadbed is 6.5 m, road surface width is 3.5m, the roadside width is 1.0m. The structure of the road surface is sprayed with asphalted concrete and the foundation of the road surface is aggregated with macadam type I and II.
The route No. 08 (the national highway 21 to Tien Pagoda) renovates and repairs the existing roads with the length of about 3 km, including compensating the road surface with macadam pavement and spreading the road surface 5cm thick with asphalt concrete. The total investment has been adjusted to 53 billion VND. The investment capital is supported by the Central Government under the target program on tourism infrastructure development.