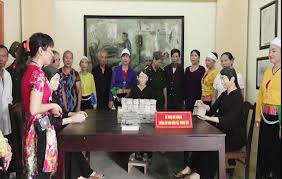 (HBO) - The People's Committee of Lac Thuy district has organized a conference to summarize the tourism festival work in 2019 and to implement the festivals and tourism in 2020.
Being a district with the favorable geographical location and natural and social conditions for developing the eco-tourism and the scenic tourism combined with the spiritual one, now there are 6 national ranking relics and 11 provincial ranking ones in Lac Thuy. To promote the potentials and the advantages of tourism, the People's Committee of the district has directed the implementation of tourism management and other types of services in the area in 2019. They have been propagating and mobilizing the people to preserve the national cultural identity, the environmental sanitation and to ensure the information security. They have been encouraging other organizations and individuals to participate in the tourism business activities to create more jobs and increase income for people and the State budget. The propaganda and tourism promotion have been strengthened.
In particular, the cultural sights, the attractions, the cultural history and the revolutionary historical sites, Tien Pagoda, the Relics of money printing factory in Co Nghia commune have attracted a lot of tourists, creating the highlight in the tourism activities. By the end of June 2019, the number of visitors coming to incense, visiting and sightseeing in Tien Pagoda and the relics of the money printing factory is 335.000 turns of people.
Regarding the direction and tasks of managing the festivals - tourism in 2020, the People's Committee of the district has set out the following goals: Promoting the tasks of information and propaganda about Lac Thuy tourism; managing, exploiting and conserving the cultural identity values at the relics sites; strengthening the inspection and the supervision of worship at the monuments. It is necessary to ensure the security and safety at motorbike and car parking stations, motorbike and taxi stations, electric vehicle stations, preserving the environmental landscape and traffic safety. The issues relating to the collection the donation money at the points of the cave must be clearly solved.