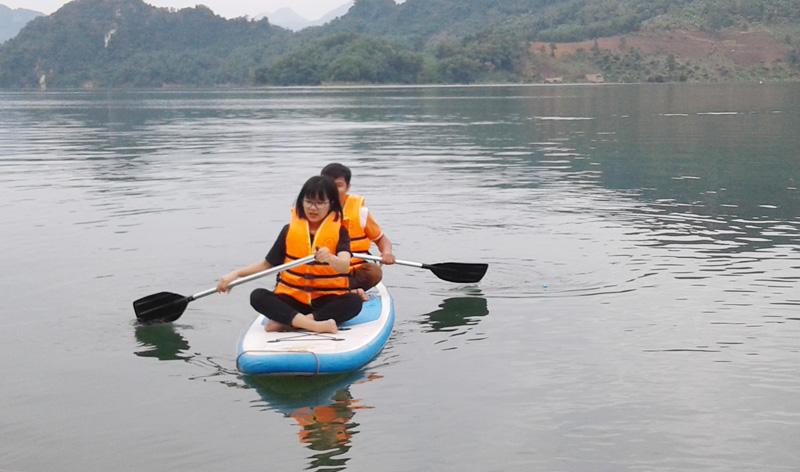 (HBO) - On weekends, 2-3 families rent a boat to enjoy on Hoa Bình lake. This destination not only meets the spiritual travel of adults, but also an interesting experience for young children with activities such as: jungle, fishing, camping, bathing on the lake...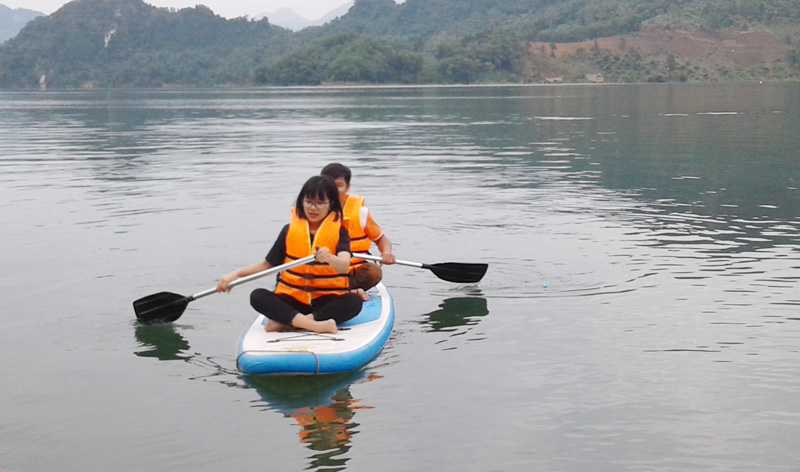 Visitors experience sailing on Hoa Binh lake in Ngoi Hoa commune (Tan Lac district).
Ms. Tran Thi Thao in Linh Dam (Hanoi) shared: With small boats, affordable rent for 2-3 households to hang out on Hoa Binh lake all day. When renting the package, you can go anywhere and you are proactive time. Going to see the nature of Hoa Binh lake, we enjoyed it and often went in groups on weekends. This place has many points to choose, such as: visiting Coconut island, Green island, Raven island, Goat island, Bo Temple, Thac Bo cave, and Windmill island...
Recently, Hoa Binh tourism joint stock Company moved the amusement park on the lake from Ngoi Hoa commune (Tan Lac dítrict) to Thung Nai commune (Cao Phong district). This is a favorite place for children to bathe and play all day in the water. It is also a place to play and practice new skills for children. With trips like this, the cost is not high. like the last trip, both families spent just over 2 million VND.
Mr. Dinh Van Linh in Trang hamlet, Binh Thanh commune (Cao Phong disrict) said: My family raised fish on Hoa Binh lake. Many tourists rent a boat to go sightseeing, catching fish and baking right at the raft house. After eating, they often go to Thung Nai to play. This form of tourism is more and more interested. Many people still camp on the island, buy grilled fish and then explore the forest. Currently, I and other people in Hoa Binh lake area also receive tourists according to this form.