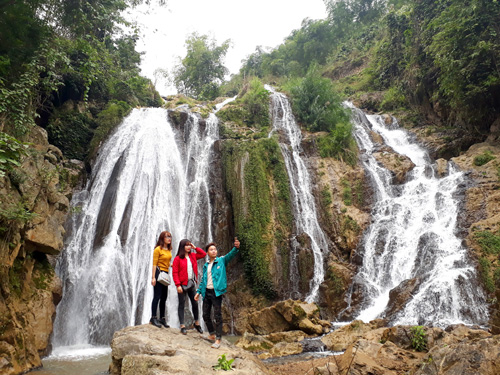 (HBO) - Go Lao Waterfall, a white silk band lying in the middle of the accumulate mountains, is about 30m high. The majestic waterfall is imposing within the high mountain and the thick forest throughout the year. During the high water season, the falls pour white streams, splashing dust all over the ravine. In the dry season, the waterways narrow but still do not lose the grandeur of a natural masterpiece. The nature bestows Go Lao waterfall to the people of Phuc San commune. Therefore, people in this commune are always aware of preserving the wild beauty of the waterfall for many generations.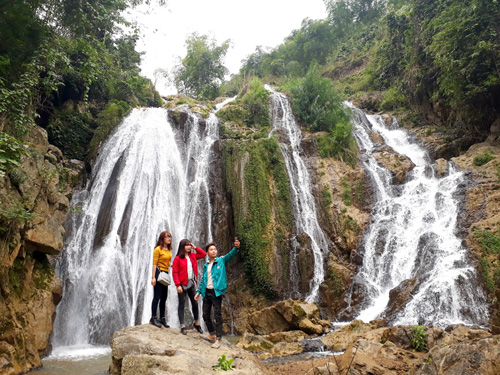 Go Lao waterfall, Phuc San commune (Mai Chau) with the pristine beauty is attracting tourists.
Go Lao waterfall, also known as Go Mu waterfall, located in Go Mu hamlet, Phuc San commune, is about 15 km from Mai Chau town. There are many ways to explore Go Lao waterfall. From Highway 6, visitors turn right at the foot of Da Trang slope, located in Phu Cuong commune (Tan Lac) and then go along the inter-district road about 20 km to Go Lao waterfall. In addition, tourists can follow the cruise ships to Bai Sang port (Phuc San).
Go Lao waterfall is still quite pristine, it is never affected by humans. The waterfall divides into 3 streams flowing on the steep cliffs. At the foot of the waterfall, there are up and down rock rapids, creating a unique landscape. At the foot of the waterfall, the water currents like the blinds are on the surface of the clear lake, reflecting the clouds of the sky. Go Lao Waterfall is a highlight among vast forests of green bamboos and phyllostachys aureas, like an eye-catching soft white silk suitable for young people who like to explore, love adventure and thrills. Here, visitors can participate in water slides, snorkeling. Go Lao Waterfall is an ideal destination for those who love adventure.
Mr. Dinh Cong Hanh, the Chairman of the People's Committee of Phuc San Commune says: A lot of delegations have surveyed Go Lao waterfall to open tourist routes. In particular, the survey team of the Department of Culture, Sports and Tourism made a survey in Go Lao waterfall to open the tourism route of Hoa Binh lake in Phuc San commune. Currently, Phuc San commune is one of the localities in the planning of national tourist area of Hoa Binh lake. This is an opportunity for Phuc San commune to attract tourists to visit and explore. The Party committees and the commune authorities have oriented the development of the ecotourism and experiential tourism. However, due to the difficult conditions of capital, investors have not been found so currently Phuc San does not have any tourism activities. In the near future, Phuc San commune will focus on attracting investors to develop tourism. They will open tourist routes around Hoa Binh lake and explore Go Lao waterfall.