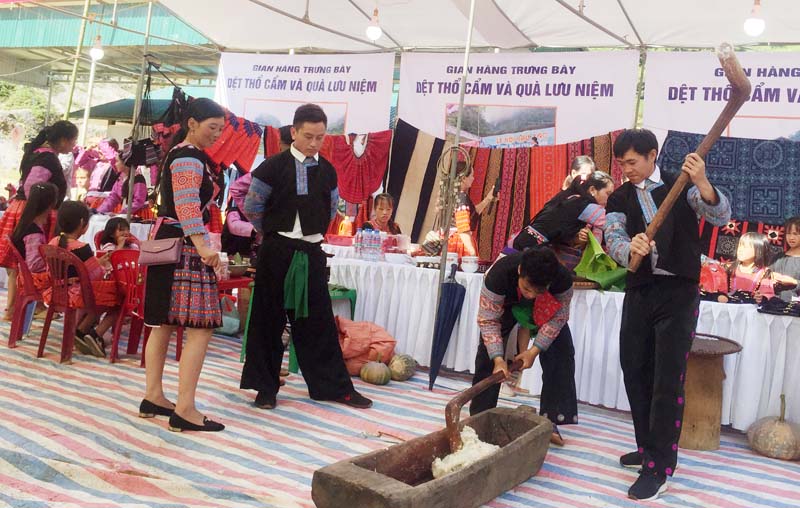 (HBO) _ The Hang Kia - Pa Co area is located 1,200m above sea level with the main seasons - rainy and dry seasons, and the annual average temperature of about 18.50 degrees Celsius. Hang Kia and Pa Co are two communes where Mong ethnic people account for 99 percent of their population.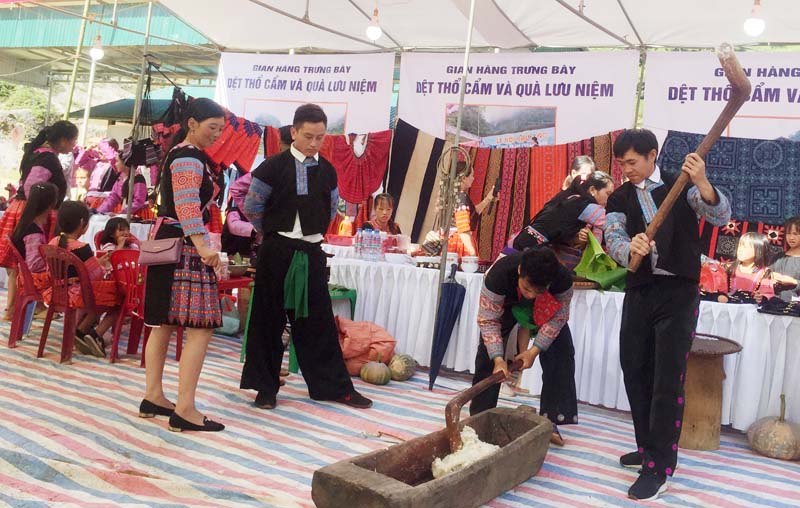 Hand-pounding banh day (sticky rice cake) - one of the unique foods of the people in Hang Kia - Pa Co (Mai Chau).
Local residents preserve their cultural values as well as traditional handicrafts such as weaving, brocade embroidery, indigo dyeing, beeswax painting, and blacksmithing. Besides, there are unique foods of Mong people such as corn alcohol, thang co (soup madewith thevisceraofhorse), banh day (sticky rice cake), chickens and pig, bamboo shoots served with unique spices.
Visiting to Hang Kia and Pa Co communes, visitors can explore roads winding mountains, plum and peach gardens, green tea hills, and markets featuring unique culture of the Mong group; and other destinations with untouched beauty like Thung A Lang, Thung Man, Thung Ang, or high peaks to watch clouds at the Heaven Gate, and an area from Pa Khom to Thung Mai.
Since 2018, the two communes have welcomed over 5,000 visitors, over 60 percent of them was international tourists.
This number is far behind the tourism development potential of the two communes, but proves that Hang Kia and Pa Co are greatly attractive to domestic and foreign tourists.
Therefore, it is necessary to enhance tourism promotion and attract investors to further develop tourism in the two communes, towards changing their economic structure.
To promote tourism development in Mai Chau, especially in Hang Kia and Pa Co, the provincial People's Committee organised tourism investment promotion conferences in the localities.
The provincial People's Committee built a list of tourism investment attraction projects, including Ta Xong A high-class ecological resort project, Ta Xo ecological resort, Thung A Lang tourist area, Heaven Gate eco-tourism area, and Thung Man and Thung Ang eco- tourism areas.
Vice Chairman of the UNESCO Hanoi Travel Club Doan Ngoc Tung said he is impressed by the beauty of natural landscape, climate, and friendliness of locals as well as unique culture of Mong people living in Hang Kia and Pa Co.
This is also a highlight to attract tourists, especially foreign visitors, to come, he said.
"After this field trip, we will build products and tours to the two communes to serve tourists", he added./.