(HBO) – Vice Chairman of the People's Committee of Hoa Binh province and head of the Organising Board of the Hoa Binh Culture-Sport Week 2019 asked local organizations and individuals to enhance their responsibility to ensure the success of the event during a meeting on November 19.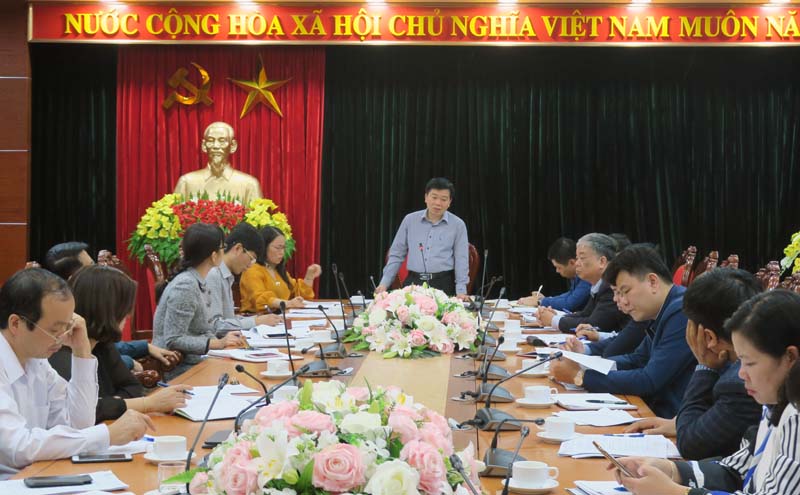 Vice Chairman of the People's Committee of Hoa Binh province and head of the Organisation Board of the Hoa Binh Culture-Sport Week 2019 addresses the meeting.
The Hoa Binh Culture-Sport Week 2019 will open on December 6 at Hoa Binh Square. Many activities will be held within the event's framework, including an art photo festival, an exhibition and performance of intangible heritage, a beauty contest among Muong girls, a food festival and traditional craft performance, and a conference on developing tourism products.
The activities will be held in major locations such as the Hoa Binh Square, the provincial cultural house and Ai village of Phong Phu commune, Tan Lac district.
According to a report of the organizing board, so far, sub-committees of the board have ensured progress of the event's preparations.
The sub-committee for contents-communications-rewards has worked with the Vietnam Television on the live broadcasting of the opening ceremony of the festival. Artists and artisans have been gathered for rehearsal for the ceremony.
Twenty-five contestants have been chosen for the final round of the beauty contest for Muong girls.
Meanwhile, the sub-committee for finance has called for sponsorship from 17 donors, including one diamond, one golden, one silver and one bronze donor.
The sub-committee for security-logistics has completed the list of guests as well as design of banners and slogan for the event as well as plans to ensure security and order.
In the coming time, the organizing board will continue strengthening the communications on the event, while holding a press conference to announce it and checking the progress of the planned items. A final rehearsal for the event is slated for December 5.
Chuong requested the sub-committees to pay more attention to communications and coordinate with media agencies to popularisethe event. The provincial Department of Information and Communications should work with the Department of Culture, Sports and Tourism to prepare for a press briefing on November 25 in Hanoi to announce the festival, he said.
The Vice Chairman also requested the provincial Department of Police and power supply company to prepare plans to protect security and order as well as electricity safety in locations of the festival's activities./.