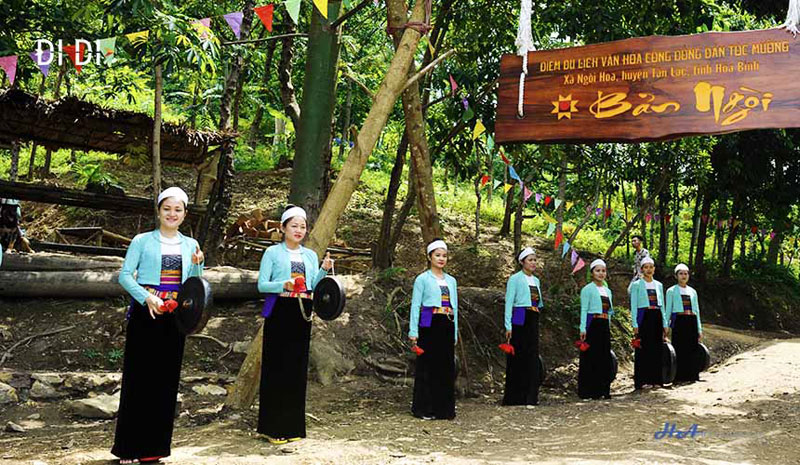 (HBO) - Muong Bi (Tan Lac) is one of four ancient Muong regions of the province. Being endowed by the nature, there are many historical and cultural relics, the landscapes at the national and provincial levels. They include hills, caves, terraces, waterfalls and beautiful and hospitable Muong villages. In recent years, the district has actively invested, embellished and exploited these available potentials for developing tourism. Accordingly, it has created new highlights to make the picture of Muong Bi more and more lively.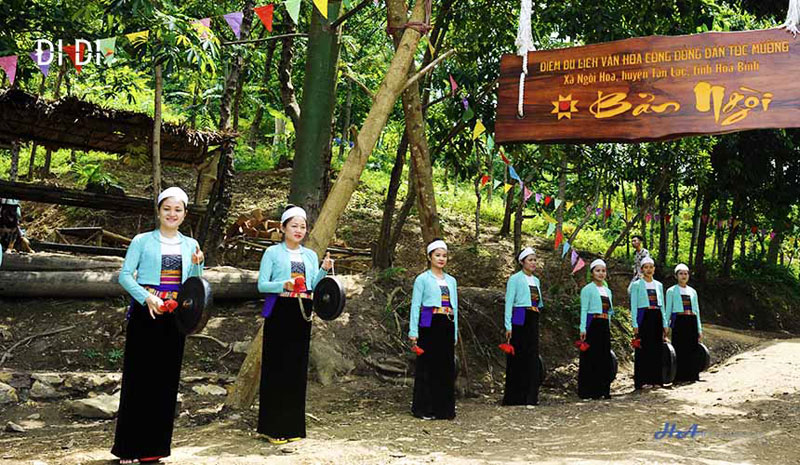 Ban Ngoi village - a community tourism destination in Ngoi Hoa commune - now it is Suoi Hoa hamlet (Tan Lac) is ready to welcome tourists.
Coming to Muong Bi ten years ago, I was really surprised and excited when I saw the young girls in the dress of Muong carrying the gongs for festivals. For further learning, I know that at around the year of 2000, Tan Lac district still preserved about 500 gongs, most of which are ancient gongs handed down from the time of their ancestors. When Khai Ha Festival in Muong Bi was restored by the district (in 2000), more than 400 gongs were gathered. Since then, Khai Ha Festival in Muong Bi has been held on the 7th and 8th of January every year and the performance of Muong gongs is indispensable for.
Looking at the traditional costumes, the forceful and melodious set of gongs, it clearly shows that the people of Muong Bi have done well in preserving and promoting the national identity. More than 80% of Tan Lac district's population are Muong people, the people here not only keep gongs, costumes, festivals but the Muong's language, the lifestyle and the daily activities have been maintained.
Therefore, up to now, Tan Lac district has retained some beautiful and original Muong villages such as the ancient Muong village - Luy Ai (Phong Phu commune), Chien village (Nam Son commune - now it is Van Son commune), Buoi Cai village (Phu Cuong commune), Ngoi village (Ngoi Hoa commune - now it is Suoi Hoa commune), Bac Thung village (Quyet Chien commune), Trang Ta village (Do Nhan commune - now it is Nhan My commune), Lu village ( Lung Van commune - now it belongs to Van Son commune). Thanks to the preservation and promotion of the cultural identity over the years, the festivals such as Khai Ha in Muong Bi, Ke Pagoda, Catching the spring fish in March (Lo Son commune) ... have been restored and become tourism specialties of the locality.
With the potentials such as The archaeological relics of Hang Muoi, Chieng Khen cave, Hoa Tien cave, Bung cave, Thac Bo cave, Nam Son cave, But cave, Cot Co mountain, Trang waterfall, Ngoi Hoa bay , Ngoc Son - Ngon Luong Nature Reserve and so on bestowed by nature, in recent years, the Party Committee and the authorities of Tan Lac district have been paying attention to exploiting to develop tourism, creating a momentum for the tourism to "take off". Mr. Dinh Son Tung, the Head of Culture and Information Department of Tan Lac District says: In 2019, the district has built a "Project for developing the community tourism in Tan Lac district to 2025 with a vision to 2030". It has clearly stated that by 2025 there will have 30 homestays in the whole country. It is expected to welcome 54,000 turns of visitors to the tourism destinations and the community tourism revenue will have reached over 27 billion VND.
Investing, embellishing relics, landscapes and restoring festivals have been paid attention to. Currently, Tan Lac has a number of tourist attractions such as Thac Bo Cave, Hoa Tien Cave, Nam Son Cave, and Trang Waterfall, Ngoi Hoa Bay, Ngoc Son - Ngo Luong Nature Reserve, the ancient Muong village - Luy Ai and some other villages of community tourism. The number of tourists coming to Muong Bi increases year by year. In the period of 2015 - 2018, it increased over 8% per year. In 2019, Tan Lac welcomed 130,658 tuns of tourists, reaching 106.5% of the plan set by the province, which increased 24,192 turns of visitors compared to that of 2018.
In which, the turns of international visitors were 4,506 and those of domestic ones were 125,652. The total income from tourism reached 45,025 million VND, reaching 100.6% of the plan set by the province. The most important thing is that the district has made a sharp highlight on the provincial tourism map.