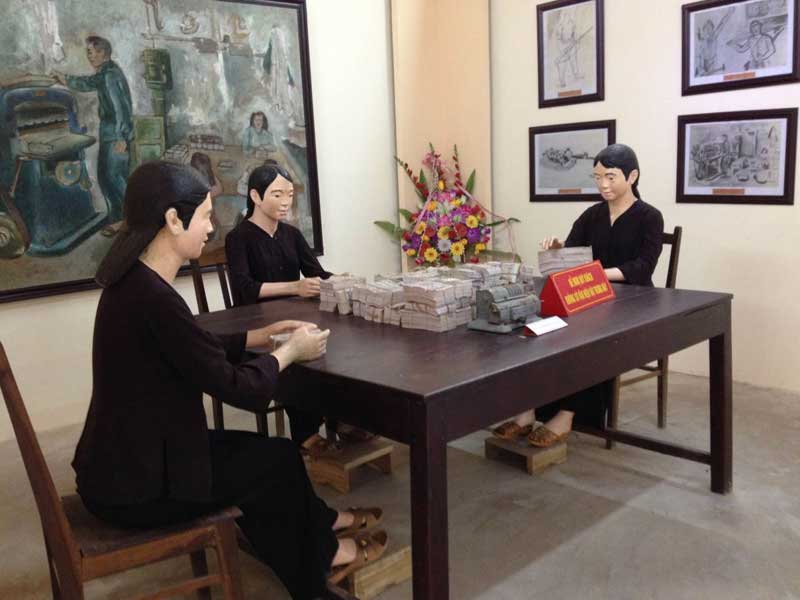 (HBO) - As the first banknote printing factory of the Vietnamese revolutionary government which welcomed late President Ho Chi Minh twice and was recognized as a national historical relic site, the site has become a must-visit destination in a tour to Lac Thuy district, especially on spring days.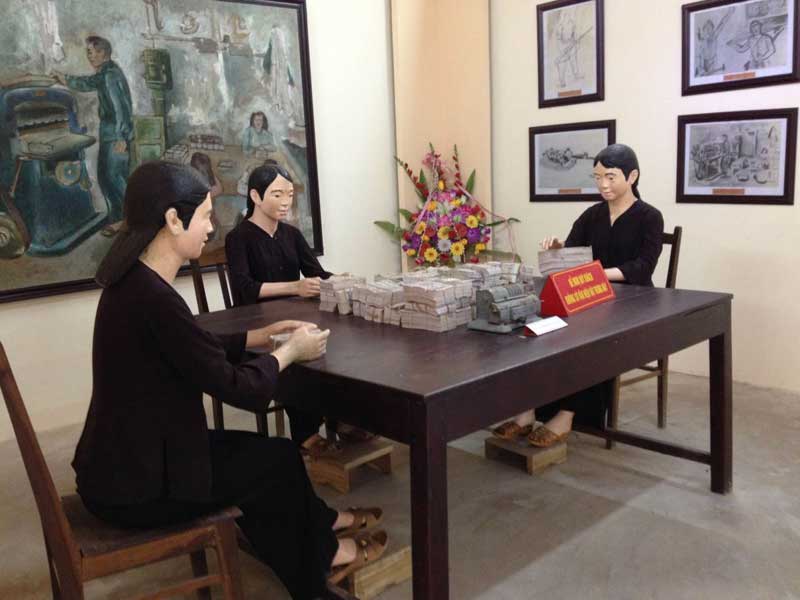 Reconstructing a banknote printing workshop at the banknote printing factory relic site in Chi Ne plantation in Lac Thuy district's Phu Nghia commune
The first banknote printing factory of the Vietnamese revolutionary authority (1946-1947) was chosen to be located on Chi Ne plantation (now in Phu Nghia commune) by the Government, the Finance Ministry and President Ho Chi Minh. It was recognized as a national relic site by the Ministry of Culture, Sports and Tourism on August 27, 2007, following Decision No.03/2007/QD-BVHTTDL. The inauguration of a memorial house for revolution contributors and the factory's staff and workers in May 2019 was the pride of people in the province, the country's financial sector, honouring great contributions by President Ho Chi Minh, the family of bourgeois Do Dinh Thien and revolution contributors to laying the foundation for the building of the country's financial sector. At this place, the 100 VND banknote, also known as the "green buffalo" banknote, was born, bearing an extremely important historical mission, contributing to a monetary war against the enemy to protect the national independence. It also became a weapon in the economic-financial-monetary front.
With its strategic position, Chi Ne plantation was visited by the late President twice. During his visit to Lac Thuy, President Ho Chi Minh said: "This is our printing factory, you all must maintain it and work hardly to print more banknotes for the country to spend on the resistance war for national salvation. The factory's staff and workers have to unite and support each other to make progress together, and pay attention to preserving and saving people's money". Until now, at Chi Ne plantation treasury, the house of Do Dinh Thien where Uncle Ho stayed on February 21, 1947 and the underground hideout he lived have been conserved and become a tourism destination for both domestic and foreign visitors.
Over the past years, Lac Thuy district has paid attention to preserving and promoting the relic site's values, as it has helped educate the revolution tradition for today's young generations, and served as a venue for local people and visitors to offer incense in tribute to President Ho Chi Minh, heroes, martyrs and revolution contributors. On spring days, many people visit the factory to buy the 100 VND banknote with a hope for a year of good fortune and success. At present, together with the district's tourist sites, the factory is connected with other provinces' tourist attractions such as Hanoi's Huong pagoda, Ha Nam province's Tam Chuc pagoda and Ninh Binh province's Van Long tourist site to form a cultural, historical and spiritual tourism route./.