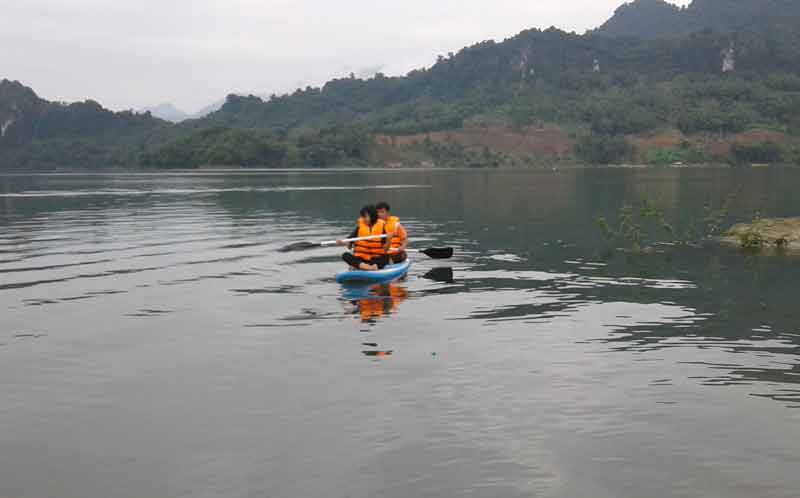 (HBO) - In early 2019, Tan Lac district received over 458.6 million VND (19,757 USD) from the non-governmental organisation Action on Poverty (AOP) to develop community-based tourism. So far, the project has been carried out in two communes - Phu Cuong and Nam Son (now Van Son commune), which helped create livelihoods and improve local incomes.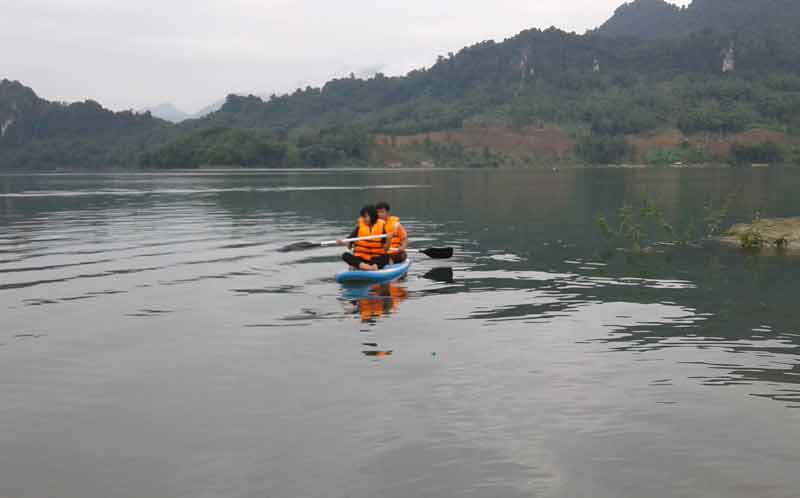 Tourists experience raft rowing at Ngoi village, Ngoi Hoa commune (now Suoi Hoa commune), Tan Lac district.
The project provided local households with loans to renovate their houses and necessary skills to engage in community tourism. It also helped with the building of convenience stores in the locality. In late July 2019, the community-based tourism site in Chien hamlet, Nam Son commune, was officially put into operation. Since then, it has attracted thousands of visitors.
Tan Lac district has so far lured 10 investment projects in tourism. Five have been approved by the provincial People's Committee, while the remainders are being appraised.
Approved investment projects include the Hoa Binh Lake resort and eco-tourism project worth over 800 billion VND (34.4 million USD) of Lac Hong Investment joint Stock Company; the eco-tourism area and May valley nature reserve project worth over 130 billion VND of Hoa Binh Clean Agriculture joint Stock Company; the Thung Khe spiritual and ecological tourism project worth nearly 300 billion VND of Cat Tuong Thien joint Stock Company; the Ngoi Hoa ecotourism project worth 474 billion VND of Hoang Son Investment Power Construction Trade joint Stock Company; and the V'Star-Ngoi Hoa ecotourism project worth 125 billion VND of V'Star joint Stock Company.
Projects pending approval include the Ngoi Hoa ecotourism project invested by Hoshi Vietnam group, the forest protection in combination with tourism project by Gia Ngan joint Stock Company, the Muong ethnic cultural and tourism project in Ngoi village by Hoa Binh Tourism-Investment Company, the Ho Guon-Song Da ecotourism project by Ho Guom group, and the Dao Hoa valley ecotourism project by the Hoa Binh Clean Agriculture joint Stock Company.
The district has been actively calling for investment in tourism. Besides implementing well the State management in tourism and improving human resources, the locality has intensified communications to raise public awareness of tourism development.
Tourism in Tan Lac is expected to become a spearhead economic sector in the coming time. In 2019, the district welcomed 130,658 visitors, up 24,192 compared to 2018. Of the figure, more than 4,500 were foreigners. The tourism sector grossed over 45 billion VND (1.9 million USD) in revenue, surpassing the yearly target by 0.6 percent./.