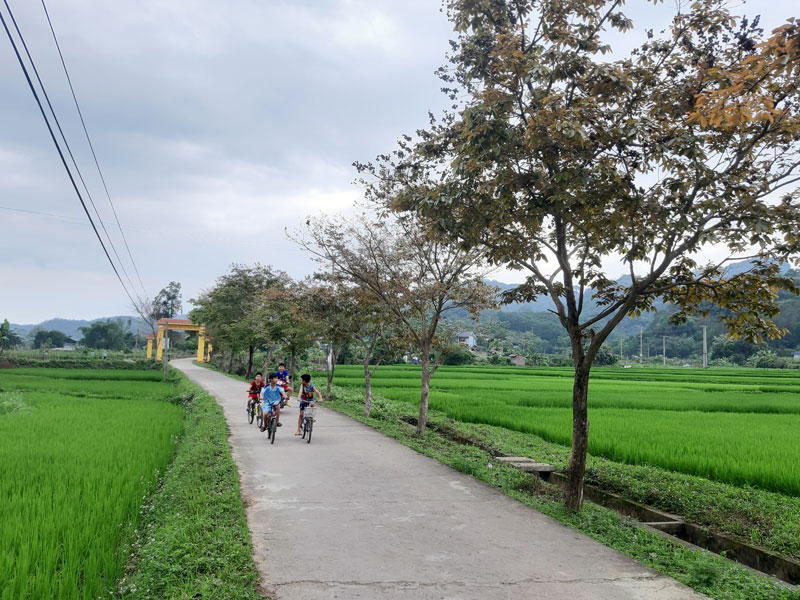 (HBO) - This March is the most beautiful time of the eagle trees on the way to Dam hamlet, Dan Chu ward (Hoa Binh city). Anyone who loves the nature's beauty cannot stop going to Dam hamlet to see the line of eagle trees in the leaf - changing season with young shoots. The climate of the changing season is also the leaf-changing season. The peace of mind rests and feeling the transfer of the weather with the immense nostalgia and confusion.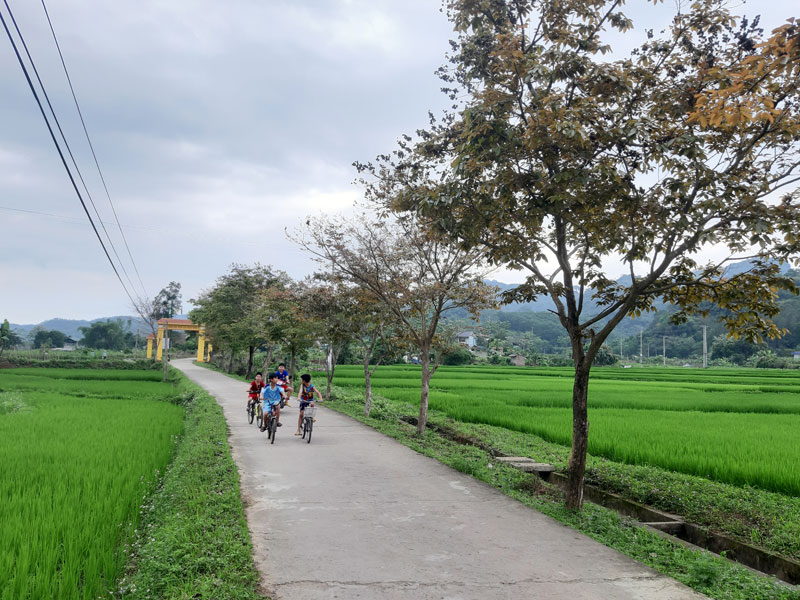 The tree line in Dam hamlet, Dan Chu commune (Hoa Binh city) is dreaming in the sunshine of March.
The tree line on the road to the Dam hamlet is about 2 kilometers long, with mostly lagerstroemia trees. They are wild plants but they contain seasonal beauty. They are the most beautiful at the end of spring, the season of changing leaves.
The old leaves of eagle trees fall, the young leaves of the lagerstroemia and eagle trees, the eagles pierce the brilliant red, creating a romantic and gentle scenery. The yellow leaves turn ivory yellow and then fall off, replaced by the young shoots, blue, green, then purple brown buds. When the sun shines on, they radiate into enchanting colors. At the end of the road, there are rows of trees winding in the deep blue sky. The new sunshine is spreading, the rice fields are green, the rice fields are blooming with the sweet and gentle fragrance in the fresh space.
Thus, the road has become the check-in point of the lovers of nature and beauty. At the beginning of spring, so many young men and women hurry there to record the wonderful moments of the tree line created by man. They wear colorful costumes, some wear long dresses, and other picky people wear costumes of Muong, Thai, Dao and Mong ethnic people. A lot of couples have given their love in the colorful leaves and in the field of incense. They record the moment of the gentle steps, a little blush on the lips, dropping soul in a peaceful, fresh space where it is simple but contains a lot of happiness. The beauty of the tree line is very short, only for about 2 weeks. Someone who does not make it in time, must come back in May to witness and feel the purple color of the lagerstroemia's flowers when summer comes.
Under the rows of green eagle trees growing in the morning sunshine, there is grass without any rubbish. Not having to tell anyone, the people are aware of cleaning, preserving the road as the property of their home. From the actual effect, the people have unanimously responded to the program of planting trees and flowers on village roads, alleys and neighborhoods. In the early spring of this year, the people planted dozens of lagerstroemia trees and dracontomelon duperreanum on the way to Dam's sports ground. They also planted trees and flowers on the way Bai Yen hamlet.