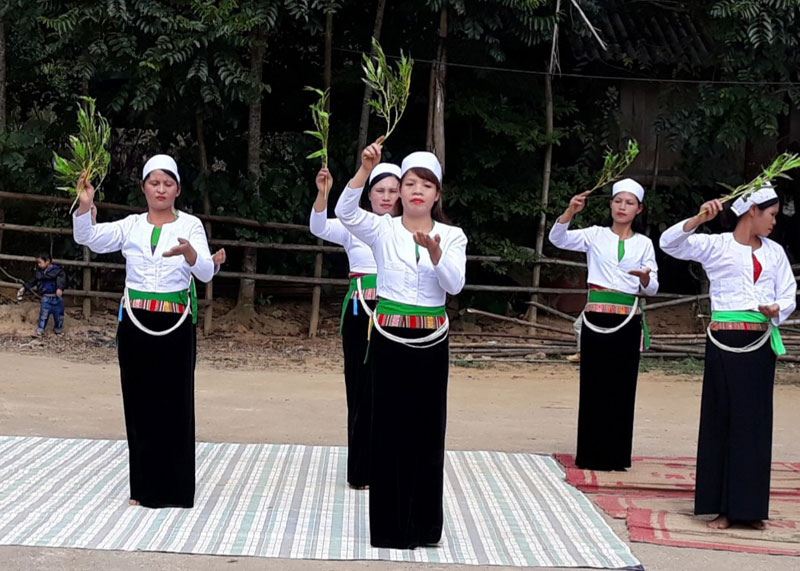 (HBO) - Mentioning Cao Phong district, tourists all over the country know that this is one of the four famous ancient Muong regions of the province, Bi is the first, Vang is the second, Thang is the third and Dong is the fourth. Muong Thang in Cao Phong has long been known as a land rich in traditional cultural identity. In the district there are beautiful and rich natural landscapes with many beauty spots containing the historical legends. This place also preserves the traditional beauty in the lifestyle, the customs, the house architecture of Muong community, promising to be an attractive destination.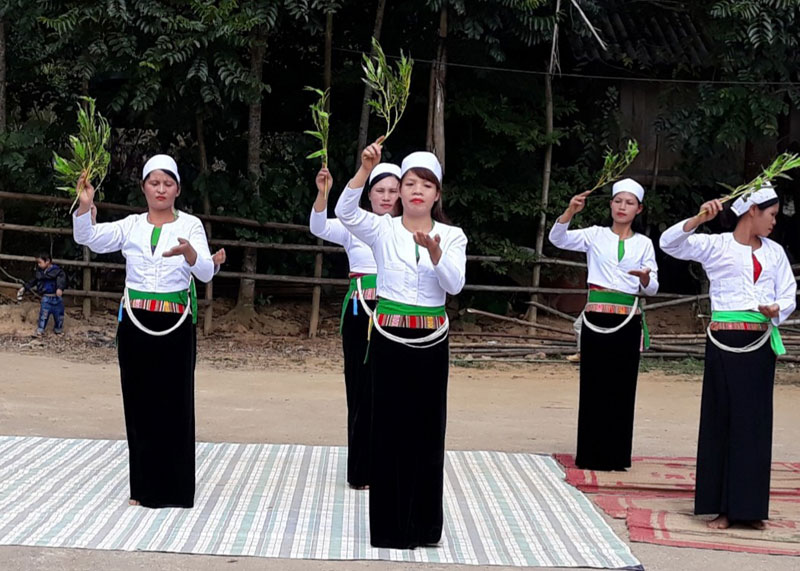 The performance team of Tien hamlet, Thung Nai commune (Cao Phong) are practicing performances imbued with the identity of Muong ethnic group to welcome tourists.
For the type of community tourism, coming to Muong Thang land, tourists can visit the community tourism sites in Muong Giang Mo village in Binh Thanh commune or Tien hamlet in Thung Nai commune. In particular, Giang Mo village has long been attracting domestic and international tourists. In the village there are more than 100 traditional stilt houses that still remain the original identity of the houses and the lifestyle of Muong ethnic people. In Mo village, visitors can visit the historical relics of the heroic tank destroyer, the hero Cu Chinh Lan.
There is a monument depicting the image of the intelligent and brave hero on the road 6, which is associated with the glorious victory of our army and people in Hoa Binh Historic Campaign. In spring, coming to Cao Phong, tourists often choose the spiritual tourism destinations such as Thac Bo Temple in the tourism chains of Hoa Binh lake area. Leaving Thac Bo Temple, we arrive in Khanh Pagoda (Yen Thuong Commune). On the journey to Khanh pagoda, we can visit Quen Ang pagoda in Tan Phong commune, a historical relic associated with the legend of "The Flower Garden in Coi Mountain" - a story in Mo epic - Mo Muong in Hoa Binh. This is also the area which the district has restored Muong Thang Festival at the beginning of the year. In particular, the cave populations of Dau Rong mountain in zone 3, Cao Phong town, which was granted the monument of the national level by the Ministry of Culture, Sports and Tourism in 2012, is also the focus chosen by many tourists on their journey to Cao Phong district.
With a convenient area, which is about 500 meters from the National Road 6, a lot of beautiful caves are linked together to form the populations such as the marble Caves of Hoa Son, Khong Day cave, Nhan Long Mountain Cave, Phong Son Cave, Water Cave and Thanh Thuy Cave. Along with the above tourism destinations, coming to Cao Phong, visitors will immediately see a rich land of orange and sugar cane gardens stretching like a green steppe.