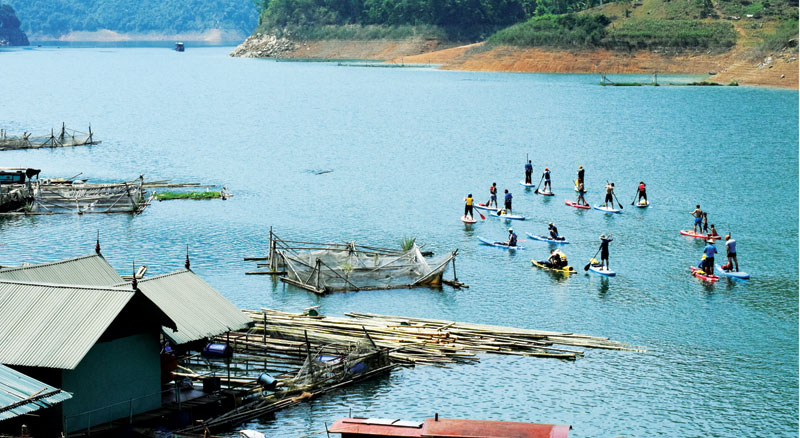 (HBO) - In the 2018-2020 period, the Hoa Binh lake tourist site has seen positive results, with impressive increases in the number of tourists and total revenue. As of late 2019, the city welcomed nearly 321,000 domestic and foreign tourist arrivals and earned over 80 billion VND in revenue.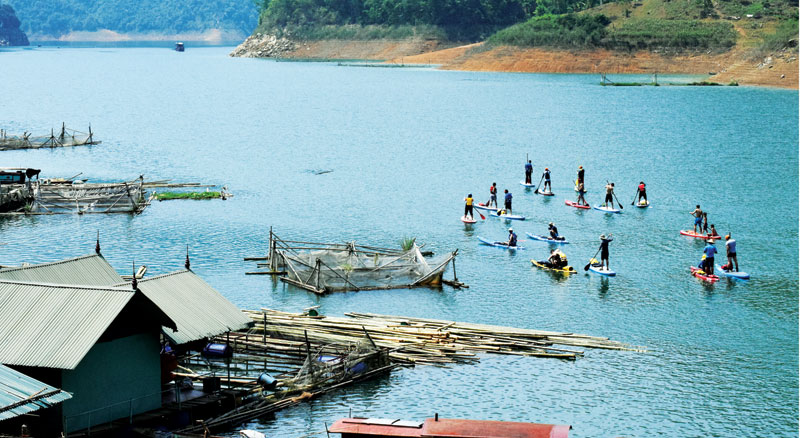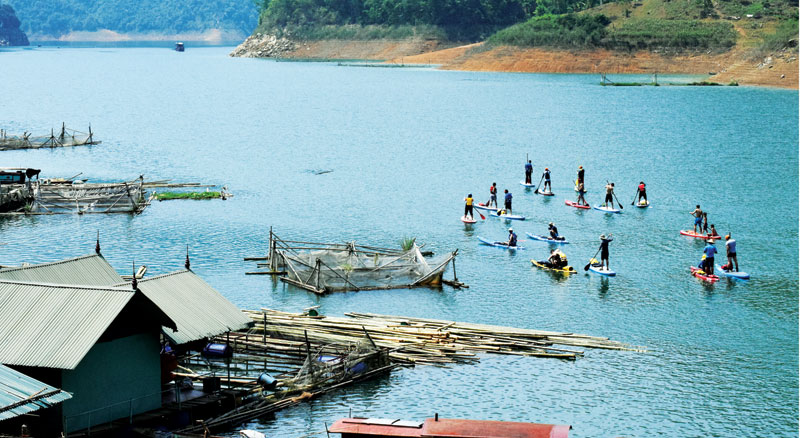 Tourists experience Kayak riding on Da River.
As one of the five localities in the Hoa Binh lake tourist site, Da Bac district has exerted efforts to carry out tourism promotion programmes. Every year, it organises a New Year festival of the Dao ethnic minority group to preserve its culture. Most recently, in late 2019, an agricultural and tourism promotion conference was held at Dua (Coconut) Island eco-tourism site to attract investors, businessmen and visitors. During the event, memoranda of understanding on investment cooperation were signed with eight enterprises with a combined capital of around 2 trillion VND. The projects are expected to open up opportunities to attract more tourists, generate more jobs and increase budget revenue, contributing to completing criteria to turn Hoa Binh lake tourist site into a national tourist site.
The province built an e-portal dedicated to the site, intensified promotion on the Vietnam National Administration of Tourism's website, made video clips and short films featuring community-based tourist sites on Hoa Binh lake tourist site. Book named "Hoa Binh Lake tourist site – Journey to Explore, Opportunities to Invest" was published.
The localities also intensified the promotion of the tourist site on mass media, participated in events such as Vietnam International Travel Mart in Hanoi and International Travel Expo in HCM City (ITE HCMC).
In the time ahead, dissemination will be stepped up through the national tourism investment promotion programme in the 2014-2020 period. The province will make the best use of support from the Government and telecom businesses to expand mobile network coverage, and offer free Wi-fi at key tourist sites, and at the same time organise more famtrips and presstrips to help promote the image of Hoa Binh lake tourist site./.