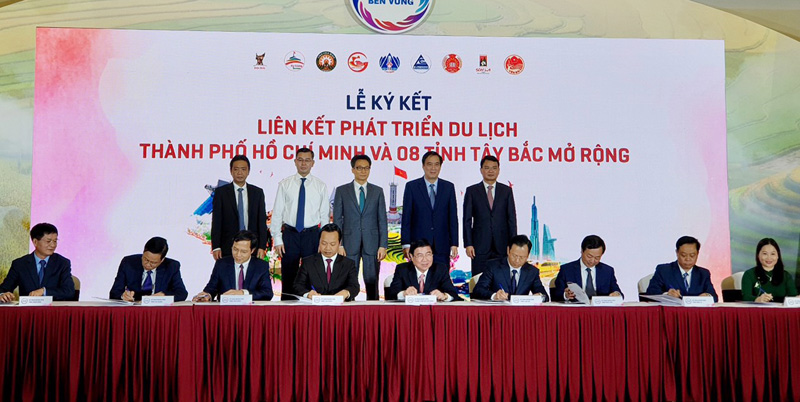 (HBO) – The People's Committee of Ho Chi Minh City and the People's Committee of Phu Tho province have collaborated with the People's Committees of Hoa Binh, Dien Bien, Ha Giang, Lai Chau, Lao Cai, Son La and Yen Bai to organise a conference in Phu Tho on cooperation in tourism development between Ho Chi Minh City and eight expanded northwestern localities in 2020.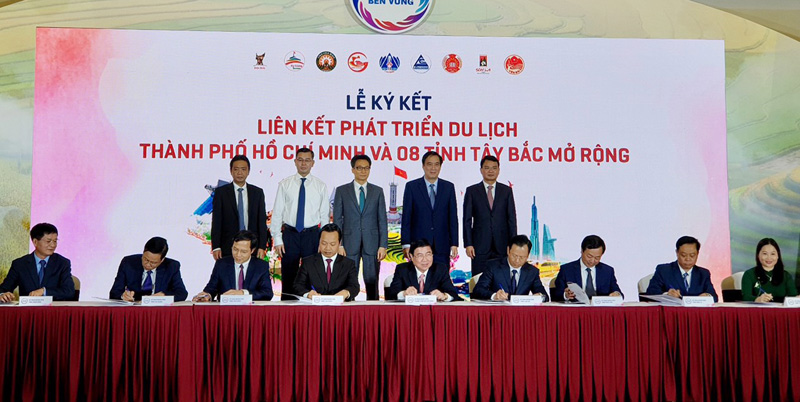 The signing ceremony of the agreement among travel firms of Ho Chi Minh City and eight expanded northwestern provinces.
Addressing the event, Deputy Prime Minister Vu Duc Dam underlined that when international tourism has yet to recover in a short time due to COVID-19 pandemic, the domestic market has been the focus on tourism sector. At the same time, this is a good chance for domestic travelers to enjoy services that mostly target foreigners.
The Deputy PM said that he hopes northwestern provinces to create more favourable conditions for the attraction of investment from businesses in the development of infrastructure and services serving tourism, while strengthening the links not only among them but also among localities inside a province and among departments, sectors and service suppliers in the locality.
Tourism development in northwestern province will contribute to helping local resident to reduce poverty in a sustainable manner, accessing a more diverse culture of the world and bringing about chances to promote the culture of Vietnamese people to foreign friends, he said.
Deputy PM Dam reminded the localities to associate tourism development with sustainable development and environmental protection, avoiding "hot" development.
In the current context, tourism promotion should go along with the protection of health and the prevention of COVID-19 pandemic in the community, he said, asking the localities to prepare for recovery and attracting foreign tourists after the pandemic is controlled. They should also upgrade the quality of services, so as to turn tourism into a spearhead sector.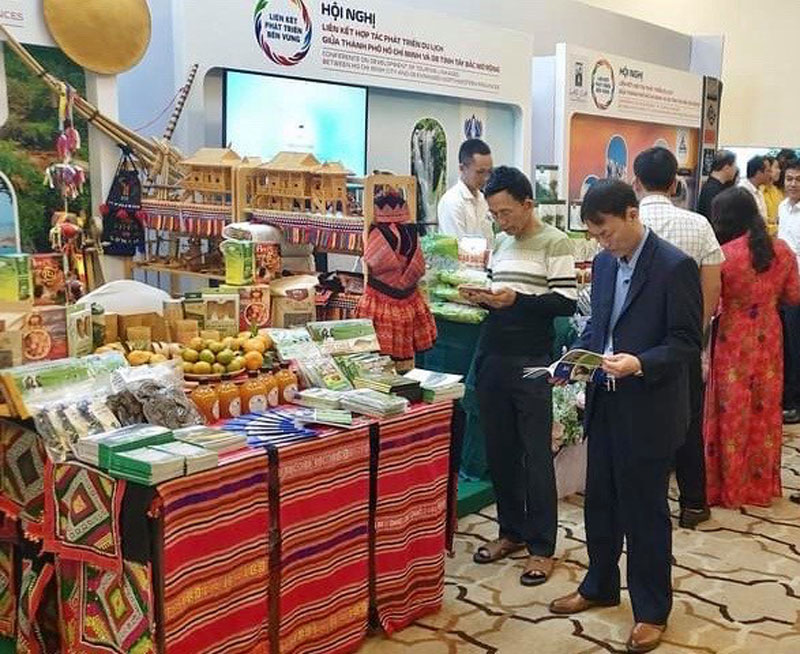 Delegates visit the pavilion introducing tourism products of Hoa Binh.
At the event, leaders of the localities called on organisations and tourism firms to foster connectivity in domestic investment and expand partnership with foreign partners in building the infrastructure system and communications, thus ensuring the sustainable development of the tourism sector in line with social welfare promotion and protection of environment and heritage.
Within the event's framework, leaders of Ho Chi Minh City and eight expanded northwestern provinces signed an agreement on connection and cooperation in tourism development in the 2021-2025 period and a plan to implement activities on tourism development links and coordination. A number of activities were also held on the sidelines of the conference, including an online forum to seek measures to enhance tourism connectivity between Ho Chi Minh City and eight expanded northwestern provinces, a programme to welcome tourist groups, the introduction of destinations and tourism products as well as typical commercial products of Ho Chi Minh City and the eight localities./.