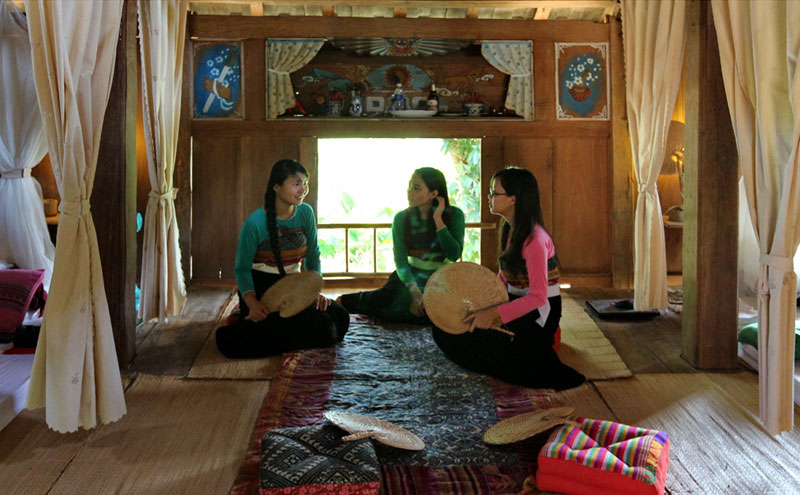 (HBO) – Hoa Binh Province will continue prioritising resources for the development of tourism, the Standing Board of the provincial Party's Committee has announced after reviewing the 3-year implementation of Action Plan No.15-CTr/TU on the enforcement of the Politburo's Resolution 8, dated January 16, 2017, on developing tourism as a key economic sector.
After implementing the action plan for three years, the province has seen progress in tourism. State management of tourism has received more attention from senior officials and the province placed greater focus on attracting investment in the spearhead industry.
Hoa Binh has poured investment into developing tourism infrastructure and improving the quality of tourism products and services in order to meet increasing demand of visitors. The province has experienced strong growth in tourist arrivals and tourism revenue, contributing to the local economic restructuring, job creation and higher State budget revenue and local incomes.
However, there were still delays and lack of unity in tourism infrastructure development, particularly in roads connecting tourist attractions. The terminal servicing passenger and tourist ships on Hoa Binh Reservoir is underdeveloped, failing to match the development and planning of a national tourst area.
The province has yet to lure major developers and to create tourism products and services attractive enough. It has also failed to fulfill a number of tourism goals for 2020.
In the coming time, the Standing Board of the provincial Party's Committee is determined to bring into full play its potential and advantages to turn tourism into a key economic sector and make Hoa Binh a beckoning destination and a tourism hub of the northern midlands and mountainous region.
To this end, the province plans to continue widely popularising the Politburo's Resolution No.8 and Action Plan No.15 while prioritising funds from the State budget and the private sector to implement the plan.
It will designate exclusive mechanisms and policies to legally pave the way for investment in all types of tourism products, such as those in cultural tourism, eco-tourism and experience tourism, and to improve the quality of human resources for the sector. It will also take measures to help enterprises in the industry tackle challenges caused by COVID-19 so as to allow them to revive and develop in the future.
By 2025, the province sets to have more than 6,000 hotel rooms and tourism revenue to reach about 5.4 trillion VND. By 2030, the province expects to complete infrastructure development for tourism and welcome about 7.4 million tourist arrivals with total revenue from tourism mounting to 11 trillion VND. Hoa Binh Reservoir is also set become a national tourist area in the next 10 years./.