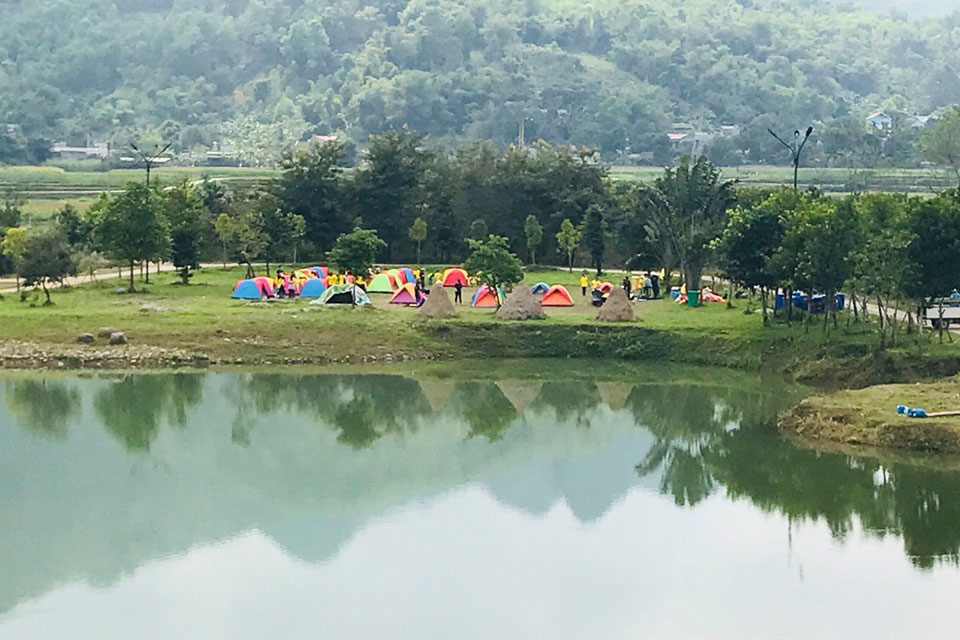 (HBO) – The Kim Boi - Muong Dong area is endowed with charming landscape, rich culture, and valuable mineral water sources, making it a potential destination for the development of resorts and eco-tourism. Market studies are underway by big companies, promising the construction of a series of high-end tourism products to catapult the local industry.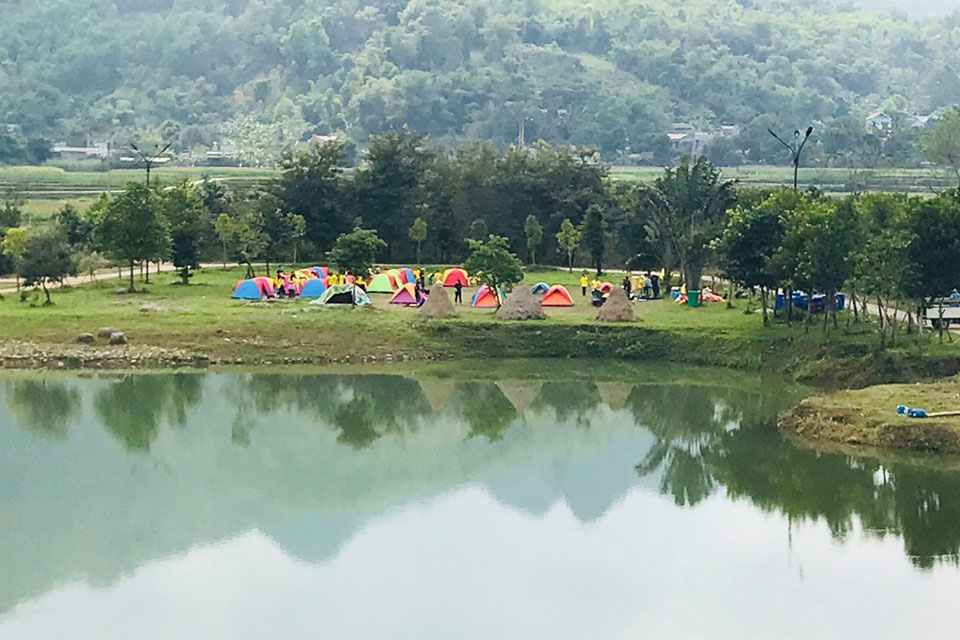 The An Lac Ecofarm in Kim Boi district's Vinh Dong commune boasts beautiful natural scene, attracting visitors to enjoy and experience.
Kim Boi has been marked on the national tourism map for a long time. Years ago, a hot spring site in Mo Da hamlet in Ha Bi commune – which is now called Bo town – was discovered. The place has been expanded over time as a highlight of the local tourism.
Currently, there are a number of good quality tourism sites like An Lac Ecofarm, V'Resort Vinh Tien, Cuu Thac Tu Son operating across the province to serve different types of tourists. Meanwhile, the luxury 4-star Serena Resort is being built in Sao Bay commune's Sao hamlet, covering about 30ha in its first phase. As the sector grew, the number of holidaymakers to Kim Boi has significantly improved.
In 2020, despite facing difficulties caused by the COVID-19 pandemic, the district welcomed 235,000 tourist arrivals, including 350 foreigners. The total number of visitors met 90 percent of its yearly goal and brought about 195 billion VND (8.45 million USD) in revenues.
The land is now getting increasing interest from investors, with leading tourism developers like the Viet - ECO Hoa Binh JSC, La Vong Group JSC, Vietnam Finance Investment Group JSC, Vingroup's KB Group JSC, Sun Group, and APEC Investment JSC flocking to the locality to study possible investment in high-end tourism.
The APEC Investment JSC is purchasing an unimplemented project from a firm to build a five-star resort in Bo town's Mo Da hamlet, while the Sun Group is conducting a study for a series of projects, including a resort- cultural tourism complex in the districts of Lac Son and Kim Boi and the Cuoi Ha culture-resort-cable car complex. The Dai Lam JSC is also carrying out surveys to make investment in the Thac Bac Long Cung eco- and spiritual tourism site.
Planning to turn Kim Boi into a high-quality eco-tourism and resort hub, the provincial authorities are making efforts to build a route connecting Hanoi's Hoa Lac road to the centre of the district. Once completed, the new road will reduce the time going from Hanoi to Kim Boi to just about an hour by car. This will open up big opportunity for the local tourism to thrive.
Vice Chairman of Kim Boi district People's Committee Le Duc Hung said to realize the resolutions of the provincial and district Party Committees' 23rd congresses, Kim Boi is building a tourism development project for 2020 – 2025 with a vision toward 2030. Under the project, Kim Boi is set to become a safe and attractive destination boasting unique and high-competitive tourism products, he added.
The district is now working with relevant agencies to improve the local business climate and encourage capable enterprises to invest in tourism projects. The Kim Boi tourism trademark will be built in association with a host of eco-tours, resorts, hot springs, and community-based and spiritual tourism services.
In addition, the local authorities pay attention to attracting investment in tourism infrastructure, enhancing management capacity of competent agencies, and capitalising on the local potential to form typical and enticing tourism products. These aim at attracting more diverse types of visitors and boost the tourism sector's proportion in the district's economic structure./.