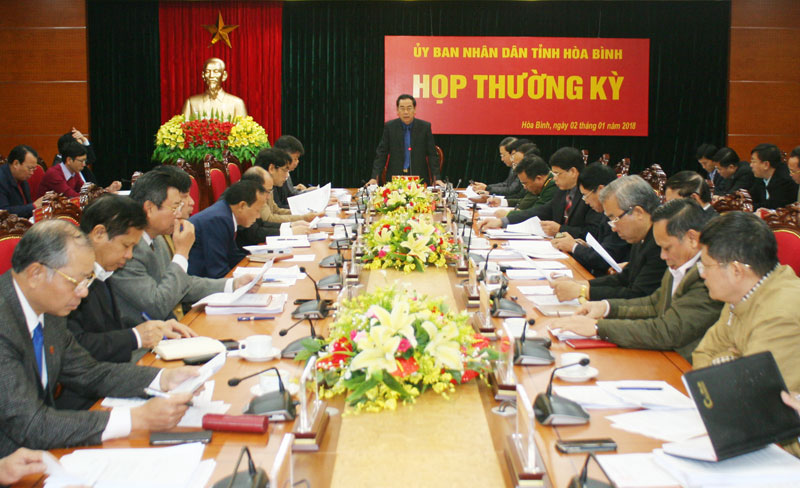 (HBO) – Deputy Secretary of the Communist Party and Chairman of the People's Committee of Hoa Binh province Nguyen Van Quang made key recommendations for the local plan for socio-economic development in 2018 in a regular meeting.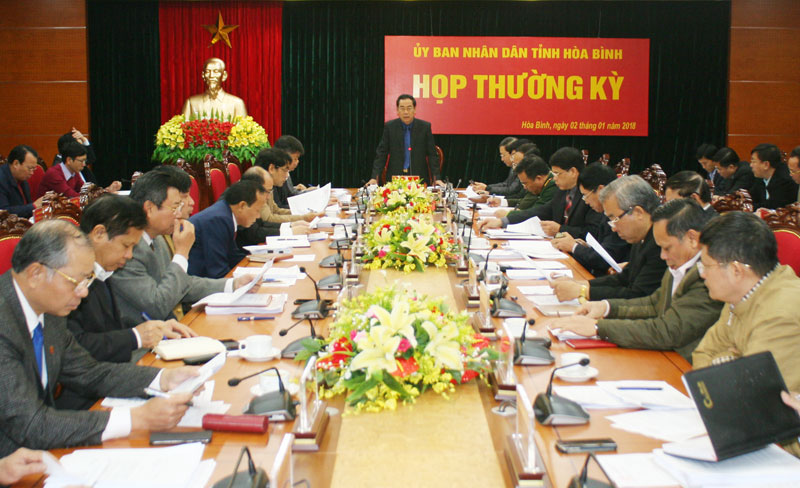 Chairman of the People's Committee of Hoa Binh Nguyen Van Quang concluded the meeting.
The province's People's Council has approved a set of goals for the local socio-economic development this year which includes 9.5 percent economic growth. The province targets to expand the agriculture-forestry-fishery by 4.5 percent, industry-construction by 13 percent and services by 8.3 percent.
The industry-construction sector is expected to account for the largest proportion of the local economy, 49.04 percent, followed by services (31.1 percent) and agriculture (19.86 percent). The per capita income is set to reach 45 million VND per year. The number of enterprises and cooperatives which are new and smoothly operated is expected to increase by 20 percent.
The province also eyes a total social investment of about 13.26 trillion VND, the State budget collection of more than 3.32 trillion VND, exports of 610 million USD and 490 million USD in import value.
It also looks to keep the whole year's CPI below 5 percent, reduce the poverty rate by 3.1 percent and have six more communes recognised as new-style rural areas, with each commune meeting 13 criteria on average.
The province targets to have 53 percent of trained workers, 39 percent of schools meeting national standards, 94.78 percent of the population participating health insurance schemes and 91.5 percent of the people with access to clean water.
Concluding the meeting, Chairman Quang said 2018 is of great significance. This year, Hoa Binh will continue implementing the Resolution of the 12th National Party Congress, the Resolution of the 16th provincial party congress and the five-year socio-economic development plan between 2016 and 2020.
Achieving the goals will require the highest efforts of all local state agencies, people and businesses, he noted, urging the local governmental bodies at all levels to promptly outline tasks and practical solutions that ensure the highest feasibility and effectiveness.
He asked the state agencies to give priority to accelerating public administrative reforms, enhancing the effectiveness in state coordination in handling administrative procedures and building a healthy business climate, so as to improve satisfaction of enterprises and people.
They should also focus on solving difficulties for enterprises and taking steps to attract more investment in infrastructure, particularly roads, bridges, ports and industrial parks. The province needs to adopt a mechanism for controlling responsibility in performing the tasks for greater efficiency of the state management.
Quang asked local authorities to ensure social orders and security as well as social welfare for people to enjoy the Lunar New Year (Tet) holiday.