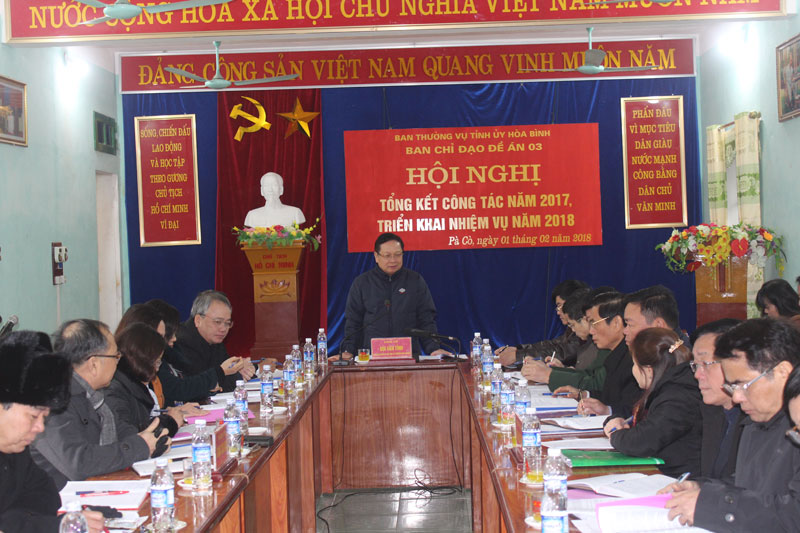 (HBO) – Secretary of the Hoa Binh provincial Party Committee Bui Van Tinh chaired a meeting in Pa Co commune on February 1 to review the performance of the steering board for the provincial Party Committee Standing Board's Plan 03 on improving the political system, socio-economic development and defence-security ensuring in Hang Kia and Pa Co communes of Mai Chau district.
In 2017, the political systems of Hang Kia and Pa Co continued to be reinforced. The administrations' leadership, along with the performance of the communal committees of the Vietnam Fatherland Front and other organisations, was enhanced. Local authorities paid attention to boosting economic development, building infrastructure, stepping up education universalisation, and ensuring primary health care.

Cultural, sports and tourism activities were also maintained, especially the successful organisation of the first "Gau tao" Festival, thus helping to keep cultural identities and improve local people's spiritual lives. Hang Kia and Pa Co strengthened defence, security and social order while successfully curbing drug crime.

Officials at the meeting agreed on some focal tasks for the steering board in 2018.

Addressing the event, Secretary Bui Van Tinh underlined key tasks in the time ahead, including increasing training to better the staff quality of the communes' administrations and improving personnel work. The Party organisations of Hang Kia and Pa Co need to instruct local residents to keep solidarity to prevent sabotage plots of hostile forces. They have also make use of the role of village patriarchs and prestigious persons to enhance local solidarity.

He asked the provincial People's Committee to ensure capital for road construction so that Cun Pheo – Hang Kia – Pa Co – National Highway 6 road and the road linking Van Ho district of Son La province with Pa Khom village will see traffic soon.

He assigned the provincial Department of Culture, Sports and Tourism to make a tourism development plan for the two communes and have mechanisms to support community-based tourism. Meanwhile, the agriculture and rural development sector has to assist farmers to select the plant varieties and animal breeds that suit local climate conditions and have high productivity and economic value so as to hasten the change of farming structure.

The official also urged stronger communications and measures to eradicate early and consanguineous marriage. He told Hang Kia and Pa Co to further coordinate with neighbouring communes of Van Ho district, Son La province, to bolster socio-economic development and ensure defence-security. They also need to maintain the "Gau tao" Festival to keep traditional cultural identities.

On this occasion, the Secretary presented 20 gift packages to martyrs' families and households with disadvantages.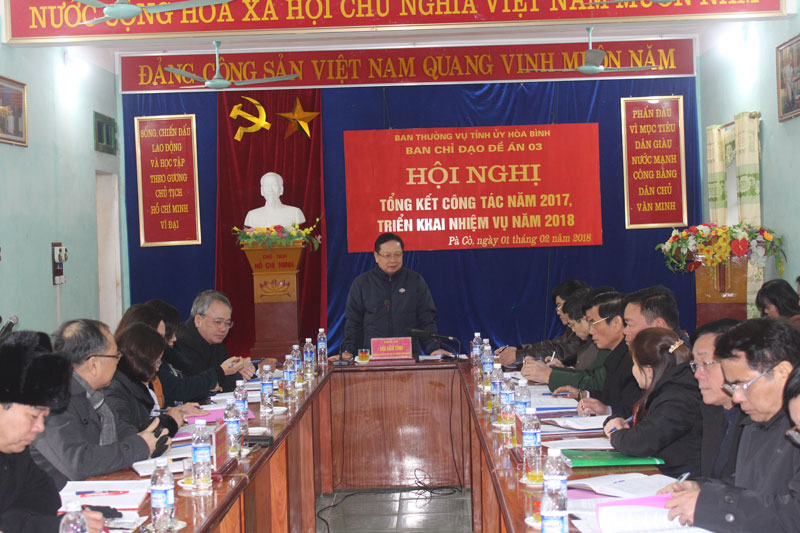 Secretary of the provincial Party Committee Bui Van Tinh speaks at the meeting.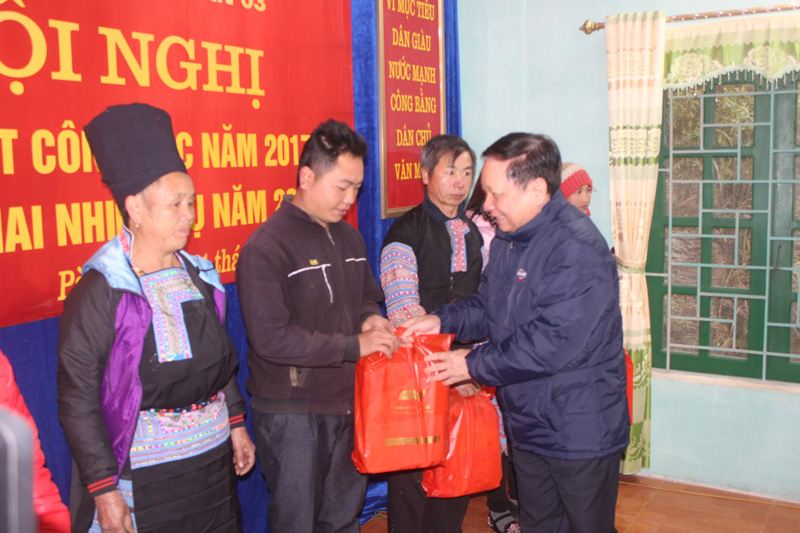 Secretary of the provincial Party Committee Bui Van Tinh presents gifts to martyrs' families and households with disadvantages in Pa Co and Hang Kia communes