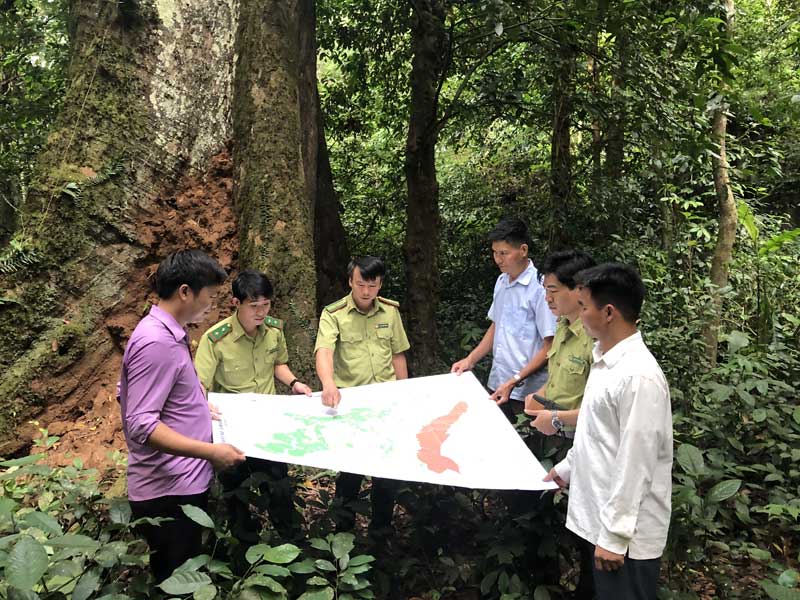 (HBO) - Setting foot in the primary forest in Nhuoi village, Da Phuc commune of Yen Thuy district, our tiredness seemed to fade away. Under the shadow of old-growth trees, the air was fresh and cool. It was just 2 o'clock in the afternoon, but Truong Duc Hoa, a forest ranger of Da Phuc reminded us to quickly do our reporting as dawn would fall quickly in the forest.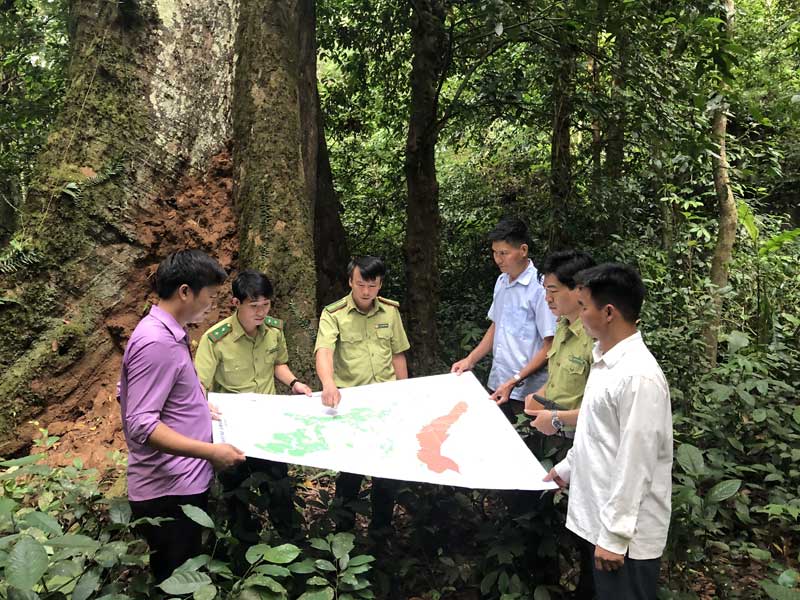 Forest management force in Yen Thuy district has kept a close watch on local forests, while coordinating with the local Party Committee and government to manage, protect and develop the forests.
Entering the centre of the forest, we were overwhelmed by the towering Cho Chi (Parashorea chinensis) trees which are hundreds of years old. The diameter of the trees' trunks was nearly 2m, while their foots were so big that 7 - 8 people extending their arms could not circle around them. Indeed, 13 Parashorea chinensis trees in Da Phuc forest deserved the title of national heritage trees. The primary forest in Nhuoi village covers more than 30 hectares, with its core area spanning nearly 10 hectares.
In order to protect and develop the forest in Nhuoi village and the whole commune in general, over the year, the Party Committee and government of the commune have joined hands with all sectors, mass organisations and forest management force to promote communication work to enhance public awareness about and sense of responsibility towards forest management and protection.
Meanwhile, regulations and rules on coordination in forest protection have been built, together with the signing of commitments with local households. At the same time, forest protection teams have been set up to perform regular patrol and inspect the forest, thus quickly detecting violations to forest resources.
Irrigation works in the locality have been exploited efficiently thanks to the strict protection of watershed forests and the reduction of barren land due to forestry economic development movements.
The resources from the forest have helped Da Phuc form a commercial goods production region. Currently, the commune has over 650 hectares of material sugar canes and nearly 200 hectares of solanum trilobatum.
Particularly, with the untouched and attractive natural landscapes that are protected by locals, the primary forest is expected to help Da Phuc develop ecotourism to attract domestic and foreign visitors, creating a breakthrough in the economic structure transformation in the locality./.