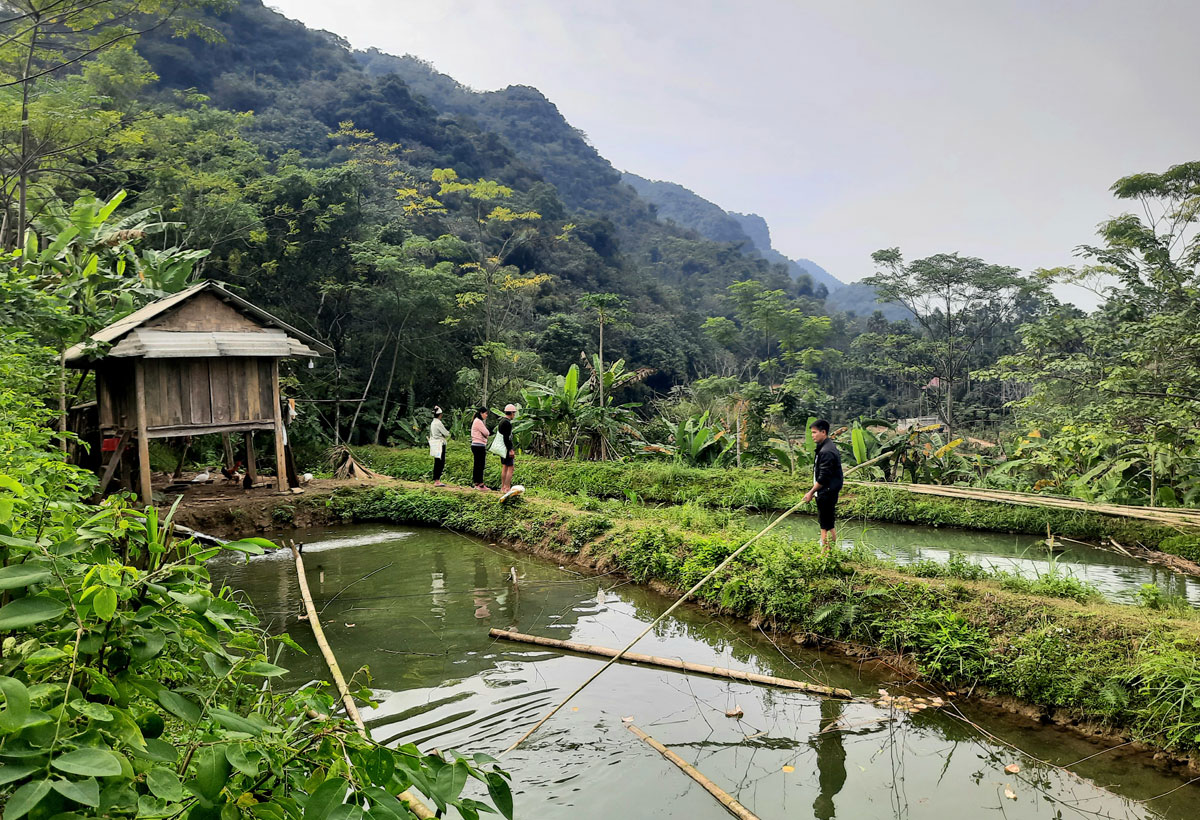 (HBO) - Blue drummer fish has for long been so precious that anyone wants to catch them when they go fishing. However, this kind of fish only grows in the wild. Over the past near two decades, residents in Trang Ta hamlet, Nhan My commune, Tan Lac district, have raised them and they have bred in ponds.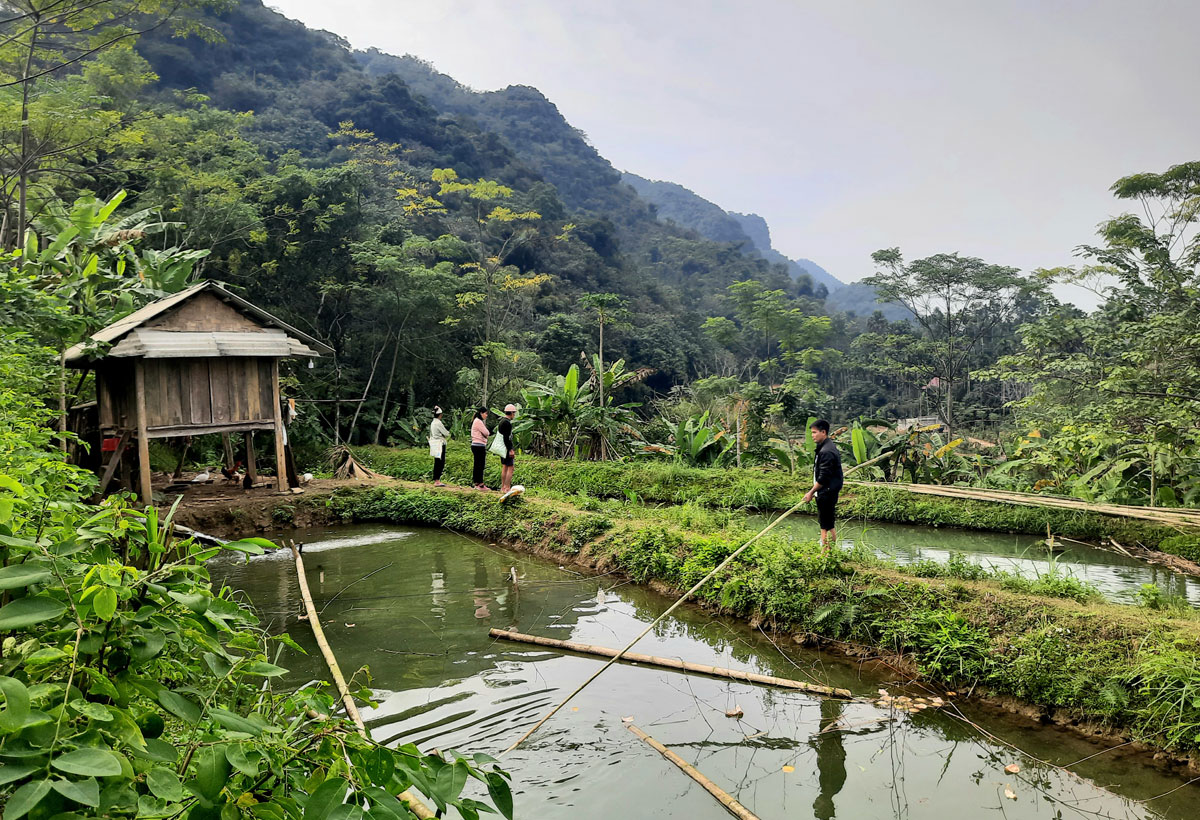 Cool water all the year round provides a favorable condition for residents in Trang Ta hamlet, Nhan My commune, Tan Lac district, to raise this precious fish species.
Muong ethnic minority people in Nhan My commune and many communes in Tan Lac district call the fish poong (when they are small) and puom (when they are big). It is a rare fish with firm and delicious meat which was one of the products dedicated to the Kings in the past. In the province, it is mostly raised in some communes of Mai Chau district, especially in Van Mai commune. However, it only spawns in the wild, in around March and April. Mai Chau residents often go to Ma river to pick up fish for farming in ponds. However, surprisingly, blue drummer fish reproduce themselves in the ponds in Nhan My.
Over two decades of raising precious fish
Cai stream flows through many communes in Tan Lac district. One of its upstream waters flows from a small stream in Trang Ta hamlet, Nhan My commune. The crystal clear stream with cool flowing water has long created the well-known Trang waterfall landscape. Taking advantage of this abundant water source, villagers dug ponds to raise fish. Following the footsteps of Vice Chairwoman of the communal Women's Union Bui Thi Luyen, we visited the family of Bui Van Chinh who is raising thousands of blue drummer fish.
Chinh's family has two ponds, one right in front of his house and another on the upper reaches of the Cai stream. Water from the Cai stream is cool all the year round, making it easier for fish to grow.
Recalling the breeding process, Chinh said 15 years ago, his late grandfather caught blue drummer fish which were as small as toothpicks. He then decided to release them in the pond. Over the past decade, seeing them grow, his family has gone to the stream to pick up fries for breeding. "Blue drummer fish have beautiful shapes and colours so that we kept them for breeding for a long time. Surprisingly, two years ago, blue drummer fish of over 15 years old reproduced themselves in the pond. Compared to other fish species, they are omnivorous and better resistant to diseases", Chinh said.
Upon learning the news, locals came to buy fries for breeding. Going upwards, we visited a fish pond of Bui Hong Phong's family. They have two adjacent ponds like terraces. There are over 50 blue drummers weighing 2-3kg each in the small pond and more than 400 others together with hundreds of carps, mud carps and barbs in the big pond. Blue drummer fish grow more slowly than others, taking five years to reach the weight of 2-3kg. In return, their meat are more delicious than others raised in the locality.
Prospects of raising fish "dedicated to Kings'
Families of Phong and Chinh are two out of three households having blue drummers breed in the ponds. Since they spawned, thousands of breeding fries have been sold to the market, costing 20,000 VND each. A blue drummer is sold for 250,000 VND per kg. "Though the price is higher, the present supply is not enough. In the near future, our family will increase the number of breeding fries in the pond", said Bui Van Tan, son of Phong.
Secretary of the People's Committee of Nhan My commune Bui Van Thang said blue drummer fish in the wild has seen a big drop. Only Trang Ta hamlet is well-positioned to raise this fish species. Since several households caught fries for breeding, their number has increased significantly, contributing to preserving the precious fish species and improving local residents' income.
During the Lunar New Year festival, apart from pork and chicken, the fish "dedicated to the Kings" was also offered to treat guests and ancestors. If receiving assistance, the model of raising this kind of fish could help tap the potential endowed by the nature for this beautiful land./.