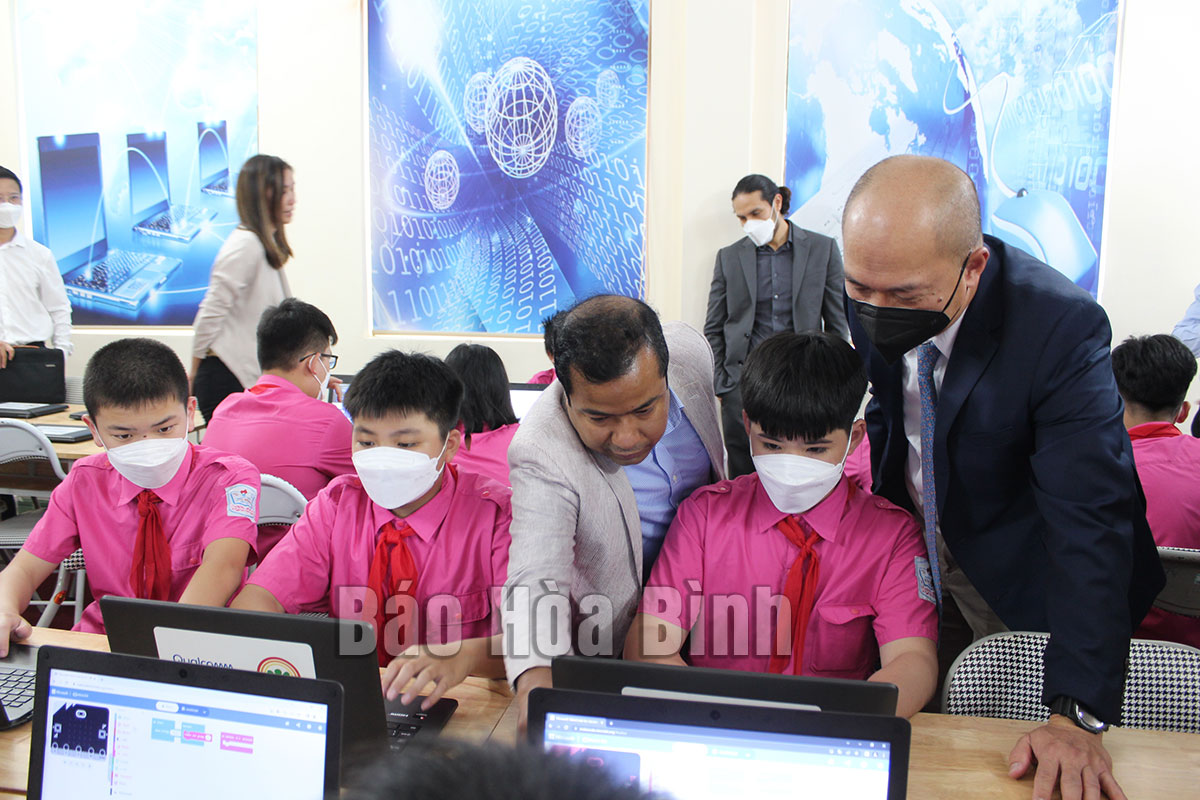 (HBO) – An internet connection and Qualcomm's Snapdragon platform was all two seventh graders needed to use Micro:bit language on their laptop to perfect their latest STEM science project.
Pham Mai Anh and Do Trong Thanh Minh of Su Ngoi Primary and Secondary School (Hoa Binh city) were instructed to develop their project over two months and came up with their "Automatic greenhouse watering machine ".
These students were two among many hundreds of students in Hoa Binh province that benefited from Vietnam Forward, a partnership between Qualcomm and the Dariu Foundation. The aim of the project is to enhance digital literacy and empower youth in the fields of science, technology, engineering, and math (STEM).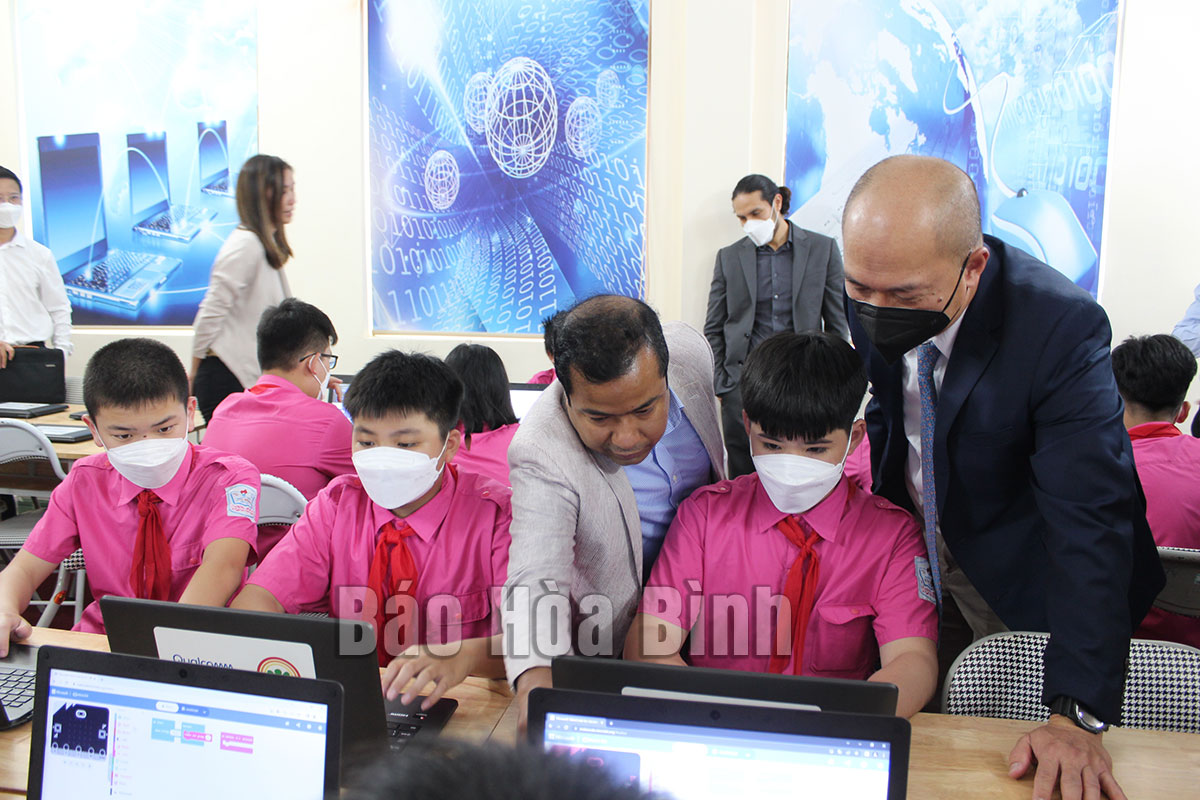 Representatives of Qualcomm and Dariu Foundation guide pupils of Kim Dong secondary school (Tan Lac district) to use laptops funded by Vietnam Forward.
Enhancing digital skill - key to digital transformation in education
In implementing the Vietnam Forward programme, Qualcomm and Dariu Foundation sent 2,400 AOAC computers to pupils in rural and mountainous regions in Vietnam. The computers, equipped with a mobile 4G/LTE internet connection, helped learners to access information technology and improve learning efficiency.
Since the project began in 2019-20, Hoa Binh's Department of Education and Training stated the Dairiu Foundation has provided 500 laptops, 65 desktops, 30 tablets, 945 smart phones and 620 Micro:bit circuit controllers.
According to Vice Chairman of the provincial People's Committee Nguyen Van Chuong, the education and training sector needs to conduct training and technology transfer and invest in equipment to support learning.
The support of international organizations and donors in technology transfer is an important source for the sector to bring about a digital transformation. To date, about 100,000 pupils at 80 primary and secondary schools in rural areas nationwide have received technical equipment to supplement their learning. Along with that, over 6,000 teachers said they feel more confident in teaching programming after attending training courses.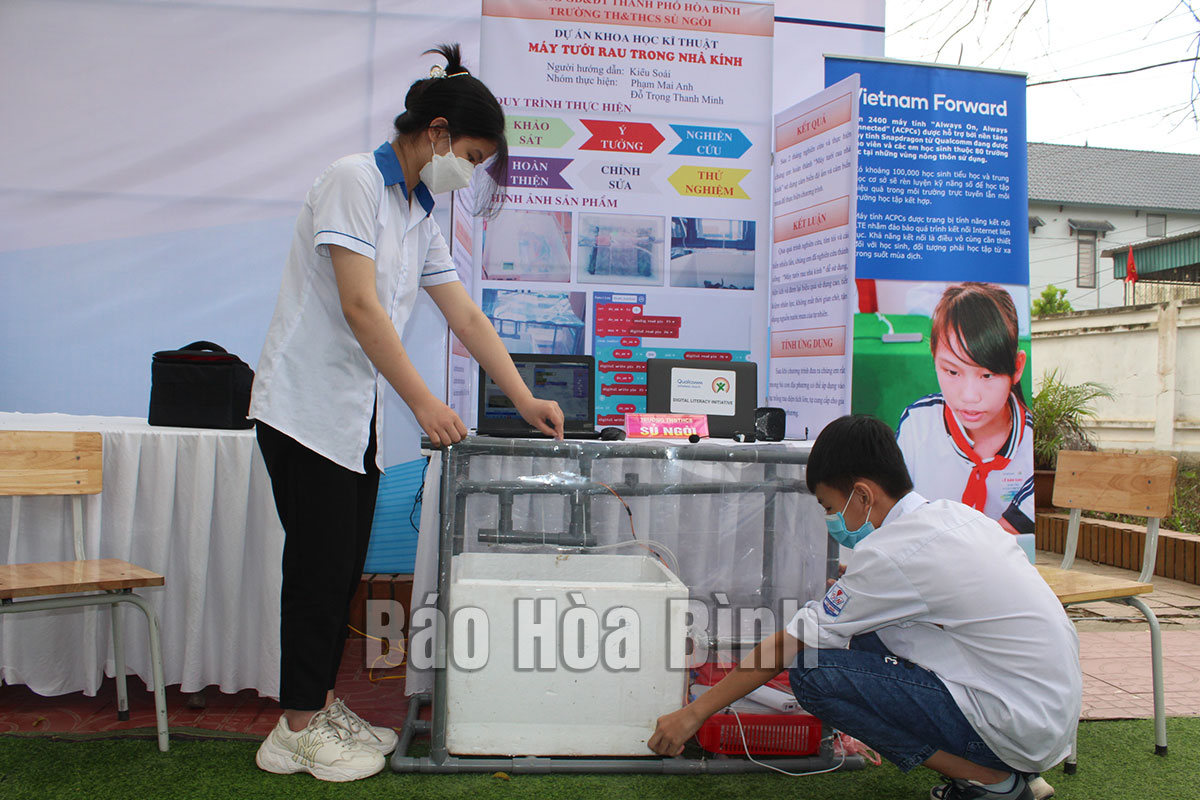 Pham Mai Anh and Do Trong Thanh Minh, grade 7A, Su Ngoi primary and secondary school (Hoa Binh city) operate their product "Vegetable watering machine in greenhouse"
Digital skills have improved for students and teachers under the project in Hoa Binh province, key to assisting the sector to grasp new opportunities and enhance the digital transformation.
Hoa Binh is home to 531 educational institutions that include 230,334 students and 19,635 teachers. Understanding the importance of the digital transformation to education and training, the sector has mobilized funding to improve infrastructure, supply equipment, and improve teaching capacity. Online training has been improved as a part of efforts to implement the transition in the 2022-2025 period, with a vision to 2030./.