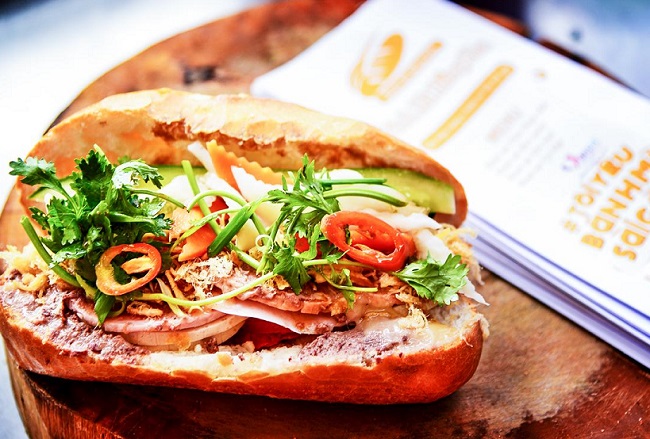 "I love Banh mi Sai Gon" (I love Saigon bread) program is taking place in Ho Chi Minh city from March 24th to 31st.
In 1970, wood-fired ovens were converted into larger brick kilns to bake in bulk, which gave the bread its Vietnamese identity.
From then on Vietnamese chefs began making variations. Instead of putting butter or jam on bread, they layered it with bacon, making it delicious and more convenient.
Banh mi has been developed across Vietnam. The flavours of the modern "banh mi" vary by region in Vietnam. In Hanoi in the north, the fillings are more simple than the "original" found in Ho Chi Minh City in the south, and include high-quality cold cuts. In the central coastal city of Hoi An, the meat used is served warm.
Vietnamese "banh mi" is present in countries where Vietnamese people live because it is easy to make and source ingredients.
It was ranked second in a story run by the Guardian about the World's Best Street Foods.
David Farley, a BBC writer specializing in travel and cuisine, praised "banh mi" as "the best sandwich in the world".
Meanwhile, late chef Anthony Bourdain, one of the most influential culinary experts in the world, complimented banh mi in his "No Reservation" programme on CNN.
Bread is Vietnamese people's favourite food.
Bread is one of the foods symbolic of Vietnam and Ho Chi Minh city in the hearts of residents and foreign tourists.
Bread has been Vietnamized by adding diverse things eaten together.
A piece of bread weighs 1 kilogram with the length of 70 centimeters and width of over 20 centimeters.
Many bread shops in Ho Chi Minh city run promotion programs to welcome the week.
The city Department of Tourism has called on all domestic and foreign organizations and individuals to share their love of Saigon bread with the hashtags: Toiyeubanhmisaigon, vibranthochimincity vibranteverywhere, everyone.