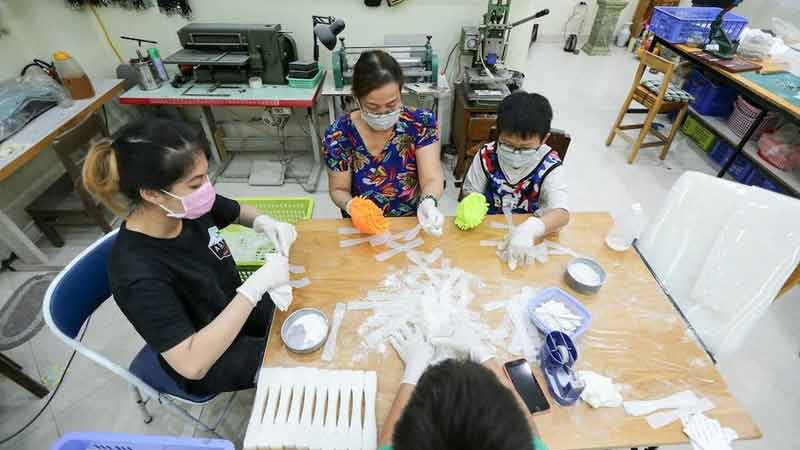 Anti COVID-19, a charity group in Hanoi, has produced ear guards to help ease the pain of medical staff who are fighting in the frontline against COVID-19 and have to wear tight-fitting medical masks during their work.
According to the product designer Thuy Trang, from Hai Ba Trung District in Hanoi, after seeing photos featuring the pain that medics have to endure from wearing protective masks all day, she searched for the internet and suggests from friends to produce ear guards which can take the pressure off health care workers' ears from wearing masks.
The group first failed on their try on leather material before succeeding in using silicon for the production of the ear guards.
The group receives financial support in transporting material from Ho Chi Minh City to Hanoi.
The group's members hope that they can provide a helping hand in the fight against COVID-19.
The ear guards are also sterilised with alcohol and then coated with Talc powder to prevent sticking.
The ear guards can be recycled many times.
The group has produced nearly 10,000 ear guards and sent them to the National Hospital of Tropical Diseases, Centre for Disease Control and Prevention (CDC), and hospitals across the country.
The gadgets wrap around the back of the head and can be connected to mask straps on each side, enabling wearers to adjust their masks and keep the straps from rubbing against the back of their ears.
"The ear guards protect our ears from the painful straps of the face masks," said doctor Vu Quang Hung from the National Institute of Hematology and Blood Transfusion, describing them as a meaningful and necessary product for medical staff who are working day and night to fight against COVID-19.
Source: NDO