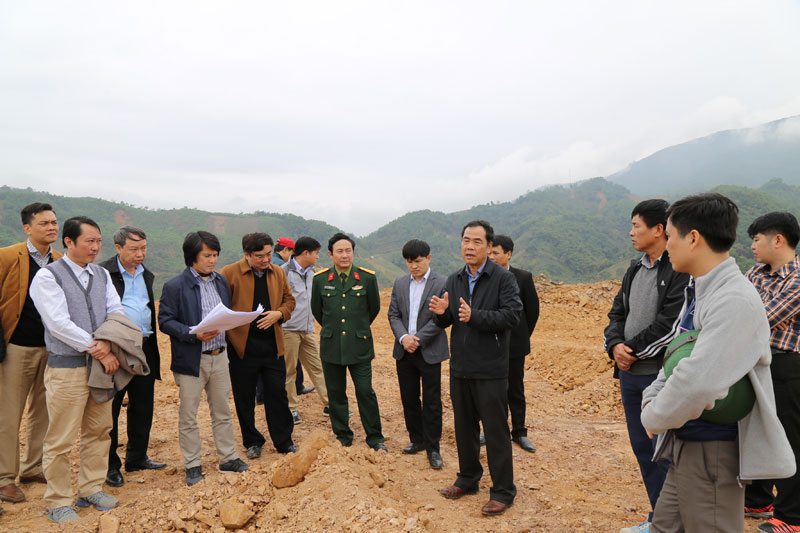 (HBO) - Nguyen Van Quang, Chairman of the Hoa Binh provincial People's Committee, recently inspected construction of the resettlement areas for households hit by October 2017 floods and landslides in Dong Ruong and Tien Phong communes, Da Bac district.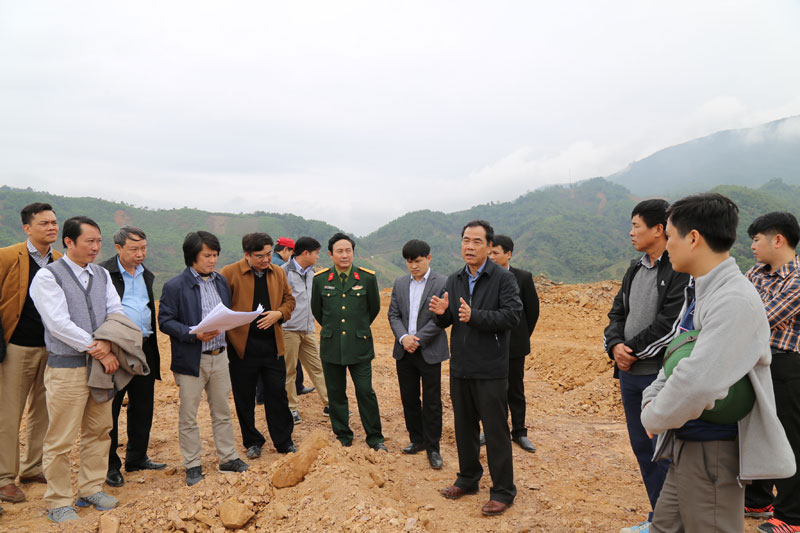 Nguyen Van Quang, Chairman of the provincial People's Committee, inspects construction of the resettlement area in Tien Phong commune, Da Bac district.
Visiting the resettlement area in Nhap hamlet, Dong Ruong commune, Da Bac district, Quang said the construction progress is relatively slow while design consultancy is not completely suitable with geological situation in the construction area. According to the report, Nhap village's resettlement area has a total investment of nearly 20 billion VND and sprawls over nearly 4ha. Up to now, the ground clearance has reached 50 percent.

Quang asked the contractor and supervision unit to speed up construction in accordance with regulations, saying that it is an urgent project in terms of both design and construction.

He also urged the contractor to increase workforce, machinery and equipment to make construction as quick as possible. The project management board must hand over floors to 24 households before January 15 during the first stage and the remaining 17 households before January 25 during the second stage.

The Chairman asked for sufficient electricity and water supply for dislocated households. The People's Committees of Da Bac district and Dong Ruong commune were required to persuade dislocated households to not return to their old homes to ensure safety.

The People's Committee of Da Bac district must partner with the provincial departments and agencies to regularly inspect construction and promptly tackle obstacles, thus making it easier for households to move to new housing areas before the Lunar New Year festival.

According to the district People's Committee, the resettlement project covers 19.5ha in Nhap hamlet in Dong Ruong commune, Na Pen hamlet in Dong Nghe commune, Cop hamlet in Suoi Nanh commune, Tup hamlet in Tien Phong commune, Lau Bai hamlet in Vay Nua commune, costing roughly 113 billion VND.

As scheduled, 202 households with 823 people are subject to resettlement. Each household will live on 200 – 400 sq.m area and farm on the old area.

Sub-categories of the project include ground clearance, electricity and water supply, inner-area road, kindergarten and elementary school.

Ground clearance has so far reached 50 percent. Four resettlement areas are building water and electricity stations while three others are yet to build medium-voltage lines and transformer stations.