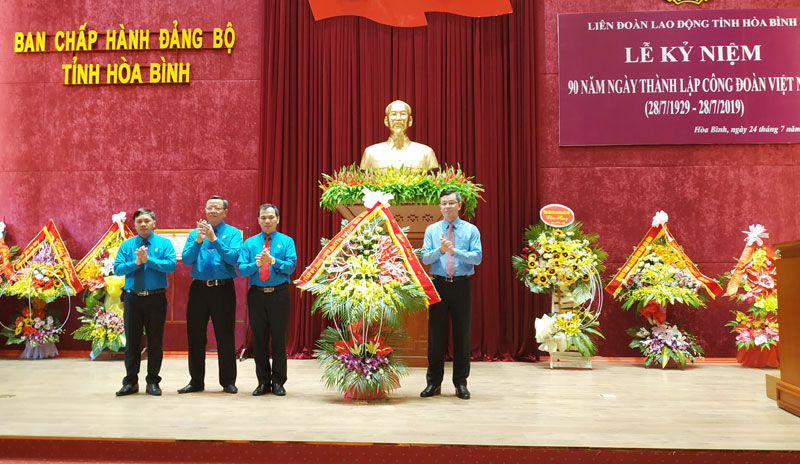 (HBO) – The Confederation of Labour of Hoa Binh province on July 24 organised a ceremony to mark the 90th founding anniversary of Vietnam's Trade Union (July 28, 1929-2019).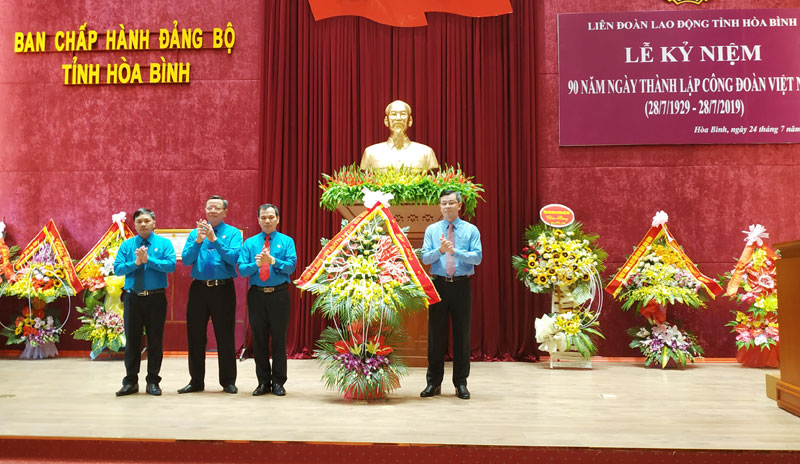 Vice Secretary of the provincial Party Committee Ngo Van Tuan presents flowers of provincial Party Committee, People's Council, People's Committee and Fatherland Front Committee to Confederation of Labour staff.
At the event, delegates recalled the 90-year tradition of the Vietnamese Trade Union. Hoa Binh province's Labour Confederation Executive Board was founded in October 1991, comprising eight members, with Vu Quang Du serving as its President. Since its inception, the confederation has organised 16 congresses and gained remarkable achievements. The provincial confederation currently includes 11 confederations at the city and district levels, seven organisations of different sectors with 1,248 grassroots trade unions and 62,422 members. In the 2013-2018 tenure, all-level trade unions have mobilised over 10 billion VND for different funds, presented gifts worth 11.3 billion VND to poor trade union members, and mobilised 1.5 billion VND to build houses for 74 underprivileged trade union members.
Speaking at the event, Vice Secretary of the provincial Party Committee Ngo Van Tuan and Trinh Thanh Hang, member of the Presidium, head of the department for woman affairs of the Vietnam General Confederation of Labour, praised achievements gained by the province's all-level trade unions over the past years, thus contributing to boosting local socio-economic development and ensuring defence security.
To successfully implement the 16th provincial Party Congress's resolution, Tuan asked local trade unions to continue stepping up disseminations on the Party's policies and the State's and the province's regulations, pay more attention to make the worker class a key and pioneer force in the national renewal, modernisation and industrialisation cause.
It is necessary to renew organisation and operation methods with a target of putting labourers at the centre, create favourable conditions for workers and labourers to take the initiative in production and business, and build a harmonious, stable and progressive relationship in enterprises, he stated.
He also emphasised the need to attract more trade union members, establish more grassroots trade unions and pay attention to opinions and aspirations of labourers.