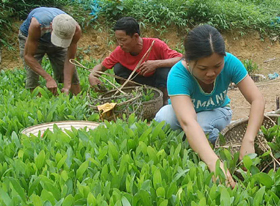 (HBO) – In 2020, the northern province of Hoa Bih aims to plant 5,650 hectares of forest. To fulfil this target, the Department of Agriculture and Rural Development had consulted the provincial People's Committee to issue documents launching the campaign of growing trees in commemoration of late President Ho Chi Minh.
After the traditional Lunar New Year, all localities responded to the drive, while the production and management of forestry plant varieties across Hoa Binh city, Tan Lac, Lac Son, Lac Thuy, and Cao Phong districts were promoted.
As a result, in the first six months of 2016, the province grew over 3,750 hectares of forest.
The agriculture and rural development sector will continue coordinating with localities to provide technical assistance for farmers, striving to complete the forestry growing scheme in 2020./.