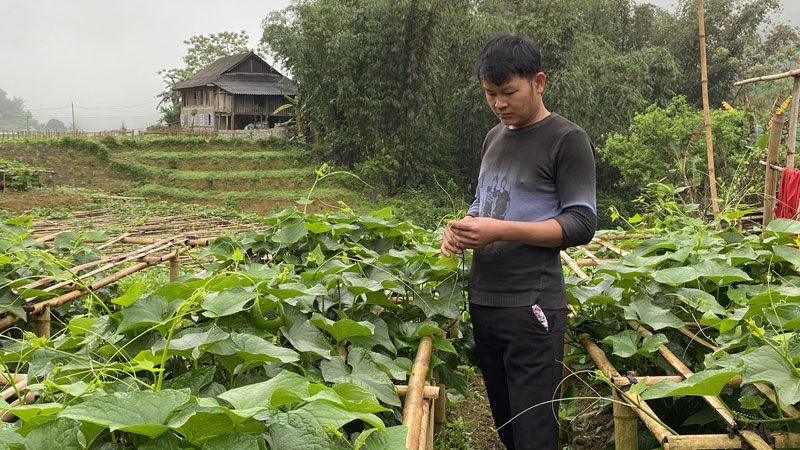 (HBO) - Taking advantage of its favourable soil and weather, Tan Lac district focuses on developing the cultivation of pomelo trees in low land areas along National Highway 12B and temperate vegetables in high land areas for improved economic benefits and living standards.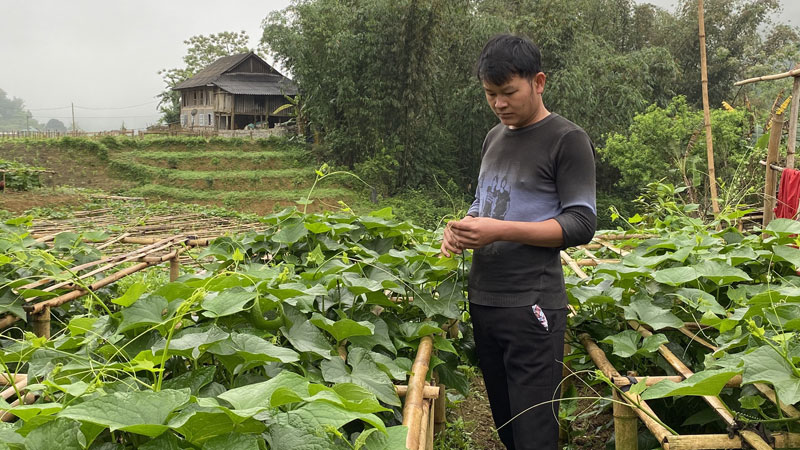 Farmers in Tan Lac's Quyet Chien commune grow chayote for shoots and fruits, earning between 180 and 200 million VND per hectare.
The district has issued thematic resolutions to direct locals to develop agricultural production in association with building new-style rural areas. As a result, local communes and towns have switched from rice to other crops with higher economic value on 2,500 hectares of land; upgraded more than 670 hectares of gardens for the cultivation of pomelo trees, watermelon, and peanut in low areas, and chayote and garlic in high areas, among others.
Following the district Party Committee's Resolution 10 on promoting the cultivation of pomelo trees, the area under the citrus fruit has expanded quickly. As of July 2020, the pomelo-cultivated areas hit 1,105 hectares, with an average yield of 30 tonnes of fruit per ha. Each pomelo is sold for 20,000 VND, meaning a hectare of the fruit trees can reel in from 400 to 700 million VND. The fruit tree has become a key revenue earner for locals, many of whom have invested in garden upgrade and intensive farming for better products meeting increasing demand from the market.
In addition to pomelo, the district also prioritises temperate vegetables, particularly chayote for its suitability for mountainous communes' soil and weather. The area under chayote is now around 90 hectares, of which 65 hectares are in Quyet Chien.
Tan Lac pomelo and Quyet Chien chayote are popular nationwide. The district has decided not to expand the plantation areas but focusing on boosting productivity, quality, and safety.
The pomelo has been recognized as meeting the standard of the One Commune One Product (OCOP) programme last year, while application for provincial recognition of the chayote is pending./.