(HBO) - Over the past years, Hoa Binh province has paid special attention to developing urban infrastructure of Hoa Binh city. The face of the city has changed gradually in a cleaner, more spacious and civilised manner.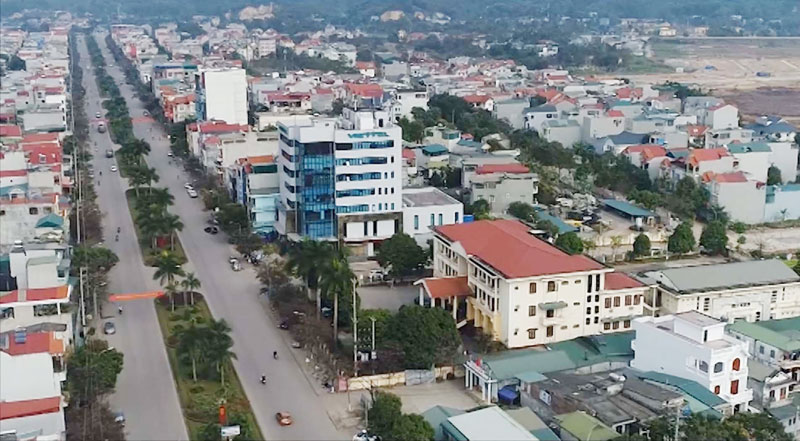 A corner of today's Hoa Binh city.
In the 2015-2020 period, the city focused on establishing, supplementing and adjusting urban planning and detail planning; coordinated and announced a decision approving a project to adjust Hoa Binh city's general planning until 2035; set up and assessed 17 urban planning projects in accordance with the law, made detail planning at the 1/500 scale for 17 projects with a total area of 922ha, or 20.96 percent; and made the 1/2000 scale planning for four subdivisions, with a combined area of 2,092ha out of 4,400ha, or 47.5 percent. Up to 100 percent of new urban areas' land was zoned out under the 1/2000 scale subdivision planning.
In the past five years, Hoa Binh city granted planning licenses to five projects, made public approved projects, planted landmarks at the site, and strengthened construction management. The locality also carried out a policy encouraging the involvement of sectors in urban environmental sanitation, and basically solved the gathering of garbage on the roadway, with over 90 percent of daily-life garbage treated.
Attention was also paid to the urban embellishment, contributing to improving the face of the city, while the electricity and water systems were upgraded, better meeting locals' demand.
Hoa Binh city is holding many opportunities when expanding its administrative boundaries. In the coming time, the city will focus on directing and making general adjustment plan of the city; publicising the planting of landmarks in the field in accordance with the approved planning.
It pledges to create favorable conditions to attract investors, especially in the fields of urban infrastructure, transport, electricity, water supply and drainage, culture-sports, public welfare and in addressing environmental pollution.
Efforts will also be made to well perform the State management on land and the environment, ensure traffic safety, and minimise the state of encroaching roadbeds and sidewalks to use for business activities and market gatherings.
It will strive to complete all criteria to make it become a tier-II urban city before 2025./.