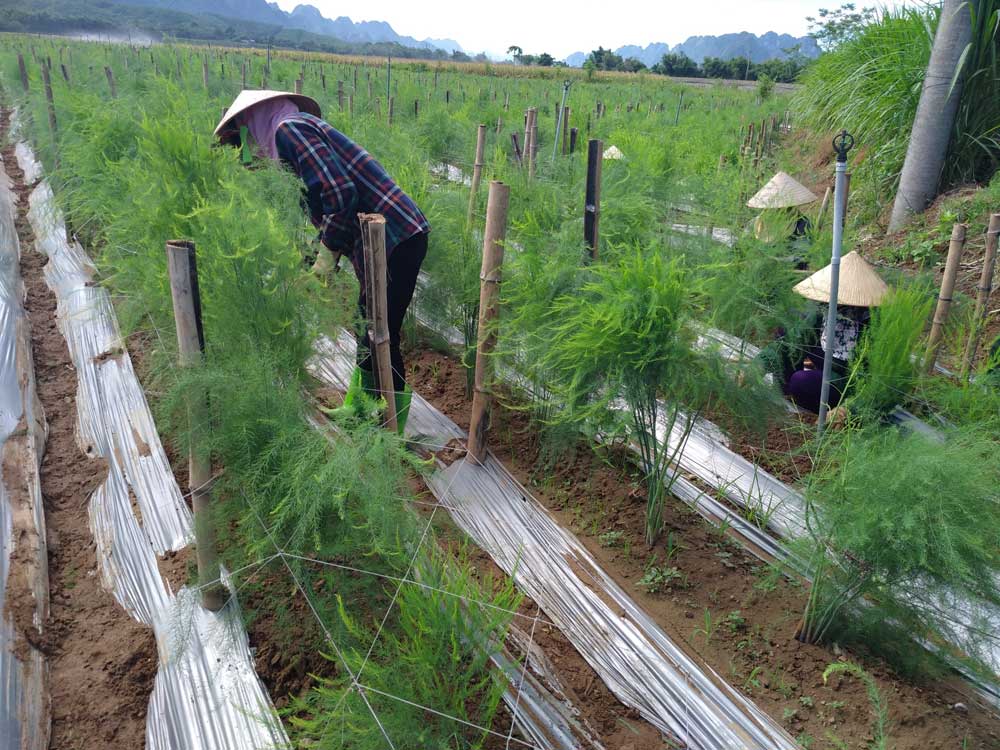 (HBO) – Nam Thuong commune in Kim Boi district, Hoa Binh province, has been given a facelift after it was recognised as a new-style rural area five years ago. Its infrastructure has been upgraded and local residents' living standards have been improved significantly. Carrying forwards those achievements, the commune aims to become an advanced new-style rural area.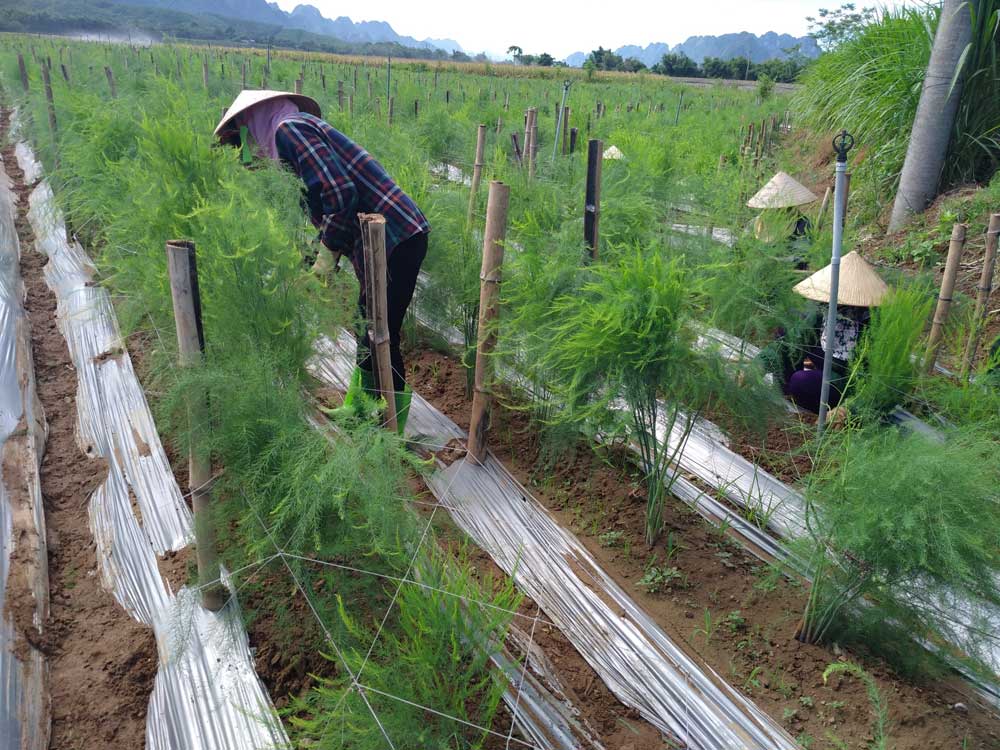 An asparagus farm in Nam Thuong commune, Kim Boi district.
Bui Ngoc Thao, Chairman of the communal People's Committee, said Nam Thuong has faced a range of difficulties when embarking on building advanced new-style rural area, elaborating that certain relevant policies and guidelines adopted by the State have not matched the reality, and the State's public investment reduction has led to a capital shortage.
Given this, the commune has reviewed criteria, with specific tasks assigned to political-social organisations.
Being aware of its potential and strengths in farming, Nam Thuong has stepped up the communication work, encouraging local residents to invest in production, conduct plant and animal restructuring, and develop the household economy in combination with the cooperative economy.
Notably, the Bai Xe agricultural services and safe vegetable production cooperative and the Boi Ca agricultural cooperative in Nam Thuong commune have operated successfully.
Nam Thuong has focused on developing value chains, and ensuring food quality and safety, while promoting services and tourism.
It has signed an asparagus sale contract with the Tuan Chang Agricultural Export-Import Company, covering 2-5 ha, with the asparagus price fixed at 50,000 VND per kg.
The commune has also injected more investments in infrastructure, and launched emulation movements on advanced new-style rural area building. Last year, it upgraded six routes stretching more than 3km.
The local infrastructure, including schools, medical centre, market, cultural facilities, and power system, has satisfied local people's demand.
A total of 15.42 billion VND has been mobilised for advanced new-style rural area building during the 2016-2020 period, with 10.3 billion VND from the national target programme on new-style rural area building and 3.27 billion VND raised by local residents.
The commune's per capita income increased from 18.3 million VND in 2015 to 54.5 million VND last year. Meanwhile, the rate of poor households dropped from 9.26 percent in 2020 to only 1.69 percent last year.
Thanks to joints efforts by the entire political system and people, Nam Thuong commune has basically completed all 19 advanced criteria set for new-style rural areas.
The commune aims to mobilise more resources for infrastructure in service of socio-economic development, further support production in tandem with duplicating efficient models, and improve locals' living standards./.