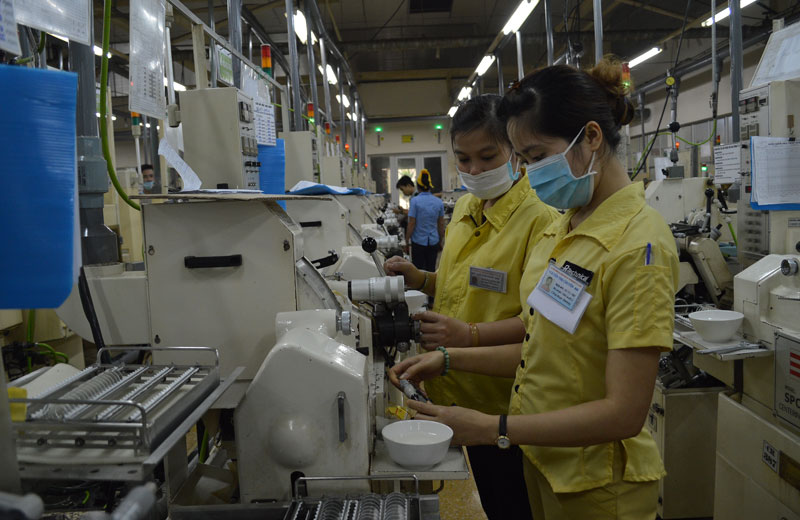 (HBO) – Hoa Binh province has invested much in industrial parks and clusters in recent years to attract more domestic and foreign investment. It is an important orientation in the province's economic development strategy. Thanks to such effort, its industrial production reached more than 27.5 trillion VND (1.21 billion USD) last year, up 17.22 percent from the same period last year and 2.5 percent higher than the yearly target.
In the Da River Left-Bank Industrial Park, more than 650 workers of the R Vietnam Technical Research Co., Ltd were still busy making lens for export orders on the threshold of the New Year. Last year, the company produced about 11 million product items and its export turnover reached nearly 14.5 million USD, a year-on-year increase of 30 percent, despite difficulties from fluctuations in the global economy.
Aside from the strong growth in export, the firm has provided jobs for hundreds of locals and given them stable incomes which averaged 6.5 million VND per person per month, said Nguyen Long, a manager of the company.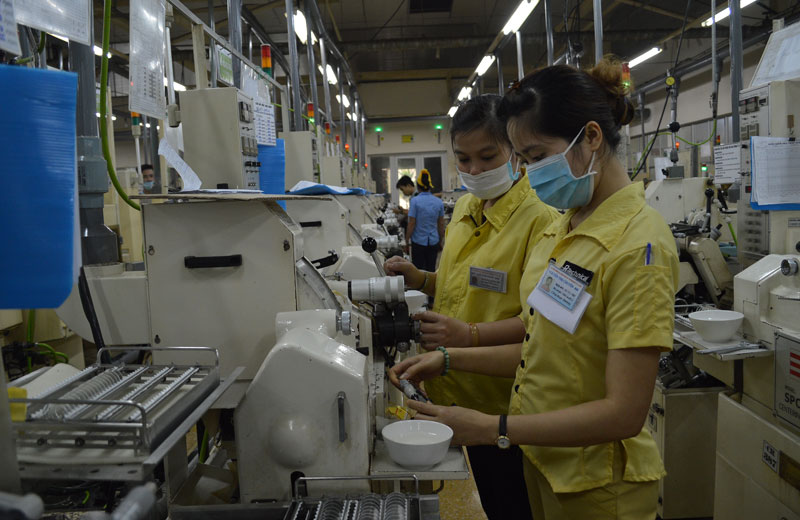 Workers of the R Vietnam Technical Research Co., Ltd in the Da River Left-Bank Industrial Park are making lens for export.
According the local authority's report, the province's industrial production hit over 27.5 trillion VND in 2017, up 17.22 percent against the same period of the previous year. Its industrial production index rose by 9.7 percent from 2016. Local industrial and handicraft firms remained stable production with continued growth of key products, said the province's Department of Industry and Trade.
Some major products enjoyed strong growth like commercial electricity (8.01 percent), garment and textile (55.17 percent), brick (26.32 percent), cement (22.45 percent), electronic products (26 percent), structural steel (18.92 percent), medium-density fibreboard (37.12 percent).
Also, export revenue experienced sound expansion thanks to local efforts to diversify export markets while maintaining traditional ones like the US, the EU, Russia, ASEAN, Japan, China and the Republic of Korea.
The province exported 505 million USD worth of products in 2017, a year-on-year surge of 36.19 percent and 8.6 percent higher than the set plan. Meanwhile, it spent more than 413.8 million USD on imports, up 28.8 percent from the previous year and surpassing the set target by 5.57 percent.
A slew of measures have been deployed to effectively carry out the industrial development project during 2016-2020 with vision towards 2030 to set up large-scale production areas.
In July 2017, the provincial People's Committee issued Plan No.91 on implementing the industrial development project in 2016-2020 with vision towards 2025. Accordingly, the province eyes an average growth of 10.5 percent in added value of the industrial sector and a 15 percent growth in industrial production value. Meanwhile, it expects that industry and construction will make up 57.8 percent of its economy.
Infrastructure is key to develop local industry. The province will focus investment on completing infrastructure in five industrial parks: Luong Son, Da River Left-Bank, Mong Hoa, Lac Thinh and Yen Quang.
It will invest in developing basic infrastructure in six industrial clusters: Chieng Chau, Khoang U, Phu Thanh II, Hoa Son, Dong Tam and Dong Lai-Thanh Hoi./.