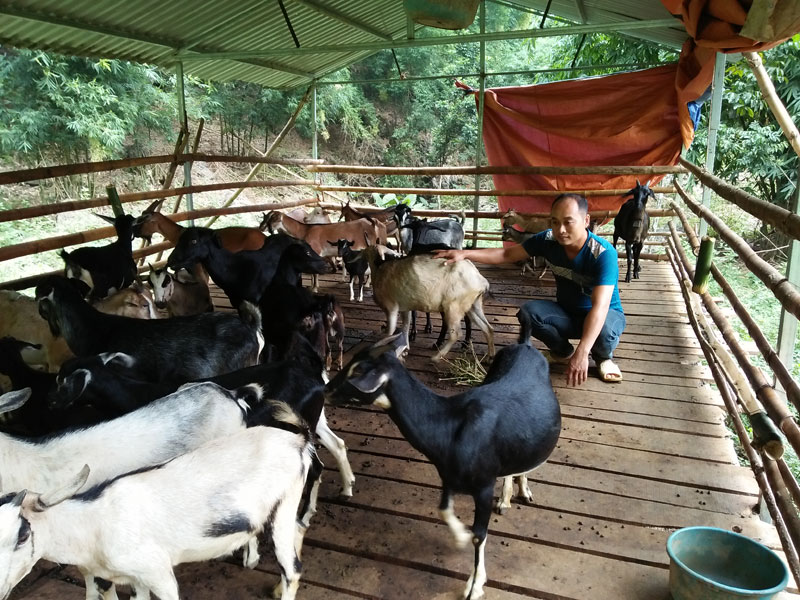 (HBO) – This 33 years old farmer was born, grew up and associated with the forest, the valleys and knew clearly every path, cliff and plant here. We are mentioning about Mr. Bui Van Phuong in Sang village of Cao Ram commune, Luong Son district, who made a decision to start up by raising goats. Thanks to his dare to think and do, he got his own success.
Six years ago, his life was so difficult, Phuong discussed with his family to work abroad in Malaysia for two times with his dream of changing his life in overseas. When he was abroad, he realized that earning money was not easy. After a few years he came back home, he saved just a little and built a small house. When the house was completed, he was in unemployed situation. Sometimes he thought why he did not utilize the large hills and mountains to raise goats which might be successful in his homeland. Realizing that goat breeding would be the best choice, in 2014, he invested in buying 5 goats and grazed in the village. Goat is an easy-to breed animal, for a few years, the number of goats has increased up to 20-30 goats. This meant the grazing areas seemed to be not large enough for goats; therefore, goats usually went to the field or garden to destroy people's vegetables. He was so worried about this.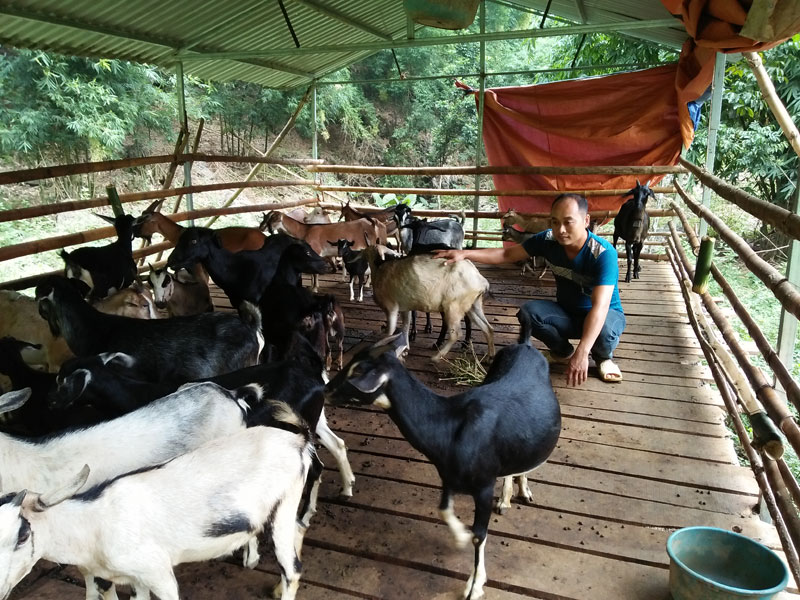 Mr. Bui Van Phuong with his family's goats.
Mr. Bui Van Phuong shared: By accident, when I went to gather vegetables for pigs, I climbed a cliff hillside across to the other side; I found a large valley with a lot of grass, a forest full of trees and leaves. I was so delighted to find out the food resources for goats. However, there was a big question that how I could take the goats across the cliffs. My initial idea was that I could use pulleys to pull through. It seemed to be available with small goats but it seemed that no force could pull big goats of 30 -40 kg. Then the idea was unrealistic.
With high determination to take the goats to the valley, in 2016, Mr. Phuong had a new idea to build a bridge for the goats through the mountain. After calculating carefully, researching the terrains of the hill and the mountain thoroughly and being supported by the local people, he sold two goats to get the money, together with his savings; he bought the materials and hired some builders, asked for help from his relatives and friends to start building the bridge. After a week, a bridge with the height of 40 meters against the mountain cliff was completed with the total cost of 20 million dongs.
However, after building the bridge, he had to train the goats to cross the new path. The most effective method was that he used the popular leaf sound to trick the goats following him because they were so gluttonous. After a guided week, they were used to this method and cross the bridge easily. Every day, at 8 am, the owners chased the goats for grazing, looking them one by one across the bridge to the valley with abundant food.
Because of the grass field, green trees and wildlife raising method, the quality of goat meat is so delicious; its price is about 130,000 – 140,000 dongs/ kg. Goats are being raised in the valley, eat forest leaves and herbal leaves; therefore, his goats do not get sick. All the goats are fat and big, growing and developing well.
He started up his business with only few goats, and now the number of the goats of Mr. Bui Van Phuong's family's has increased to 66 goats. In the first year, he earned a profit of 30 million dongs. In the second year, his profit increased to more than 50 million dongs. With his adventurous idea of building a bridge across the mountain to raise the goats, Mr. Phuong succeeded and enriched his homeland.