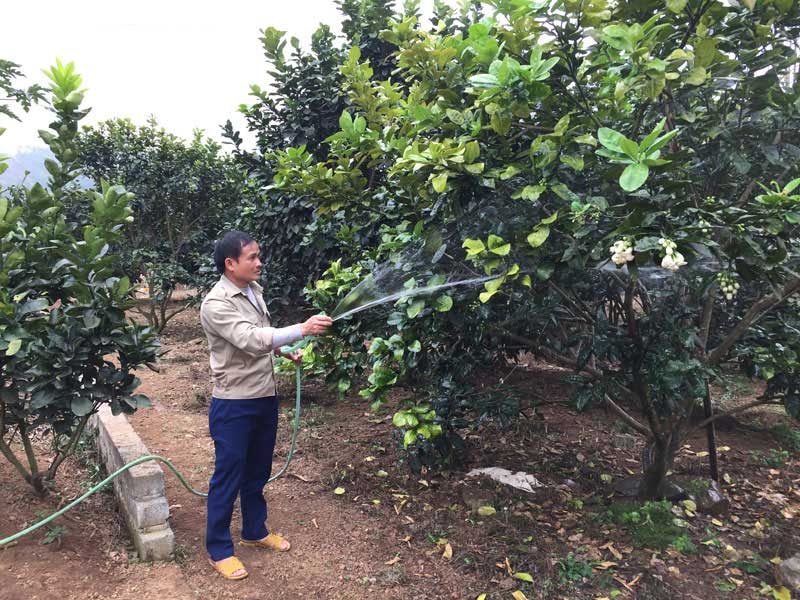 (HBO) - As a key member in the family, having to worry about everything from meals to living expenses, taking care of the children's study with little salary, Mr. Chu Van Tinh in Ao Trach village, Dan Hoa commune (Ky Son) always thinks about the choice of a suitable start-up path to increase income, cherish the dream of enriching the homeland. Standing up after many failures, up to now, his family economy is getting better, life is gradually improved.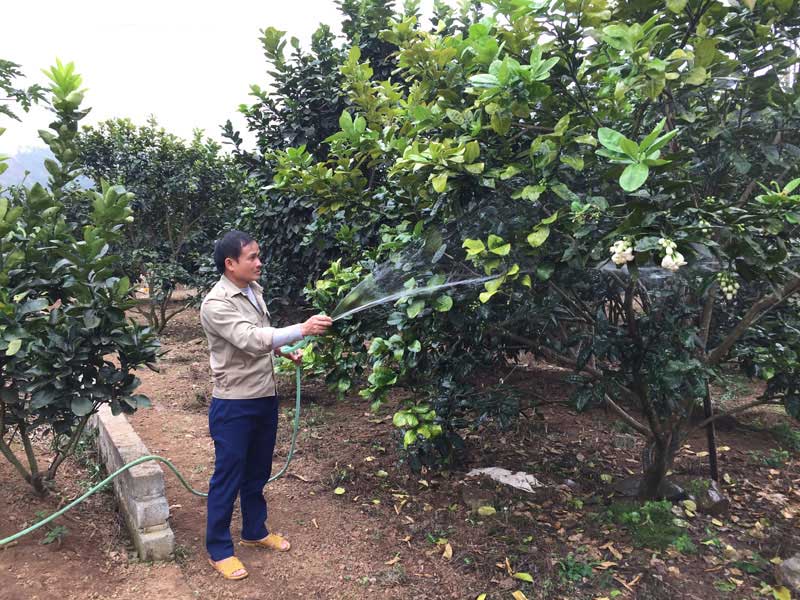 Mr. Chu Van Tinh, Ao Trach village, Dan Hoa commune (Ky Son) takes care of the family's pomelo garden.
Remembering the early days with many challenges and difficulties, Mr. Tinh shared: On that day, production experience and investment capital were limited, so I built a small-scale model of agricultural production. Besides utilizing garden land to grow sugar cane, I raised more pigs for pork. However, due to farming techniques and care was not good,the economic efficiency was not as desired. Being aware of the application of Science and Technology and changing the way of cultivation in production was a necessity, I spent time outside of the working hours and at weekends to explore and learn experiences in agricultural production, take a look at the models in many other provinces and select good breeding varieties to apply to the model of my family.
With the loan budget from the social policy bank, Mr. Tinh decided to build a new system of lodges and farms scientifically and hygienic facilities for raising pigs. Initially, with a little capital, he raised nearly ten pigs. Up to now, the number of pigs has reached at 20 pigs, all of which are fat, so any litter has been sold with good price. On average, each year, he sells 4 litters of pigs, with thhe profit of over 20 million dongs excluded the initial cost. Besides, to catch the demand for clean chicken of the people, he boldly invested in more cages, buying chicken breeding in Phu Tho to raise in his garden. There are more than 100 chickens at present, and bring him an income of over 20 million dongs per year.
At the beginning of 2014, in parallel with raising livestock, Mr. Tinh bought more cultivated land. On an area of nearly 1 hectares, he planted 100 green grapefruit and red grapefruit. In the first year of the experiment fruit collection, he earned over 15 million dongs from retailing grapefruit. To increase the economic efficiency, every year, he grows a few dozen of roots, so far the garden has 200 well-developed grapfruit trees with quality assurance and regular income in every season. Not only doing good business, he is also an active member of Dan Hoa Farmers Union. He is always willing to share, instruct the local people how to cultivate and care for livestock animals. In addition, he proposed to the Commune Farmers Association to invite agricultural staff to train the technique and share knowledge for the local people.
Being dare to think, dare to do, accepting changes when necessary, learning to grasp the needs of consumers have helped him succeed on the way to start a business. The model of the complex farm has brought his family a stable income source of nearly 80 million dongs per year. In the upcoming future, he plans to buy more land to expand the area of planting grapefruit to improve the income. He will actively visit, learn more experiences, search for livestock and tree breeds which can lead to economic efficiency to develop the production model of the family, as well as to develop production models of other local people in the region, contributing to the development of local economy and sustainable poverty reduction.