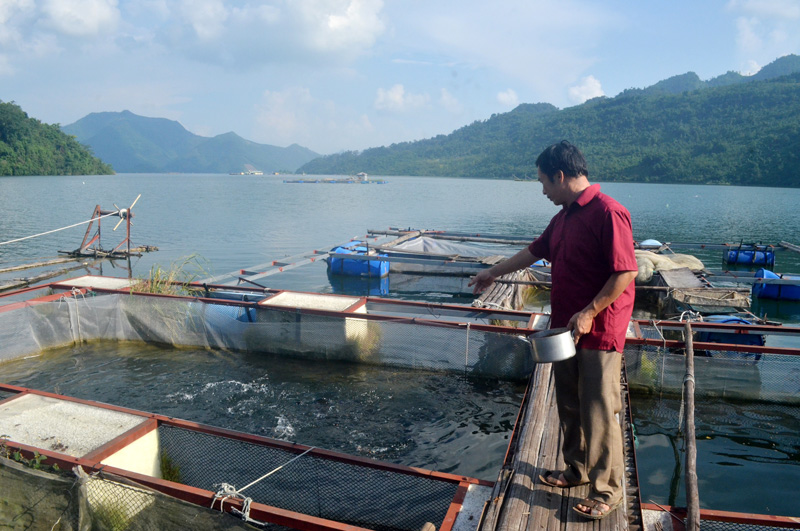 (HBO) – Hoa Binh reservoir has a total water surface area of 16,800 ha spanning the northern mountainous provinces of Hoa Binh and Son La, of which 8,892 ha belong to Hoa Binh. The vast, clean and nutritious reservoir is favourable for caged fish farming, with many rare and high-value varieties.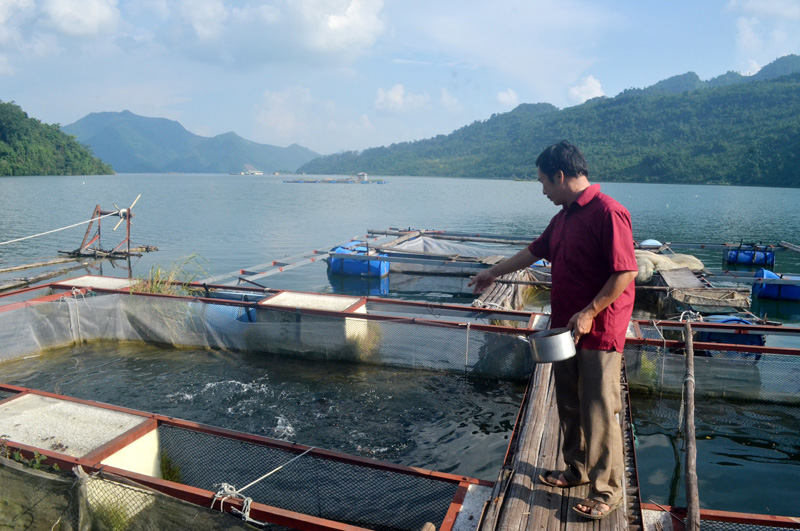 Residents in Hien Luong commune, Da Bac district, have invested in caged fish farming, which brings in high economic value.
Among the five rivers running through Hoa Binh province, the Da River is the longest with 151km. The Hoa Binh reservoir has a total water surface area of 16,800 ha, with 8,892ha in 19 communes of Hoa Binh province.
Surrounded by hills and mountains, the deep reservoir is rich in aquatic resources. Apart from ephemera, there are thousands of vegetation covers, along with protective forests that provide organic elements for the lake.
Besides, Hoa Binh province is home to hundreds of irrigation reservoirs favourable for caged fishing farming, along with rivers and lakes with a total area of 14,560ha.
In fact, caged fish breeding began in Hoa Binh a long time ago but it saw a boom in the 1990s when the water level of the Hoa Binh reservoir got stable. According to statistics, before 2013, the province had about 1,250 fish cages. Between 2013 and now, the number has increased continuously. At the end of 2017, the number of fish cages stood at 4,050, equivalent to 220,000 sq.m, with an accumulated output of 7,700 tonnes of fish, generating jobs for over 5,000 labourers.
Not only households residing around the reservoir but many individuals and organizations both in and outside the province have participated in fish farming. Up to 35 businesses, cooperatives and farm owners in the province have invested in caged fish breeding in the reservoir. Many firms have expanded their investment such as Da River Clean Fish JSC which has provided 35 tonnes of fish for the Hanoi market monthly, Hai Dang Seafood JSC with 30-40 tonnes, and Viet Duc Seafood Co., Ltd which has injected over 70 billion VND in raising sturgeon in cages.
These firms said that they have earned profits from breeding fish in cages in the reservoir, saying they get about 30-40 percent of profits earned from each cage. Therefore, many businesses have expanded their production.
By the end of 2017, the province's aquaculture area was 2,680 ha with 4,000 fish cages, providing about 7,200 tonnes of fish. According to the centre of plant, animal and seafood varieties, localities aim to turn fish cages into centralized fish farms with large scale and high economic value, thus creating a new momentum in the province's aquaculture development strategy.