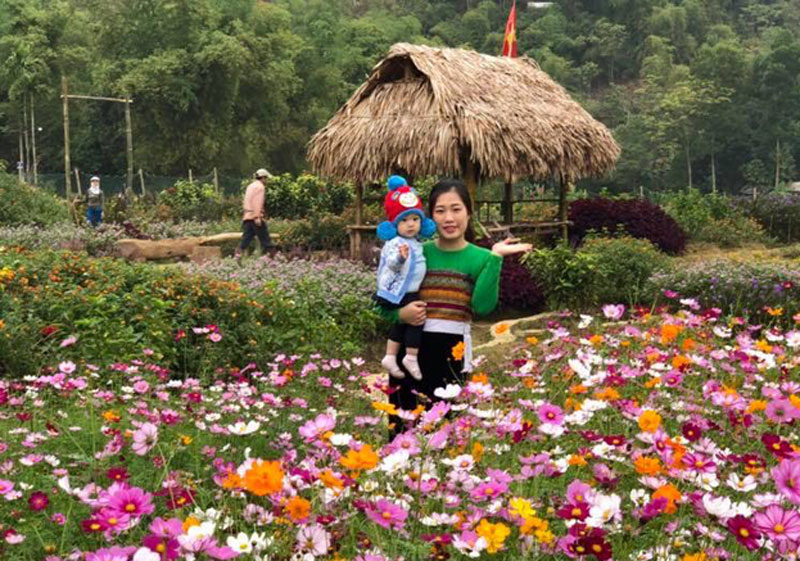 (HBO) – Lying in a road leading to downtown of Na Phon commune, Mai Chau district, the flower garden of Bao Quyen homestay facility looks colourful and striking with various flowers in bloom. On a site of over 3,000 square metres, beds of flowers are dotted with swing and panpipe miniatures.
In early 2017, the facility was officially put into operation with modern architecture and well-furnished rooms with wifi, air conditioning and clean toilets. In particular, there are things typical of Thai culture such as houses on stilt, thatched roofs, palm leaves, brocade weaving tools and traditional cuisine. Therefore, visitors to Bao Quyen homestay facility can have calm space for relaxing while experiencing modern conveniences.
Bao Quyen homestay facility could accommodate 50 guests, offer wide parking lot and services such as fishing; bicycles, motorbikes and electric cars for rent, mountaineering and cascade watching.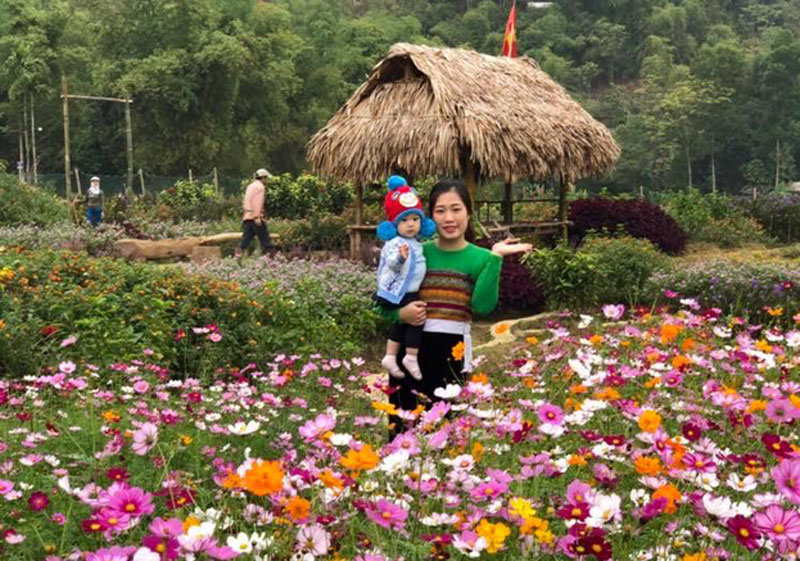 Young owner Ha Tuyet Trinh in colourful Bao Quyen flower garden welcoming visitors in traditional Lunar New Year.
Apart from building the facility, Trinh also built the garden at the same time.
She chose flower species that suit weather conditions in Moc Chau. At first, she grew small trees but many of them died. Later, she learnt about seed sowing technique.
Trinh said due to the lack of experience, not all flower seeds could germinate and grow well. For example, a crop of buckwheat, balm mint and pansy flowers could bloom but sunflowers faded out. Not discouraged, she became more experienced after one year. In preparation for the Lunar New Year festival 2018, she planted popular species such as daisy and petunia.
She also made miniatures shaped house on stilt, Mong pan-pipe, swing, bamboo ladder, making it easier for visitors to pose for photos. On economic efficiency, Trinh said the garden costs 80 million VND, including 30 million VND for land rent and 50 million VND for flower varieties, fertilisers and salary for workers. Each ticket costs 10,000 VND per person on weekdays and 20 million VND per person on weekend or holidays. Visitor number counts from dozens to 100 on usual day or 100 to hundreds from Friday noon to Sunday morning. In the recent solar New Year festival, the garden welcomed more than 1,000 visitors, which is the only in community-based villages in Mai Chau town, Chieng Chau and Na Phon communes.