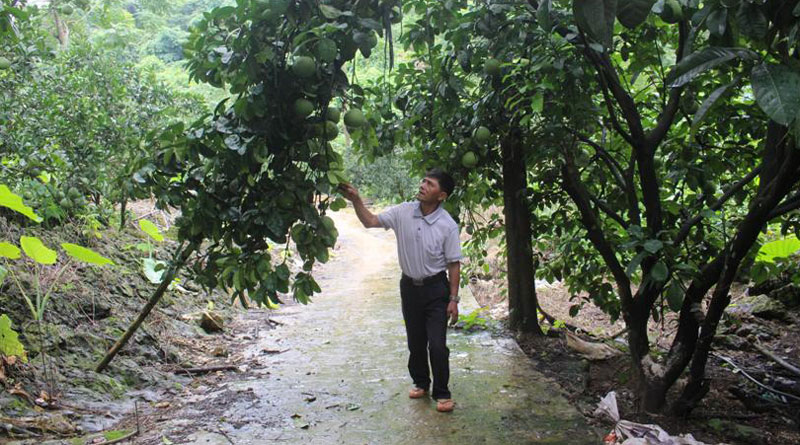 (HBO) – Responding to the appeal of the Party, Nguyen Van Chien from Dan Phuong district, former Ha Tay province, and other 100 local young people moved to work in the Hoa Binh lake area in Voi hamlet, Thai Thinh commune, the northern province of Hoa Binh, in 1978. Three years later, he decided to make a living from scratch in the locality. After 40 years, he built a big stilt house surrounded by 10-ha pomelo orchard which earns him hundreds of millions of Vietnam dong a year. However, Chien's biggest asset is his strong will and great endeavours to surmount any difficulties he met.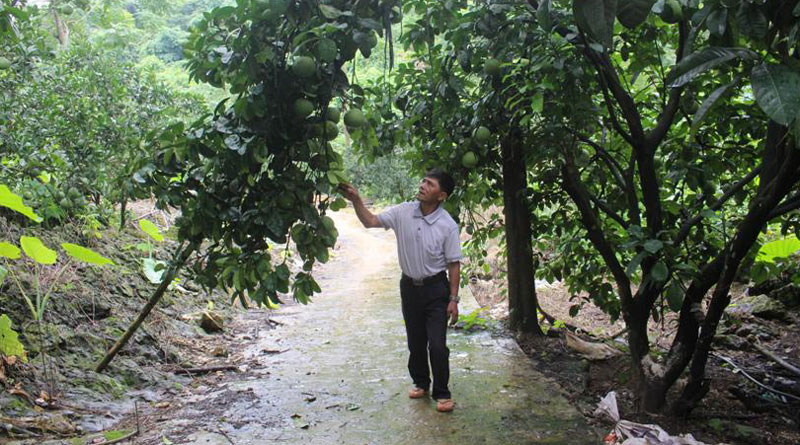 Nguyen Van Chien, Voi hamlet, Thai Thinh commune, Hoa Binh city, stands in his pomelo orchard.
Though coming from the majority Kinh ethnic group, Chien built a stilt house of the Muong ethnic minority group. When I entered his house, Chien's family just came back from a visit to their garden where they dug bamboo shoots for sale. Chien said he planted the bamboo trees since the early years when he came here with the support of the State. He pockets tens of millions of Vietnam dong annually from bamboo shoots. Four members of his family harvested 2 million tonnes of bamboo shoots from 6-10am today, earning more than 1 million VND.
After returning from military service, Chien and his wife decided to settle in Voi hamlet. Then, the road linking Hoa Binh city and Voi hamlet was a trail running along hills to the lake. On the very first days, they built a tent by wood and bamboo, and planted corn, cassava and bean. They worked all days and came home late at night. The cultivation of corn and cassava required great efforts but it was even harder to sell the products. He had to get up at 3m to carry about 7km of corn and cassava to Hoa Binh town to sell. After coming back from the market, he continued with the farming work. If there was no corn and cassava, Chien collected firewood to bring to the market to trade for rice and food.
After failures in planting apricot and plum, Chien decided to bring pomelo trees from his hometown to Voi hamlet. It was said that the severe weather conditions and mountainous soil in the locality could not support the growth of pomelo trees. After three years, the pomelo trees bore good-quality fruits, which motivated him to expand the cultivation.
Taking me to the closely-fruited pomelo orchard, Chien said Dien pomelo trees require less care and bear tasty fruits. Traders commented that my pomelo fruits are better than those planted in other areas. Chien said he now owns nearly 10 ha of pomelo trees. Last year, the orchard gave a yield of more than 20,000 pomelo fruits. Apart from the fruit, Chien also planted persimmon, guava and custard apple. Last year, he constructed a concrete road leading to the garden.
Chien's son, Nguyen Van Huu, told me before saying goodbye that strong will and diligence is the asset they have inherited from his parents./.
Viet Lam