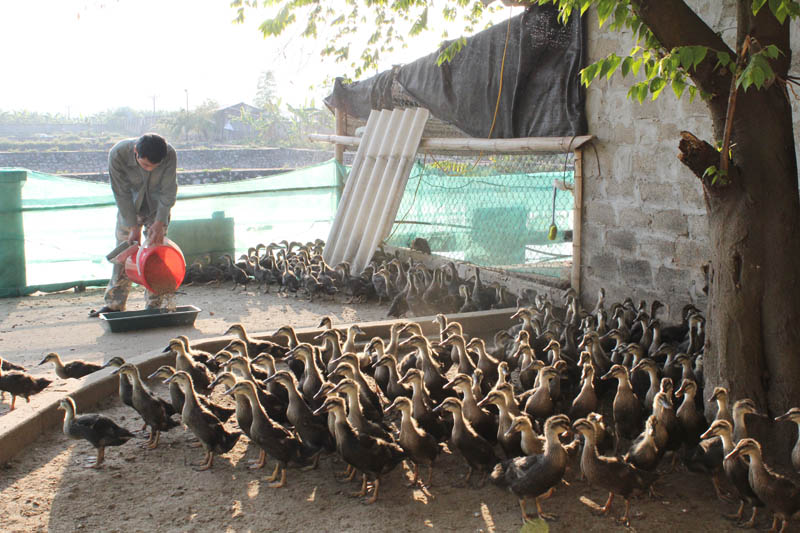 (HBO) – Bau Ben duck has its origins in Cho Ben area in Luong Son district. The species has valuable genetic traits, including the ability to eat raw and low-nutritious food, insects and other creatures in the nature while able to resist various diseases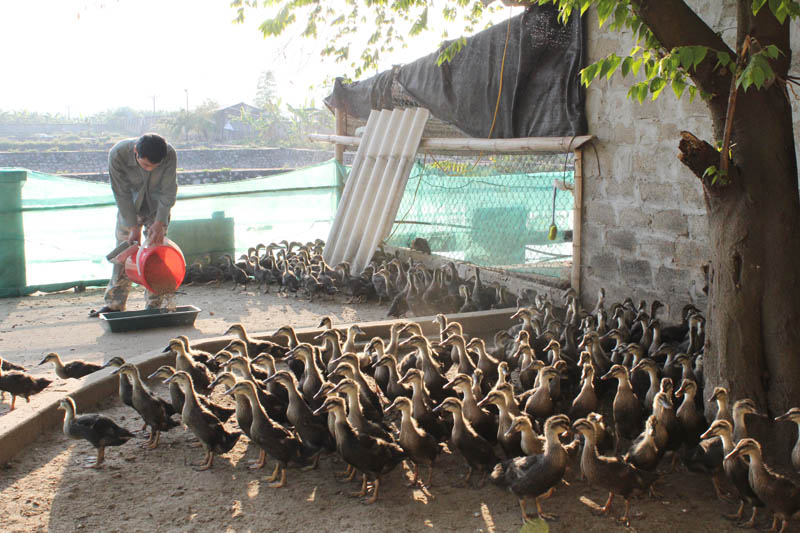 The Livestock and Aquatic Breeding Centre has carried out a scientific research project, under which a production process has been established for breeding and raising Bau Ben duck.

With the goal of applying scientific advances to Bau Ben duck breeding and farming, thus helping preserve and develop the species' valuable genes, the Livestock and Aquatic Breeding Centre of Hoa Binh province implemented a project on "Applying scientific advances in breeding and raising Bau Ben ducks (Cao Thang commune, Luong Son district) for commercial purpose in Hoa Binh province". The research was carried out at the centre and in some duck raising households in Cao Duong and Cao Thang communes in Luong Son district and Dan Chu commune in Hoa Binh city. It included a survey to evaluate Bau Ben duck farming practice in the localities, application of advanced technology in selecting and breeding parent ducks and egg incubation in the centre, building a standardized process for commercial Bau Ben duck breeding and raising and finally, transfer of the process to farmers.

Ngo Cong Vinh, head of the project, said that Bau Ben duck can be farmed for both eggs and meat. The duck is adaptable to the environment and resistant to disease, while its meat is lean and savoury. Investigation results show that there are nearly 2,500 heads of Bau Ben duck in the province, accounting for 0.66 percent of the duck flock in the province. Most of Bau Ben ducks are raised in Luong Son, Cao Phong, Tan Lac, Mai Chau, Lac Son and Da Bac districts.

Under the scientific project, the centre built a 60 sq.m duck coop and bought 200 one-day-old Bau Ben ducklings, including 40 drakes, from Dai Xuyen duck breeding and research centre under the National Institute of Animal Sciences. The ducklings were raised strictly following set process for various stages of the ducks' development. At 22 weeks old, the ducks entered reproductive phase, with a survival rate reaching over 93 percent and each duck weighing from 1.8 kilogrammes to 2.2 kilogrammes. Each duck can lay eggs for 52 consecutive weeks with an average 177.3 eggs per year. Spawning rate in Bau Ben ducks is nearly 49 percent.

The centre has chosen standard eggs (in terms of shape, size and weight) for incubation and achieved a 94.6 percent of hatching rate. It has transferred 2,000 healthy breeding ducks to Cao Duong and Cao Thang communes (Luong Son district) and Dan Chu commune (Hoa Binh city) to develop commercial duck farming model. Two training courses on duck farming were organised for households joining in the model.

Survival rate of commercial ducks farmed in semi free-range form reached nearly 94 percent and duck's weight increased through weeks. After 10 weeks, each duck weighed around 1.8 kilogrammes and generated 13,000 VND in profit. Bau Ben duck meat has better taste and higher nutrition than that of other kinds of duck./.