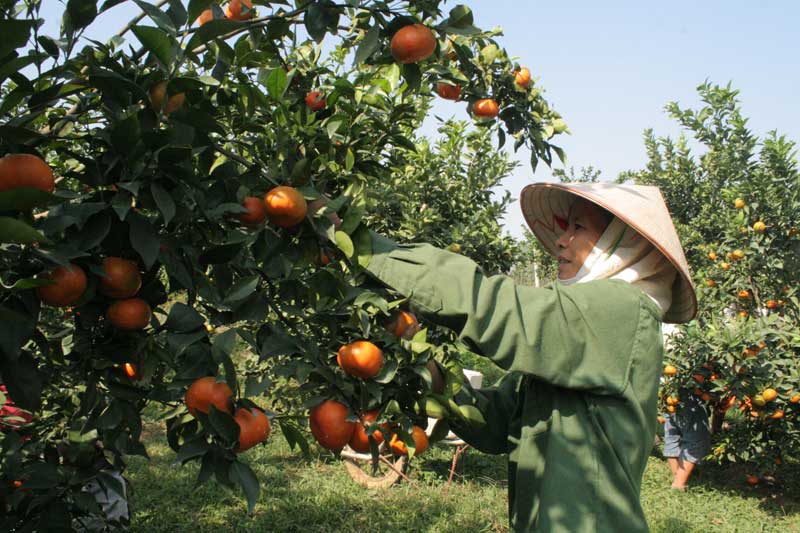 (HBO) – The fruit tree farming development t is bringing about positive outcomes in many communes in Kim Boi district, the northern province of Hoa Binh.
Chairman of the My Hoa communal People's Committee Bui Xuan Hoan said since citrus trees began to be planted in My Hoa fields in 2013, the commune has developed thanks to the cultivation. From only several families planting orange trees at first, a movement of reclaiming poor-performing land for citrus tree farming has spread to almost all hamlets. Local farmers' awareness and cultivation capacity has been improved.
He added last year, orange productivity approximated 20 tonnes per hectare. Canh oranges were sold at 20,000 VND per kg while V2 (also called
Valencia
) oranges were sold at 32,000 VND per kg, generating some 250 million VND (11,000 USD) per hectare in income, much higher than the income from sugarcane farming. Many households have earned hundreds of millions of VND from selling oranges.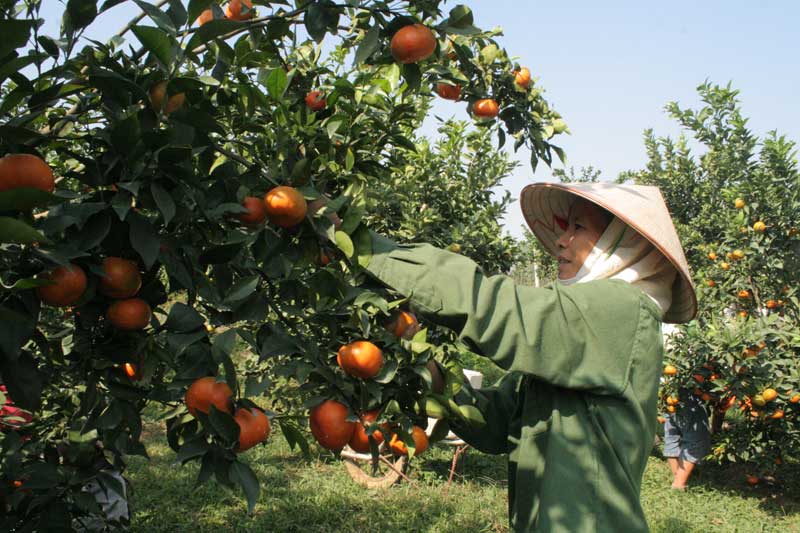 My Hoa commune (Kim Boi district) has expanded the area under orange trees to
175 hectares
,
45 hectares
of which have borne fruit for sale.
The orange farming area in My Hoa commune has reached
175 hectares
,
45 hectares
of which have borne fruit for sale, with good growth. The productivity and output are forecast to rise sharply and will become a big source of revenue if prices are stable. The commune does not worry about the sale of the fruit because farmers formed partnerships and their partners will be in charge of this step. In the previous crop, traders also highly valued the quality of local oranges.
Not only in My Hoa but also in many communes like Kim Tien, Nam Thuong,
Sao
Bay
and Tu Son, orange and grapefruit trees are growing well. This year's crop promises higher productivity and output, bringing about new chances to form concentrated production areas in Kim Boi district. Aside from citrus fruits, longan trees are also developing and proving highly effective in some communes, especially Thuong Bi and Son Thuy. In particular, Son Thuy is entering the longan harvest season. Fifty-eight of the
110 hectares
of longan trees in the commune have borne fruits for harvest, producing an estimated output of some 700 tonnes this crop. With current prices, longan can generate over 17 billion VND in income for local farmers.
With the set orientation and support policies, the fruit tree area in Kim Boi has expanded rapidly. In 2011, the district had about
100 hectares
of fruit trees, including
45.5 hectares
of citrus trees. The total area now covers
1,128 hectares
, including
390 hectares
of orange trees,
415 hectares
of grapefruit trees and
77 hectares
of lime trees, mostly in
Tu Son
,
Nam
Thuong,
Sao
Bay
, Kim Boi and My Hoa communes. Meanwhile, the
231 hectares
of longan trees concentrate in Son Thuy and Thuong Bi communes. Some areas that produce fruits for the first time also had encouraging outcomes. Farmers can gain 350-400 million VND per year from citrus trees.
Kim Boi district is reviewing its fruit tree farming development plan and aims to have
1,200 hectares
of citrus trees in 20 communes in 2020. It targets about
675 hectares
of orange trees,
500 hectares
of grapefruit trees and
25 hectares
of tangerine trees, and 70-80 percent of the commercial area under sale contracts. To that end, local communes are making fruit tree development plans which will focus on intensive cultivation, high-quality seedlings, science-technology application, safe production process, and production in value chains, thus forming sustainable production areas./.