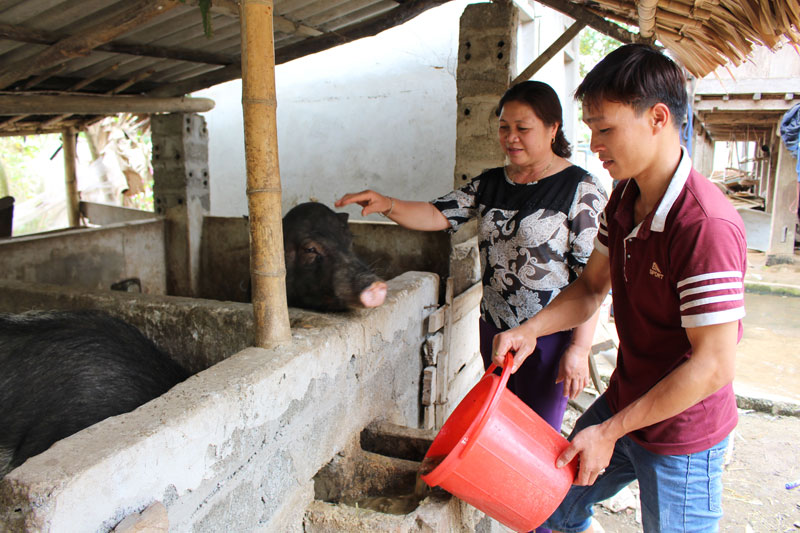 (HBO) – We visited the family of Ha Van Loi in Ve hamlet, Pieng Ve commune of Mai Chau district, when he and his wife were caring for three sows and 14 piglets. The herd of pigs is the result of the couple's long-term efforts.
They decided to raise pigs in 2008 after working hard for years, but their incomes could not cover their living conditions. At that time, their savings were just enough to buy two piglets. With little capital, temporary pigsty and out-of-date care techniques, these pigs often suffered diseases and the quality of meat was low.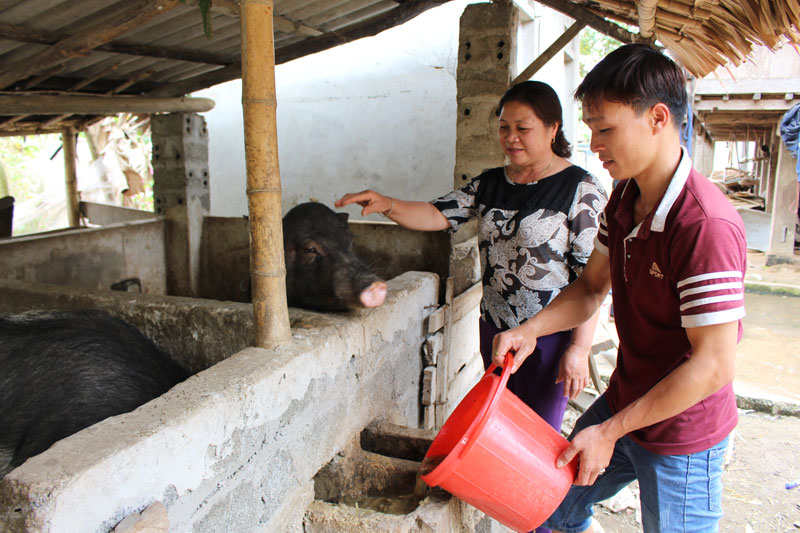 Ha Van Loi's family in Ve hamlet, Pieng Ve commune (Mai Chau) is one of the first households receiving loans. His family now owns three sows and 14 piglets, with stable income.
Luckily, in 2014, the communal Farmers' Association in collaboration with the Republicof Korea's GNI Organisation in Vietnamimplemented a loan programme through a husbandry cooperative team. Tens of households applied for loans. After his document was assessed, Loi fortunately was provided with a loan worth 8 million VND (352 USD).
He shared: "the money, though not big, was significant to me, as I had more capital to expand pigsty scale and prevent diseases for the pig herd. Therefore, our husbandry work was smooth, while the quality of the pig herd was guaranteed. The most wonderful thing was that I did not have to pay interest and the money paid monthly was not high. After one year, the loans were provided for other needy households, through the GNI organisation".
Together with Loi's family, other households in the husbandry cooperative team in Pieng Ve commune have also used these loans effectively, for upgrading cages, buying more breeding stocks or cattle-feed grinders.
Nguyen Thi Hue, an official of the communal People's Committee who is in charge of managing the fund, said: "From 13 initial member households, the team now has 26 members, divided into two groups in Ve and Panh hamlets. All loaned households have stable production and income, and no overdue payments were reported".
The members are also provided with care techniques and measures on how to prevent diseases. They gather one a month to share difficulties, conveniences and experiences. At present, from the initial loans, many households expand their farm scales and build biogas systems. The quantity and quality of animals are improved, helping increase incomes of the members.
Secretary of the Party Committee of Pieng Ve commune Dinh Cong Tien affirmed that this model is effective and needs to be multiplied, given that the commune has 31.16 percent of poor households.
The establishment of the cooperative team has contributed to changing traditional small production into bigger-scale production, which has brought economic efficiency and increased incomes of locals./.