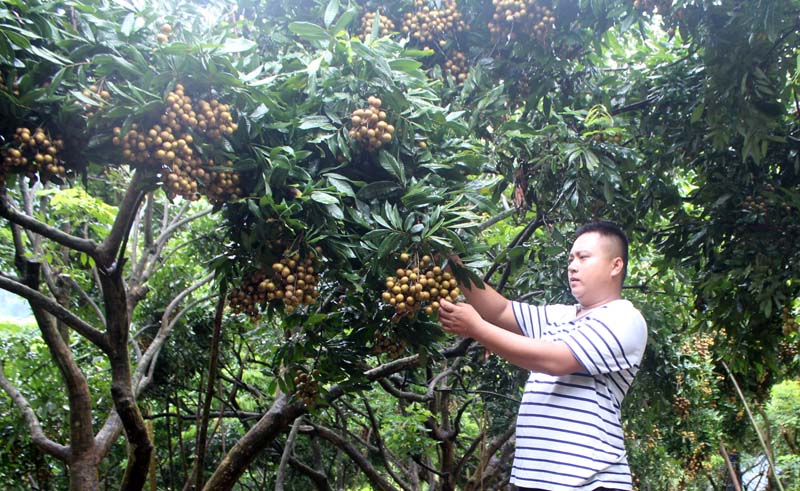 (HBO) – Farmers in Son Thuy commune, Kim Boi district, have been in a jubilant mood as their longan crop yields good results.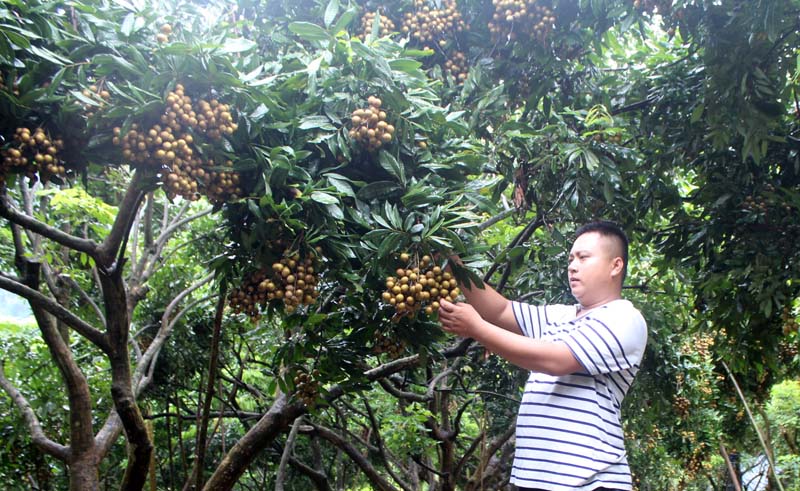 Bui Van Dung and his family in Khoang commune, Son Thuy commune, invest to cultivate clean longan to meet the market's requirements.
Bui Thi Chien in Khoang commune said: "This year, longan has been sold at good prices. From the beginning of the crop, my family gained 35,000 VND per kilogramme, and now the prices range from 27,000 to 28,000 VND. We grew Huong Chi longan in an area of 2 hectares, and strictly followed cultivating and caring techniques. Therefore, our trees have born rich fruit. We are expecting to harvest some 35 tonnes of longan, and pocket around 800-900 million VND.
like Chien's household, many farmers in Son Thuy commune are beaming with their longan crops. Most of the longan areas have been grown with Huong Chi and Mien varieties, which are suitable with local soil and weather conditions. In fact, Huong Chi and Mien longans have brought high economic value to the growers, and become staple crops of the locality.
According to Bach Cong Luong, Chairman of the Son Thuy commune People's Committee, the commune is now home to 140 hectares of longan and 200 hectares of other fruit orchards. As Son Thuy longan was recognised as a collective brand by the Ministry of Science and Technology's Intellectual Property Office of Vietnam in 2016, it has become more popular in the market.
The commune plans to cultivate additional 3-5 hectares of longan to expand concentrated planting area, and is carry out a programme to grow longan in line with VietGAP standard so as to branch out its brand in the market while ensuring sustainable development. Bar code registration will be implemented after the programme is completed, facilitating origin traceability to enhance prestige of the growers, he said.
Around 80 percent of the households in Son Thuy commune have shifted to planting longan due to its high economic value. Many farmers in Khoang and Loc commune are ow owning 1-2 hectares of longan.
Dung, an agricultural extension official in the commune, said his family has 2,000 square metres of land under longan. The areas were previously used to grow sugar cane, which earned him instable income. This year, the longan orchard yielded some 7-8 tonnes, tripling the amount of last year's crop.
"Due to fierce competition, my family has planted longan in accordance with VietGAP standards, and we are working to develop the application of QR codes for product traceability. The move aims to meet requirements of choosy consumers, as well as increase value of Son Thuy longan", he stressed.
Transformation of plant structure in general and shifting to the cultivation of longan in particular has made significant contributions to alleviating poverty in Son Thuy commune. Many locals have become rich thanks to longan cultivation. Besides, the work plays an important role in helping Son Thuy complete its new-style rural area building programme.