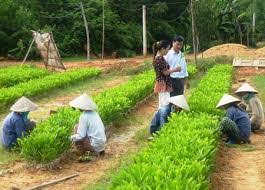 (HBO) - By the end of August 2019, Hoa Binh province has planted nearly 5,600 hectares of forest, reaching over 96% of the plan.
Districts in the province with large afforestation area such as: Da Bac district planted 900 ha, Lac Thuy district 850 ha, Kim Boi district 800 ha, Lac Son district over 790 ha, Yen Thuy district 500 ha...
In August, forest owners exploited 482.4 hectares of planted forests, yielding 28 thousand m3 of timber; exploiting 360 m3 of scattered trees; 22.7 thousand ster firewood; 54 thousand bamboo trees; 269 tons of bamboo shoots and 15.8 tons of medicinal herbs.