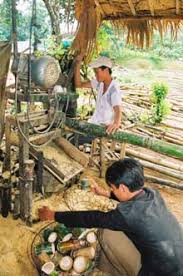 (HBO) - In the first quarter of 2020, the total State budget revenue in Hoa Binh province's Da Bac district reached nearly 5.8 billion VND, a year-on-year rise of 1 percent.
The figure is equivalent to 12.9 percent and 12.8 percent of the estimates in the period assigned by the provincial People's Council and the district People's Council, respectively.
The district's budget collection totalled 194.7 billion, equivalent to 34 percent of the estimates required by the district People's Council.
Meanwhile, the district's budget expenditure was 190 billion VND, or 36 percent of the estimates assigned by the district People's Council.
In the recent time, the district People's Committee has actively implemented its plan for the implementation of socio-economic development tasks and State budget estimates in 2020.
The locality has effectively managed the budget estimates, and ensure regular and irregular expenditures.
It has strengthened the management and exploitation of sources of incomes to reduce revenue losses, while creating the best conditions for taxpayers./.